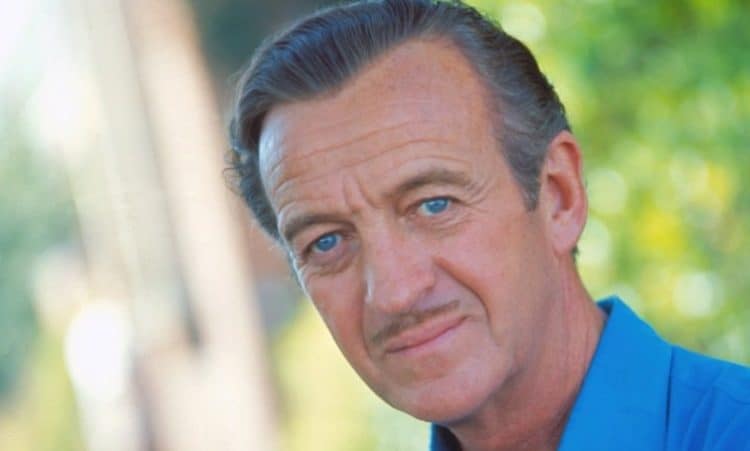 Before you go on and read the article this man looks familiar doesn't he? If you're a purveyor of older movies then you might recognize David Niven from such classics as The Pink Panther, Around the World in 180 Days, and perhaps even The Guns of Navarone. He managed to make a great career in the time he was on this earth and it's amazing really when you figure out how he started. David was actually kicked out of school when he was ten years old for playing too many pranks. You can imagine how strict the school was, but it was even worse since it insure that he wouldn't get into Eton College, which was kind of devastating to his family since Eton was so prestigious. To make matters worse he failed the naval entrance exams, which might have made his life seem bound for a very hopeless course. But upon enrolling in a new public school he eventually made his way to the Royal Military College and eventually became a second lieutenant in the British Army. It doesn't seem like he was cut out for it however as eventually as he was eventually charged with insubordination and escaped his close arrest to make his way to America, where he resigned his commission via telegram.
It was obvious he could do the job, but it was just as obvious that he didn't want to. His contributions to film however seem to have been his calling as after a few different ventures he finally made his way to Hollywood.
The Pink Panther
A great many people became enamored of the cartoon panther that was used for so long and kind of forgot about the movie altogether but there are still those that remember the case of the heist of the precious jewel known as the Pink Panther. Peter Sellers kind of stole the spotlight as Inspector Clouseau but Niven played his part wonderfully since he was every bit the gentlemanly thief that he needed to be in order to pull the role off. Plus the film is a classic no matter how one looks at it since it's become legend among many film viewers and is one of those movies that has endured for generations at this point.
Around the World in 80 Days
This film was remade not all that long ago but it's fair to say that it was a flop since the magic of the original was hard to recreate and the whimsy that was given to it was something that didn't quite manage to pep it up enough to really make it work. The original story is followed at the very least as Phileas Fogg makes a wager that he can make his way around the globe in 80 days. The adventure is quite interesting since it takes them along several different routes that they did not expect and even finds him true love at one point. The truly funny thing about this movie comes at the end when the amazement of being able to travel around the globe in 80 days is easily eclipsed by the appearance of a woman in a men's club.
The Guns of Navarone
The Guns of Navarone is a gutsy war movie that is pretty intense and would still fit in with a lot of action and espionage movies of today save for the effects. Niven plays the part of an explosives expert that, like everyone else in the group, wants to survive but feels the need to do his part. As members of their party are injured and/or killed during the operation the goal is still reached as the titular guns are destroyed and thereby assure victory for the group and those they serve. The film is one that could be remade, if a director had the skill and know-how, into something that could pay great homage to the original.
Niven remained popular all the way up to when he began to suffer from ALS, or Lou Gherig's Disease as it's called. He was seen to suffer from fatigue, muscle weakness, and even began to speak with a noticeable warble in his voice. The condition only continued to get worse as time went on and while he did check into a hospital to seek treatment he didn't return after having been released. He passed in 1983 and was laid to rest in Switzerland. The life and times of Niven were such that he was a popular fellow from the moment he earned his start to the day his health started to fail him, always putting forth his best foot and giving an effort unlike many others. The fact that he remained popular for so long seemed to be his carefree attitude, the one that managed to get him into so much trouble as a younger man. Of course if you can't laugh and make fun of life now and again what good is it?