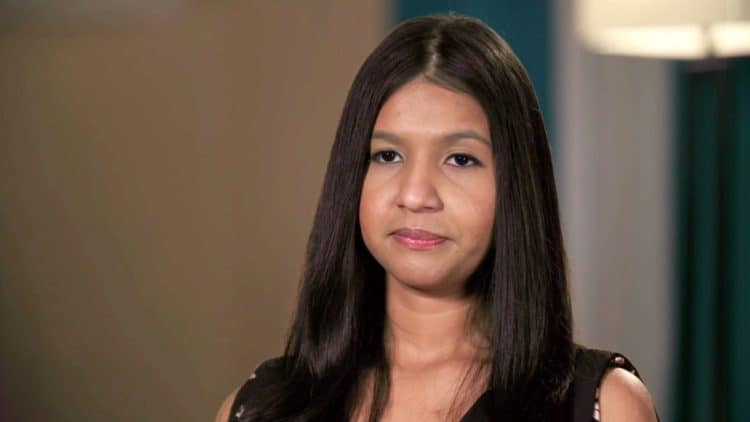 Karine Staehle's relationship with her husband, Paul, has been documented on the TLC series, 90 Day Fiance, since 2017. From the very first time the couple appeared on the show, many viewers had their doubts. In addition to the distance (Karine is from Brazil and Paul is from the United States) and the language barrier, there were a host of other issues that many would consider ref flags. Still, Paul and Karine continued to make things work and they were eventually able to reach their goal of moving to Karine to the United States. Unfortunately, when she moved to Paul's home state of Kentucky, things only continued to get worse. While there's no word on whether or not they will continue on the show, there are millions of people out there who have become heavily invested in Karine and her story. Keep reading for 10 things you didn't know about Karine Staehle from 90 Day Fiance.
1. The Details On How She And Paul Met Are A Little Fuzzy
Even if you've been watching Paul and Karine's story from the very beginning, you may still not be 100% sure on the detail of how they met. That's because, they've never really been entirely clear on that information. We do know that they met online, but the specifics have never really been confirmed.
2. She Was Accused Of Having An Affair
Paul and Karine's relationship has been rocky from the star, but a lot of that has had to do with things Paul has said or done. Still, there are people out there who believe Karine isn't entirely innocent. In 2019, rumors began to circulate that Karine was having an affair. Paul even went as far as naming musician Blake Sakal as the person Karine was cheating with.
3. She's Been Quiet On Social Media
Since being on 90 Day Fiance, Karine has built a huge social media following that now includes 381,000 people from all over the world. For years, she was very consistent with her posts, but lately it's been radio silence. Karine hasn't uploaded a post on Instagram since June 2020, which of course has a lot of people wondering what's been going on with her.
4. She Sells Personalized Video Shoutouts On Cameo
If you're a fan of Paul and Karine, you now have the chance to get a video shout out from them through the platform Cameo. The couple sells personalized videos for $100 and you can also set up a chat with them for $.99. Since Paul and Karine don't seem to be on the best terms right now, it's unclear whether or not they are still making videos together.
5. She Loves Nature
Living in Kentucky probably isn't what Karine dreamed of when she thought about life in the United States, but if there's one thing about the area that she has fallen in love with it's the natural beauty. Karine loves spending time outside and enjoys going on walks with her son.
6. She Has Accused Paul Of Abuse
Early on in his time on 90 Day Fiance, we learned that Paul had a somewhat shady past that included restraining orders and allegations or arson. While he insisted that he had never been violent towards women, Karine has said otherwise. She has accused Paul of abusing her and even alleged that he sexually assaulted her.
7. She's A Brand Ambassador
Karine's popularity from the show has officially launched her into social media influencer status and some brands have taken the opportunity to partner with her to help promote their products. Her most recent sponsored post was for the popular wellness and skin care brand, Team Blends.
8. She's A Private Person
I know, I know, you're probably wondering how it's possible for a person on a show like 90 Day Fiance to also be private, but that's definitely the case with Karine. Outside of what she shares on the show, Karine seems to like to keep her personal life pretty low key.
9. She Is Rumored To Be Pregnant
In 2020, several blogs began suggesting that Karine was pregnant with she and Paul's second child. Karine has yet to confirm this, but in August 2020 Paul said, "I will not see my sons for a very long time. I have to cope the fact I probably will never see my wife and son again. Or see the birth or ever see my unborn child. … I have lost my sons. That being said, I think I am mentally doing what is best staying constructive and busy."
10. She May Have Had Some Cosmetic Procedures
People online love to jump to conclusions, and one of Paul's recent Instagram posts has some people jumping to the conclusion that Karine has gotten lip fillers. Paul reposted a photo of Karine from a permanent makeup facility in Brazil that shows her lips looking fuller than usual. Some have insisted she's gotten fillers while others are simply chalking it up to pregnancy.