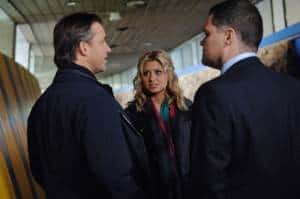 Marti goes to her law professor, Julian Parrish, with Vanessa at her side to talk him into not revealing the video evidence against Jake so they could have one last chance to keep the Hellcats from total destruction. All of my hopes for Red Raymond were then squashed when he invited Bill Marsh to the party and the proposed throwing money for fight for Parrish's three strikes law, at the expense of Travis.
My girl Marti – not having any of it. She says what I've always wanted to say, "Football is not too big to fail." Oh how I hate the world of professional sports and what they get away with just so people can watch a game. Breathe, Carissa, breathe. I breathed just long enough to find out that Red is in on the plan. Oh my mind was so easily lead astray! In my heart, Red was good, but my mind sputtered.
Savannah is putting all of her power into prayer (and crying), while Alice just tries to buck everyone up and get them to stand up for what they believe in and put their faith into what they can make happen on their own. It's Hellcats – guess what – PARTY TIME! What is a bitter scandal and possible loss of scholarships and their way of life without livening it up with an "end of the world as we know it" party? And a toga party at that?!
I was really impressed that Savannah even had a plan to arrange for designated drivers for the party attendees. Granted, when I was in college we didn't do much driving to parties, more of a long crawl across the campus, but kudos for the forethought.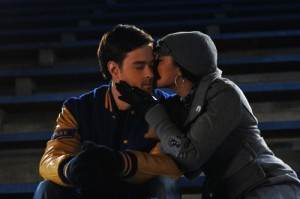 I have to say "wow" in the face of the options given to Jake. One, the entire Lancer football program goes down, two, Jake turns himself in, does some jail time and then goes back to Lancer and football. His idea is to run. I was as surprised as Jake was when Alice came to him and, among other things, asked him if he believed in God. She posed the God works in mysterious ways element. What if Marti coming to the Hellcats was all part of His big plan to right the injustice of an innocent man being in jail. Heather Hemmons continues to surprise me with her ability to play Alice as someone you want to smack one moment and hug the next. The cast has come so far this season, it's really tight and convincing.
I think it's been a while since I mentioned how happy I am that I decided to watch a show with Ashley Tisdale and Aly Michalka. I was sketchy when it was first announced. Hellcats is not something I would have wanted to miss. It reminds me a lot of Pretty Little Liars in that there is group of friends, none of them perfect, always giving and taking and learning from each other. Through all the close calls, they always have each others' backs. It's really a refreshing take on the younger crowd that can otherwise be full of selfish backstabbbers. Even through the toughest episodes, there is, literally, someone or something to cheer for.
Ryan Kennedy is quite an asset to the cast, but not enough that he wasn't sentenced to seven months in jail. We all make mistakes, and are sometimes a mere moment from being in the same space he now occupies, so I hope we don't lose track of Jake and what a difference jail makes in his life going forward. Aaron Douglas is taking Bill Mitchell to other pastures. I won't miss him, but I also wonder where on earth the tension will come from if he isn't there every week trying to squash the life out of the Hellcats squad. I have no doubt that whatever is to come will be compelling, as they haven't let me down yet. Solid A on this outing.
Tell us what's wrong with this post? How could we improve it? :)
Let us improve this post!