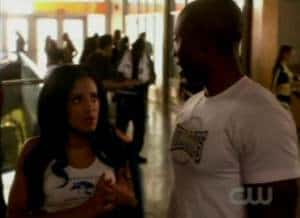 Color me confused. It just never dawned on me that Savannah would tell everyone about Marti and Dan. It has been so long since the show has aired, not even the "previously on" videos were much help. So, let me apologize in advance for starting blind! I love Marti and Savannah, and any rift in their friendship really throw me.
Is Mario Van Peebles the best choice for Alice's dad? Absolutely! That they've obviously communicated on a very limited basis over the last year is obvious. And yet, also curious. He knew she was in Sectionals and where to go, but somehow missed her face plastered on one of the most read sports magazines as the girlfriend (although athlete on her own) of the Lancer football star? I think that's a little something they missed in the continuity of the show. She's been telling him she's the Hellcats' top flyer, but didn't mention she's also the big man on campus' girlfriend. It just doesn't work for me.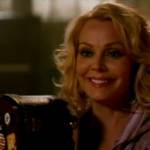 Marti's mom, Wanda, went to prison in Marti's place so Travis could still play music while Marti was away. It was so sweet to have Travis tell Wanda what a difference Marti makes in his life. You could tell she was genuinely touched, and I think sometimes Wanda misses the passion her daughter has for everything she does.
If I ever had a question why Alice was so hard to understand, I don't have to any longer. Her desire to please her dad is very sad, as it seems he only loves his kids when they're at the top of their game. As if being star athletes makes them worthy of his love, and anything less would make them unworthy. Even knowing that, her attempt to steal Marti's place as flyer in the Sectionals didn't make her any dearer in my eyes. I admit I was hoping they not only lost Sectionals, but that Alice broke another leg.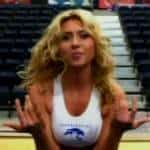 Coach Lodge wasn't buying any of the smarmy behavior and demanded a cheer-off to see who would fly in sectionals. Alice is so full of herself there was no way she was going to win, but I still loved watching my girl Marti kick her ass. What I didn't love was Alice going to Savannah to bribe her to give up HER flying spot. If ever there was a chick who was not a team player and deserved to be driven off the squad, it's Alice. I don't care how crappy her upbringing was. She has absolutely no redeeming qualities. Anyone who disagrees with me, please chime in! I would love to examine your reasoning. Granted, it didn't end well for Alice with her dad, but that still doesn't give her an out. It should make her want to be less like him, rather than more. Why doesn't it work that way? I was proud of her in the end, much to my chagrin. Maybe there is hope yet.
Savannah's idea of honestly with Marti is a pillow bashing, and it just made me love them all the more. They are the two most unlikely friends, and that's what makes them so fantastic together. Marti is honest to the core, as is Dan, and that makes Savannah even luckier to be in the middle of their relationship, whatever that might be. To be with people who can't hide from you is truly a gift. Savannah asks, "If I do decide to forgive you, will you promise never to let me regret it?" That leads her tell Marti everything about covering for her sister. For that, Marti gives her the space she won in the cheer-off to Savannah. These kids are so admirable, and such good role models. That's a rarity in teen shows these days, as backstabbing and lies seem to predominate the storylines.
As much as I hated cheerleaders in school, I absolutely adore all things Hellcats, and watching the squad perform makes me smile with giddy excitement. They're giving, caring and still interested in graduating college. And, did I mention?
THEY'RE GOING TO NATIONALS!