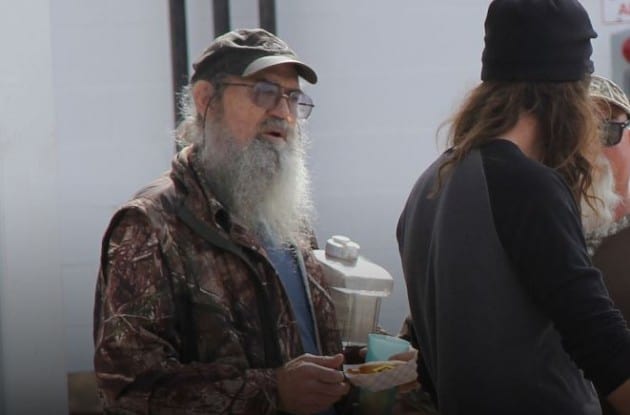 Well, we're almost there. As of tonight, there is only one more episode of Duck Dynasty's seventh season. Boy, did that fly by or what? I can't believe it's already almost over.
As much as I have always loved DD, can I just say that I'm disappointed that ZZ Top's "Sharp Dressed Man" is no longer the theme song? It makes me sad when I hear the new intro.
This week, America's favorite duck-calling redneck family was up to its usual antics. First, Willie was dissatisfied with the amount of training that his parents' dog, Bobo, had received, and decided to take the dog and Miss Kay to a dog training facility. Phil insisted that he was trained the way he was supposed to be trained, which is peeing on other people's stuff and barking at cell phones. Meanwhile, Jase received an old pontoon boat from a friend, and got Martin, Godwin, and Si to help him turn it into a floating duck blind.
As someone who is currently in the midst of dog training himself, I can say that this is not an easy task. The easy thing to do is let the dog do whatever it wants and let anything you leave out be chewed or peed on. Willie seemed like he was on the common sense route here, but I have to say that if Phil had ACTUALLY trained Bobo to pee on other people's things and bark at cell phones, that's insane but also pretty darn awesome. I tend to think that the dog was just spoiled by Miss Kay, though.
I was also pretty impressed with the pontoon boat turned duck blind. Not being a duck hunter, I'm not sure that I ever would've concocted such a contraption. But, of course, leave it to Jase Robertson to turn someone's trash into something useful. I mean, this boat looked DISGUSTING when they got it. They didn't fix it up to look like a nice boat, but it will surely serve a practical purpose…as soon as it's duck season.
Probably my least favorite part of the episode was the under utilization of Si. Si Robertson is a Duck Dynasty staple, and anytime you don't use him to his full capability, you are wasting valuable resources. However, Si was still present and was a lot of fun in this episode. I just would've liked to see more of him.
I'm glad, however, to see that Phil is returning to a prominent role on the series. I understand that Phil Robertson is, generally, a controversial figure. I can keep my personal and political views out of my reviews, while still saying that Phil is someone that I greatly respect and admire. He's got a no-nonsense attitude, and he really adds a lot of fun and layers to the show. He's been on the back-burner a bit since his controversy, and while he was still on the show, any fan could tell you that the use of Phil was dialed back. The last few weeks, however, Phil has been toward the front again and I am grateful. Without Phil, Duck Dynasty just isn't a dynasty. It's good to know that he's still got his quarterback arm, and that he's still around for the fun his family is having.
As always, here are some of my favorite quotes from the episode:
"That's a yuppie deterrent."- Phil, on his dog's urinating habits
"You need to train your dogs to pee on other people's stuff."- Phil, this episode's king of good ideas
"He's like any Robertson man, you have to tell him 10 times before he listens."- Miss Kay, unknowingly describing all men
"Nothing excites rednecks more than getting to tear stuff up."- Jase
"I'll have two chicken legs and a snowball."- Si, with an off the wall snack request
Overall, this was a fun episode of Duck Dynasty and a good penultimate installment for season 7.
What did you think? Did you enjoy it as much as I did? Let us know!
[Photo via A&E]
Tell us what's wrong with this post? How could we improve it? :)
Let us improve this post!