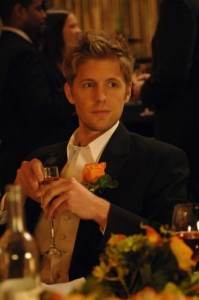 "Fancy Dan" brings Dan home, and a little (friendly, this time) competition between Marti and Savannah for his attentions. Of course, they don't even know if he wants their attention, but that doesn't stop our spunky duo. Dan's dad wanted to have Marti sing Rolling Stones songs at Dan's brother's wedding, so we also got to see Aly Michalka of 78Violet pick up a guitar and do a nice Stones tribute. Marti was wearing the most incredibly lovely blue dress. Such a gorgeous girl, that Aly.
What neither of them expected was Ms. Environmentalist he brought home with him from his trip to the Gulf. Marti realizes she only wants him as a friend, and Savannah decides to go for broke in her desire to get him back. Our sweet little Savannah in't playing the sweet card this time! She pays off some guy to talk shore birds with his date (who his dad calls "the bird lady of Lake Ponchartrain) and Dan's dad is so impressed. He says two train wrecks can never last (Dan and Marti) but Dan needs someone who will keep him in line. Like Savannah. I think we may actually have a future for Savannah and Dan, and it feels really right. It also leaves open romantic possibilities for Marti, without a possible friendship killer in the bunch.
In typical television fashion, now that we know Red Raymond isn't a bad guy, and apparently has had a promotion to athletic director as well, Derrick is being called up to the reserves leaving Vanessa in a bit of a dilemma. He asks her to marry him before he leaves for duty. Derrick is gone and now the door is open for Vanessa and Red to walk down memory lane, and wherever that may take them in the future.
My favorite story was Alice going to visit Travis at his new job, waiting tables and free from jail. She's being pressured to go see Jake, and Travis doesn't give her the answer she wants. He thinks everyone deserves support, and visitors, when they are paying for their crimes. I'm sure it was easier for him to say when Jake stood up and did the right thing, but it's just more proof of what a good man Travis Guthrie is and gives me another reason to be proud of Marti for standing up or him. Not to mention the incredible job they've done of making Alice a character to champion.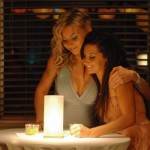 When she does visit Jake, she breaks down and tells him she just wanted to save the Hellcats. Jake tells her that she's not responsible for him being there, but she did make him feel like a better person for what she said to get him there. I can't imagine a better ending for the entire story arc.
It seems we're free to start fresh with pretty much every character on the show. In such a subtle way, all the recent episodes were leading them down a sort of yellow brick road. Almost a fresh slate to end season one and take them into season two. I'm really looking forward to what comes next; what about you? I'd love to hear your thoughts in the comments.