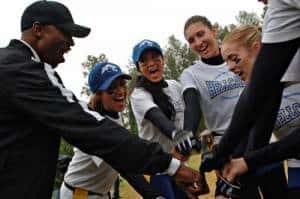 Flag Football Anyone?
As the Hellcats are practicing, the volleyball team comes in to raise a little hell, throwing a ball right at Alice, who's at the top of her pyramid. Much to Marti's dismay, Savannah backs Alice's agreement to a flag football match. The downfall? If they lose they have to cheer for the other team – naked. Savannah looks mortified when Marti's mom said she likes to think of them as 'special dancers'. Ouch.
Louis is coaching the team and on the first day of practice, the situation is less than spectacular, with girls that can't throw, except Alice, who wins the spot as quarterback (big surprise there huh?). Eventually they get better by the end of practice with a lot of support from Louis. Louis'speech doesn't last long as Alice's new boy comes in and Louis tells her to get him out of there. Alice finds out that her boyfriend is coaching the volleyball team.
As Marti sits in class, Julian promises a 'treat' as he invites them to go to Nashville — on the same Saturday as the flag football game is going to be on. What is Marti going to do now? She gets mocked by Morgan when she tells him why she's so hesitant to go. He then gives her the idea to fake being sick to get out of the game so that she can attend the trip. And that's exactly what she does when Savannah walks in to talk to her about the game. Savannah, believing her excuse, rushes off to get her green tea to make her feel better for the morning. Savannah catches Marti packing and confronts her. Marti explains that she's going on this trip for her law career and it's more important than cheerleading. Though Savannah walks out angry, she lies and tells everyone that Marti's sick and going to her mom's house so she doesn't infect the others. Alice says they're going to need more then spirit to win and devises a plan to cheat. Alice goes over to Jake's to seduce him and take pictures of the other team's plays. Sneaky move Alice, really sneaky.
Alice shows her team the other team's playbook, but Louis doesn't want to cheat. Savannah is tempted but says no, because they need to win this on their own. She pulls the same card Alice did with backing her. Soon enough, they're failing miserably at winning with zero points. Jake sure seems smug with the whole thing since he keeps checking the scoreboard. Everyone seems surprised when Marti arrives on the scene. I sense a turn-around in the game.
Marti says she chose Savannah over her law trip, not cheerleading. And the volleyball team just keeps getting more and more frustrated as Marti scores not one, but two touchdowns. The last play is left up to Savannah, who hasn't been able to catch anything all day. Savannah saves the day and the Hellcats win the game. Jake and Alice walk together the next day and he tells her that he knows she copied the plays – and admits that he changed the plays during the actual game.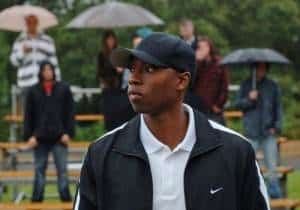 Dirty Money and Family Problems
When Louis returns home, finds a envelope of money in his mail and we find out he's hiding something and he heads straight to Red to talk it out. He tosses the money at Coach and demands to know where it came from, only Red denies knowing anything about it. Is he telling the truth or not? They march to Bill's office and Louis tells him that he's not coming back. Louis' father is then accused of being on a take for the football team and Louis calls them both trash before walking out. Red then tells Bill that if he's going to stay he needs to know everything.
Louis confronts his father when he walks in the door and finds out the truth. His dad is on the take for the football team. His father explains why he's doing it and that he's only doing this to make sure they keep the house and are able to pay the mortgage. Louis calls him out on taking blackmail money to keep quiet about some dirty business going on.
At the flag football game, Red comes up to Louis and tells him that his father asked Bill to stop sending him money, which lightens the mood for Louis just a bit. As Louis job hunts, Marti sneaks up behind him and the two strike up a conversation about how he grew up. Marti then gives him a dose of reality, but it also serves a pep talk to him. Guess what? We finally get that kiss we've been waiting to happen between those two.
At dinner the next evening, Louis and his father talk, but his dad tells him that he won't accept money from him. Louis holds his own, though, and the two talk about what kind of job he should get. Louis goes to Red and gives him some ideas about how the team can be better. Louis is there to get a job, saying he'll watch the videos and takes notes. Guess what? He gets the job.
Vanessa practices dancing in the gym, but guess who's watching her? Red. He's there to talk to her about the football team's dirty laundry. He tells her about the pay-per-play scheme and also about the penalties if they get caught. She tells him that he has to surround himself with people he can trust and he tells her that he has her. She makes it a point to tell him 'as a friend', for the millionth time, it seems.
In Conclusion
As the volleyball team is forced to perform their cheer for the team, Vanessa comes in after finding out who placed for a bid to Nationals, and shares that they placed 16th, resulting in no bid to nationals which gets the team slightly depressed. Hellcats takes a break next week but returns the week (October 27) after with a brand new episode at its usual time.
Written by: Holly