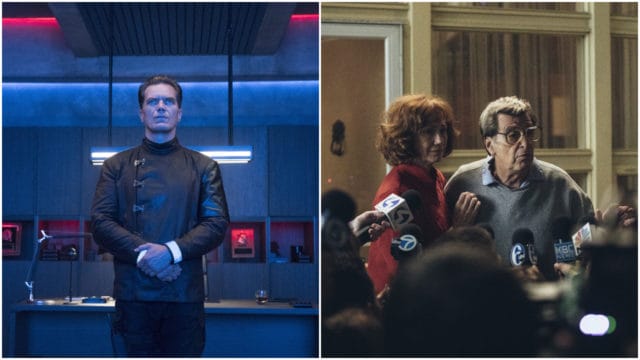 Two upcoming HBO original movies Fahrenheit 451 and Paterno are set to debut this spring.
Fahrenheit 451
Michael B. Jordan and Michael Shannon star in Fahrenheit 451. Directed by Ramin Bahrani and written by Bahrani & Amir Naderi, the film is based on Ray Bradbury's classic novel of the same name, depicting a future where the media is an opiate, history is rewritten and "firemen" burn books. The film debuts this spring, exclusively on HBO.
Jordan portrays Montag, a young fireman who forsakes his world and struggles to regain his humanity as he battles his mentor, fire captain Beatty, played by Shannon. Sofia Boutella stars as Clarisse, an informant caught between the competing interests of Montag and Beatty. The cast also includes Lilly Singh as Raven, a tabloid reporter who works with the fire department to spread the ministry's propaganda by broadcasting its bookburning raids to fans.
"I have always loved Ray Bradbury's prophetic novel 'Fahrenheit 451'," said Bahrani. "Two years ago, as I looked at the world around me, it seemed like the ideal time to do a modern interpretation. I am grateful to HBO for helping me bring my vision of the film to audiences with this incredible cast."
The film was shot on location in Toronto. The behind-the-scenes team includes director of photography Kramer Morgenthau, ASC, production designer Mark Digby, costume designer Meghan Kasperlik, editor Alex Hall and composers Matteo Zingales & Antony Partos.
Fahrenheit 451 is an HBO Films presentation of a Noruz Films, Brace Cove, and Outlier Society production; executive producers, Ramin Bahrani, Sarah Green, Michael B. Jordan, Alan Gasmer, Peter Jaysen; David Coatsworth produces.
Paterno
Paterno centers on Penn State's Joe Paterno in the aftermath of the Jerry Sandusky sexual abuse scandal. After becoming the winningest coach in college football history, Paterno's legacy is challenged and he is forced to face questions of institutional failure in regard to the victims.
Al Pacino returns to HBO, starring in the title role. Debuting this spring, Paterno marks Pacino's third HBO collaboration with award-winning director Barry Levinson, having starred in You Don't Know Jack, which earned Pacino a Golden Globe for Best Actor and an Emmy for acting and Levinson an Emmy for directing. Pacino also starred in the title role in Phil Spector, which Levinson executive produced. Levinson directs Paterno from a script by Debora Cahn and John C. Richards.
"Paterno is not a sprawling piece that spans years," said Levinson. "It unfolds largely over a two-week period, when we watch the events play out. I'm not following an agenda or trying to tell the audience to take a certain side in regards to Coach Paterno. The film lays out the elements of the story and leaves you to make your own judgment. There are times when you may feel one way, and times when you may feel a totally different way, and I think that's what makes the piece so compelling."
"Joe Paterno was known as an honourable man, an educator, a humanitarian — so trying to make sense out of what happened is, for me, the most fascinating aspect of the story," he added. "What did he understand? What did he not understand?"
The film also stars Riley Keough as Sara Ganim, the 23 year-old journalist who first reported on the Sandusky case for The Patriot-News, a daily newspaper serving the Harrisburg, Pa. metropolitan area; Kathy Baker as Sue Paterno, Joe's wife; Greg Grunberg and Larry Mitchell as Joe's sons, Scott and Jay Paterno; and Annie Parisse as Mary Kay Paterno, Joe's daughter.
Paterno is executive produced by Levinson, Jason Sosnoff, Edward R. Pressman, Rick Nicita and Lindsay Sloane; Amy Herman produces. It is produced in association with Sony Pictures Television.
Tell us what's wrong with this post? How could we improve it? :)
Let us improve this post!