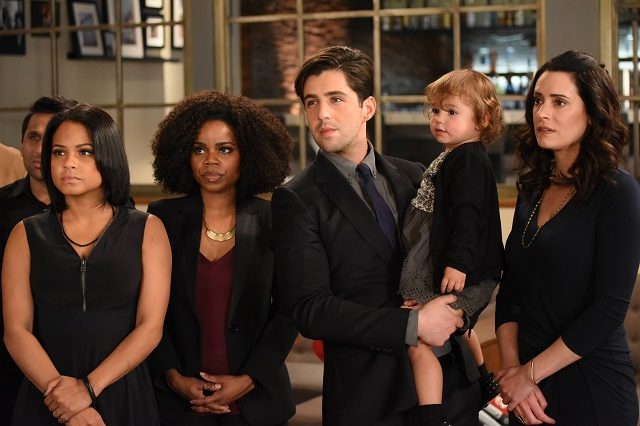 Despite the ups and downs Grandfathered has had throughout its first season, the series has always been consistently great when dealing with its two main relationships between Jimmy and Gerald and Jimmy and Sara. Although other parts of Grandfathered have grown to be more entertaining and effective, these key connections are where the show really shines, and they're both at the center of "The Memorial."
On the surface, "The Memorial" seems like another Jimmy-centric episode, a half hour focused solely on his relationship (or lack thereof) with his father. However, Jimmy saying goodbye to his dad is only part of the episode, and it's mainly there to reinforce what we've been witnessing all season: Jimmy learning to love his family. The death of his father makes Jimmy sad, and it makes him reflect on their history, searching for any type of memory that feels warm and loving and true; but the most important thing it does (with the help of Annalise's speech) is help him express how he truly feels about his family and acknowledge their importance to him. After a whole season of little smiles at something cute Edie has said or quiet moments of joy at family dinners, Jimmy finally, outwardly shares just how much Gerald, Sara, and Edie mean to him, calling them "too good" for him.
It's a rare moment of public authenticity from Jimmy, who typically only speaks from the heart when almost no one's looking. Instead, he makes this declaration in front of a room full of people, individuals who might not have know his dad well or even liked him. But that doesn't matter because in this room is Sara, who encourages Jimmy to be honest with his words and who responds to them by kissing him after she having just promised to move in with Craig.
And that kiss doesn't feel like too much; it doesn't come off like Grandfathered trying to shoe-horn in a cliffhanger ahead of the finale, or like the show attempting to force romantic drama into an episode about Jimmy's relationship with his father. Because as I mentioned above, "The Memorial" is about so much more than Jimmy's fractured connection with his dad; its focus is so much clearly more on the present than the past and about the family that Jimmy has now rather than the family he left behind. He's finally become the man who deserves this type of family, the type of person who can not only spend time with them and enjoy their company but also value what they mean to him. And that's the best version of Jimmy; it's not the smooth-talking, grinning charmer, but the real guy underneath it all–that's the person who's the best father to Gerald, and that's the guy that Sara wants to be with.
Losing a parent can be incredibly difficult, no matter how close you are to him or her. Death is always hard to handle and to move on from. However, beauty can be born out of some of the most painful moments in life; when someone is taken from us, we realize just how lucky we are to have the people in our lives that are still around, that still care for us and want to help us and love us.
By dealing with his father's death, Jimmy is able to recognize just how truly special his family is, how far Gerald, Sara, Edie, and Vanessa, and even people like Annalise and Ravi, would go to make him happy. Jimmy may not have had much of a family when he was younger, but he has the best one that he can imagine right now and they've helped bring out the best version of him. Like I said, it's a little bit of beauty coming out of all that pain, and who knows? Maybe things will get even a little more beautiful for Jimmy and Sara after they realize just what that kiss meant in next week's finale.
Other thoughts:
Ravi finds out that Gerald is planning on proposing to Vanessa, but he struggles to keep quiet about it until Gerald promises to make him his "Secret Best Man." It's a pretty forgettable B-plot, but it allows for Josh Peck to do some funny things. Gerald's tackling of Ravi reminded me of the ridiculous bits of physical comedy he used to do a lot back on Drake & Josh.
I kind of feel bad for Catherine. She seems like a genuinely good, nice person, but there's no way that she and Jimmy are making it through next week's finale. I couldn't care less about Sara and Craig, though. Craig's kind of the worst.
Everyone's reactions to Jimmy's crazy suggestions regarding the restaurant and his appearance were pretty terrific. I especially enjoyed the picture of Jimmy with blonde hair, with Gerald comparing him to Glenn Close and Craig mistaking him for Billy Idol.
Biggest laugh of the night for me was Sara asking Gerald whose "package" was bigger after he told her that was the first personal thing that Jimmy wanted to know about him. "What? I'm rooting for you!"
What did everyone else think about tonight's episode of Grandfathered, and what are your predictions for next week's finale? Comment below and let me know.
[Photo credit: Erica Parise/FOX]
Grandfathered Season 1 Episode 21 Review: "The Memorial"
Summary
Gerald and Sara help Jimmy say goodbye to his father in another excellent episode of Grandfathered.