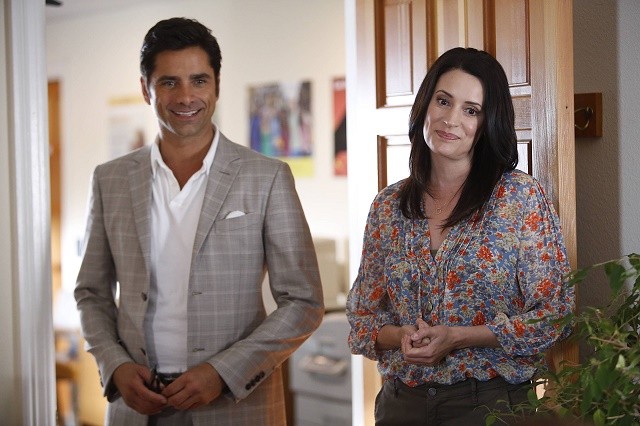 Grandfathered is a series that I've had a lot of mixed feelings about over the course of its first five episodes. While the show had never been bad, per se, it also never produced an episode that I ever fully loved. I enjoyed many different parts of Grandfathered, particularly its incredibly likable cast; however, it always felt like something was missing.
That wasn't the case with last night's episode of Grandfathered, though, as the FOX comedy finally came into its own and delivered its best episode yet. "My Amal" was charming, romantic, and, most important of all, funny, as the show focused on its two central romantic relationships, Jimmy and Sara and Gerald and Vanessa, and told strong, heartfelt stories about each respective pair.
Everything about Jimmy and Sara's storyline worked incredibly well in this week's Grandfathered, as we dug deeper into Jimmy's desire to find his "Amal" (a reference to Amal Clooney) through his pursuit of Sara's coworker, Heidi. On the surface, it appears that Jimmy is so insistent on going out with Heidi to boost his own ego, but the real truth of the matter is that he only becomes fully active in his efforts after Sara tells him that he's not good enough to date her. Jimmy's need to impress Heidi is actually embedded in a deeper part of himself: his need to prove himself to Sara.
And Jimmy's concern for what Sara thinks of him, along with his ability to actually drop his facade and be his authentic self around her, is why their day together in "My Amal" is such a blast. Not only is the natural chemistry between John Stamos and Paget Brewster a pleasure to watch, but the interactions between Jimmy and Sara are the most fulfilling ones that Grandfathered has to offfer. These are two people with such a rich history, that know each other better than anyone else, and in the moments that they allow one another to actually see the real versions of themselves again, it unlocks something beautiful between them, a spark and connection not present anywhere else on the freshman FOX comedy. Sure, Jimmy and Sara bicker and differ on a variety of issues, but when they click, it's effortless, creating some of the very best Grandfathered moments yet.
While Gerald and Vanessa's relationship has lacked much of the depth of Jimmy and Sara's, "My Amal" is able to find new and interesting ways to show the friends' romance in a new light. After agreeing to be "friends with benefits" with Vanessa, Gerald struggles to keep his emotions out of their more physical connection, which leads to some great comedic moments from Josh Peck. More importantly, Vanessa finally opening up about how she wants something more real and stable in her life but is afraid of trying that with Gerald not only makes her a richer character but breathes new life into the pair's complicated relationship. Gerald and Vanessa as two parents who don't want to risk ruining their friendship, thus causing a fractured home for their daughter, is a lot more compelling than Gerald simply pining over his crush.
Was using Gerald's neighbor and his girlfriend a cheap way to reach that point in his and Vanessa's relationship? Definitely. But still, it's good to see Grandfathered striving to do more with its characters, even if the show doesn't always provide them with the most nuanced or satisfying stories. Just the fact that the show is trying, and that it has the ability to deliver episodes like "My Alma," is a major improvement from where it was initially, and is a promising sign of things to come.
Other thoughts:
There's not much Edie in this episode (which could account for why I enjoyed it so much, since it was a nice break to focus on just the adults); however, the opening with her and Jimmy watching the kids show is pretty terrific. I even enjoyed the joke about Tony Strawberry and The Sopranos, no matter how forced it felt.
Dave Coulier has a quick cameo as Heidi's patient, making him the second Full House alum to appear on Grandfathered so far.
Sara watching Rambo III while sewing was a nice touch at the end, as was Jimmy's phone call to her. Grandfathered absolutely nails the little emotional moments like that without ever making them too schmaltzy.
"Almond Schwarzenegger."
What did you think of this week's episode of Grandfathered? Do you think it was the show's best episode yet? comment below and let me know.
[Photo via FOX]