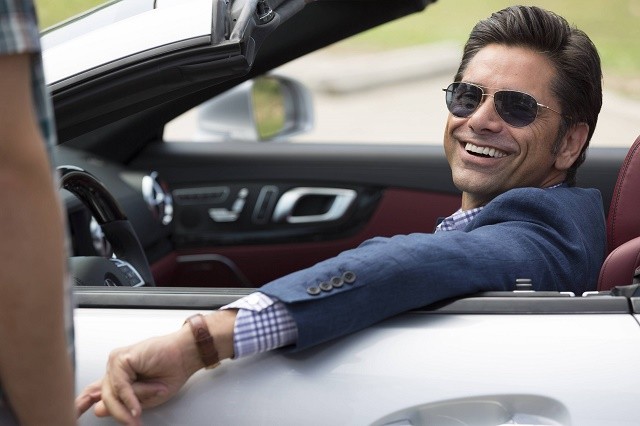 Four episodes in, Grandfathered continues to be quite the uneven freshman sitcom. It's a comedy that isn't all that funny, with many of its big punchlines or physical comedy bits falling flat (at least for me), but it's also a series with a great heart that, for the most part, nails the more emotional moments of its story. In Grandfathered's brief run so far, the show's heartfelt moments have been strong enough for me to look past its other flaws, and that was true of last night's episode as well, as "Deadbeat" didn't provide many laughs but did offer a compelling look into the history of Jimmy and Sara and how they're both learning from their mistakes.
"Deadbeat" centers on Jimmy's attempt to throw Edie another birthday party at his restaurant after he misses her first one in the park. As always, Jimmy's actions are about his wants and needs rather than his family, as his main focus for the party isn't for Edie to have a good time but to show just how great of a grandparent he is to all of the important people that he has invited. It's a typical self-absorbed Jimmy plan, but it backfires quickly when Sara's brother Frederick (Patrick Fischler) arrives.
Although Sara didn't want Frederick at the party, Jimmy insisted on having him come, which leads to her confession that she told Frederick and the rest of her family that Jimmy left her when he found out she was pregnant with Gerald. That lie allowed for Sara to raise Gerald on her own, without her parents insisting that Gerald needed a father, but it has also caused Frederick to hate Jimmy for the past 25 years, as he refers to him as a "deadbeat" that left his sister to work three jobs and take care of a baby all on her own.
While Jimmy does his best to commit to the lie Sara has told, the truth eventually comes out, leading to a funny scene of the two of them hashing out their personal differences on stage in front of everyone. Ultimately, though, the most important conversation between the two of them takes place in the kitchen, when Sara reveals the she had planned on telling Jimmy about her pregnancy when they went to see The Cure together, but he bailed on her that night, helping to cause their eventual break-up. It's the honesty of the scene, along with the strength of John Stamos and Paget Brewster's performances and the fact that both Jimmy and Sara own up to making mistakes, that allows it to work so well. You can see how, in the past, Jimmy and Sara would have clicked together, and how the older, wiser, and more mature versions of themselves can connect on a deeper level now, leading to the eventual re-coupling that we all know is coming at some point this season.
It's the chemistry between Jimmy and Sara that works, and really, it's the chemistry between all of these characters that leads to Grandfathered's most rewarding moments, like the final scene of them all eating cake and watching the video of Gerald's second birthday party. These sequences allow for Jimmy (and by some extension, Stamos) to drop his ridiculously handsome, playboy facade and be the real, fulfilled person we can tell he wants to be, and they also provide Grandfathered with its best moments from the show's first four episodes. Hopefully, the series' heart remains intact, and the writers find a way to bring some more laughs to this pleasant but not very funny sitcom.
Other thoughts:
I didn't mention him specifically above, but Josh Peck is so damn good as Gerald, especially when he's in a bird suit.
Grandfathered needs to find out what to do with Ravi, because his whole weird quest to be Jimmy's son in this episode didn't work at all.
Okay, so I laughed when Jimmy tried top cop a feel after putting his arm around Sara. It was a nice, funny callback to her story about the guy at The Cure concert.
Speaking of The Cure, that was "Pictures of You" playing at the end of the episode, in case you didn't notice.
Richie Sambora's presence in this episode is so incredibly random that I kind of love it.
Annelise gets her own side plot again this week, with being in charge of taking all the toddlers to the bathroom. It doesn't amount to much, but it does have a sweet ending when a mother thanks her for potty-training her kids.
"I'm a black lesbian from the south, and this is the worst thing that ever happened to me."
"Are you the bathroom lady?" "I used to be so much more."
What did everyone else think of this week's episode of Grandfathered? How are you enjoying the show so far this season? Comment below and let me know.
[Photo credit: John P. Fleenor/FOX]