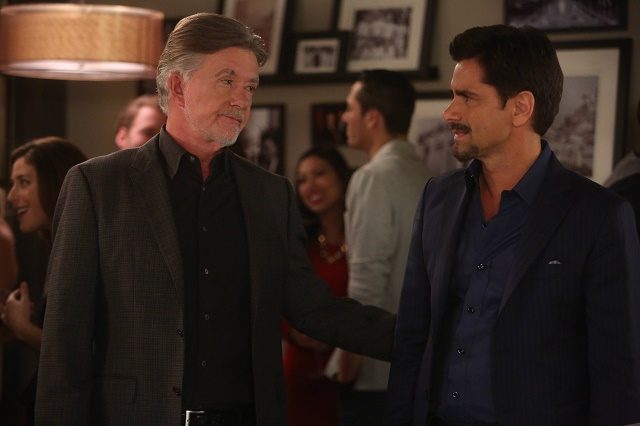 It's been nearly two months since Grandfathered aired its last new episode, and while "Some Guy I'm Seeing" wasn't a bad installment, per se, it continued a mediocre streak that the freshman sitcom had been stuck in after stringing together several strong episodes in a row. "Jimmy's 50th, Again," however, breaks Grandfathered's disappointing dip in quality and is actually one of the very best episodes that show has delivered during its first season. Although it's not a particularly funny installment, this week's Grandfathered does do a marvelous job of exploring the show's main characters and the journeys they've gone on since the series first kicked off back in September.
In particular, "Jimmy's 50th, Again" is a great Jimmy episode, featuring probably the best work that John Stamos has done yet on the young FOX series. It's easy to waive off Stamos as simply a pretty face with a lot of charm, but there's more to him as an actor than his ability to deliver a hilarious one-liner or smolder through a romantic scene. Those acting chops are on display throughout tonight's Grandfather, as the show flashes back to Jimmy's birthday a year ago and gives us more insight into his fractured relationship with his father.
Grandfathered has only hinted at Jimmy's history with his father so far this season, slightly digging into it during "Gerald Fierce" when Jimmy tries to stop Gerald from getting into a fistfight. However, "Jimmy's 50th, Again" really showcases the complex nature of their relationship, as Jimmy seeks his dad's approval at his 50th birthday party but never receives it. It's all because the father-and-son duo couldn't be any less alike; while Jimmy's dad owns a lawnmower company and was married to Jimmy's mother for 50 years, his son runs a restaurant and sleeps with a different woman almost every night. No matter how hard he tries to win his father over, Jimmy is unable to, and it's that constant rejection from his father that causes him to live a life cutoff from those who could possibly love him; however, it's also that rejection that creates the hole inside Jimmy that only Gerald, Sara, and the rest of their family is ultimately able to fill.
It's a wise, if somewhat uninspired, decision by the Grandfather writers to have us flash back and forth from Jimmy's 50th birthday last year to his 51st one this year, illustrating not only how much Jimmy's life has changed for the better since meeting Gerald but how all of our main characters' lives have improved since that time. Gerald is now a successful app creator with a wonderful daughter, and he's about to propose to Vanessa, the love of his life. Sara isn't stuck inside with her friends anymore; she's dating a guy she really likes and, even more importantly, has made peace the issues she had with Jimmy, even going as far as to cook him dessert in this episode as a way to apologize for keeping him and Gerald apart for so long. Even Annalise and Ravi seem happier with themselves currently than they did a year ago, when Jimmy ordered them around as employees and didn't value them as friends as much as he does now.
It's amazing how these singular moments, whether it's falling in love or landing your dream job or meeting the son you never knew you had, can have such an incredible impact on us and the rest of our lives. These moments can help us forge stronger bonds with the ones who love us, or even help us discover and realize who those very important people are. No matter what though, we look back and realize that they're the moments that have helped better us, improve us, and, ultimately, define us.
These are also the moments we look back to for strength and comfort when we're forced to deal with events that we don't know how to handle. It still remains to be seen how Jimmy will react to the death of his father, but the shocked and saddened look on his face at the end of "Jimmy's 50th, Again" lets us know that it will not be an easy experience for him to go through. Fortunately, he's not alone anymore. He has those that he loves in his life; he has a family, and they'll help him get through this.
Other thoughts:
I forgot to mention above that Catherine admits to Annalise that she may be falling for Jimmy. However, she realizes she needs to "pump the brakes" after watching Jimmy react to Sara's apology. Even Catherine is beginning to recognize that Jimmy and Sara belong together!
Jimmy may think that Gerald proposing to Vanessa is incredible, but will she respond the same way? What do you think?
How awful was Gerald's turtleneck on a scale of 1-10? I'd say at least a 7.
And what was worse: Gerald's turtleneck or Jimmy's goatee?
This exchange between Gerald, Jimmy, and Annalise got the biggest laugh of the night from me. Gerald: "Do all fancy black women know each other?" Jimmy: "Pretty much." Annalise: "You two are right on the line right now."
What did everyone else think about tonight's episode of Grandfathered? Comment below and let me know.
[Photo credit: Jordin Althaus/FOX]
Grandfathered Season 1 Episode 20 Review: "Jimmy's 50th, Again"
Summary
Jimmy celebrates his 51st birthday in a terrific episode of Grandfathered.