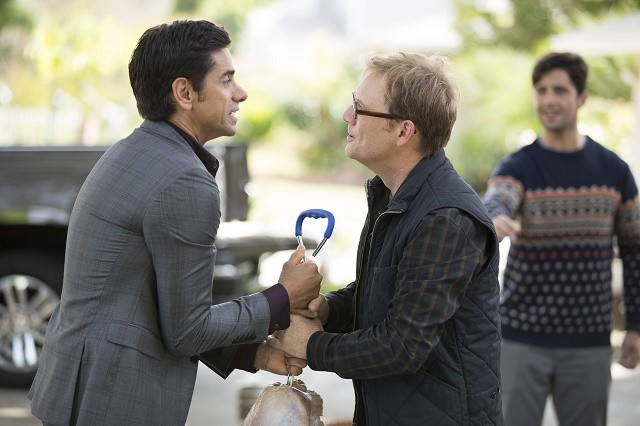 Although it pushes some of the character development we saw from Jimmy in last week's episode of Grandfathered aside, "Gerald's Two Dads" is another fine installment of FOX's freshman comedy, as it utilizes a strong guest spot from Andy Daly and delivers some truly heartwarming moments in the episode's final scenes. Even though Grandfathered appears to revert Jimmy back to his nonchalant, careless persona after a couple of weeks that have illustrated how devoted he is to his new family, the series makes up for it by allowing him and Gerald the opportunity to bond over their different experiences with jealousy, shedding light on Gerald's difficult childhood and Jimmy's continued insecurities, not to mention his renewed romantic feelings for Sara.
The central story of this week's Grandfathered is pretty simple: Jimmy stops by to see Gerald, Sara, and Edie before leaving on his annual Thanksgiving vacation to Malibu with a hot, young model, but he decides to hang around with his family for the holiday after meeting Bruce (Daly), who used to date Sara and be like a father to Gerald. Bruce is an engineer that has been working in Asia for years, but now that he's back, Gerald invited him to spend Thanksgiving with the family. It's clear from the get-go that Brue has a strong connection to both Gerald and Sara, and Jimmy worries that he may be getting replaced.
Similar to "Sexy Guardian Angel," Jimmy's behavior throughout "Gerald's Two Dads" can be seen as immature, but it's also a natural reaction to arriving so late in Gerald's life. Jimmy cares about his son and wants to truly be his father; his main struggle is reconciling the family man he's becoming with the playboy bachelor that he was before. When confronted with someone like Bruce, who not only has a history with Gerald but also seems like the "perfect dad," it's understandable that Jimmy would initially act out like he did.
However, while Jimmy's jealousy works well enough on its own, it becomes something even better when he and Gerald openly discuss the situation. Gerald tells Jimmy about how he used to feel jealous, too, jealous of the other kids who had their dads around, and when Bruce became a part of his life, he helped make some of that jealousy go away. All Gerald wanted to to do was introduce them to each other, so that they could both realize how important they were to him; all he wanted was to have a special Thanksgiving for his daughter with his titular "two dads" in attendance.
It's those words from Gerald that kick-start Jimmy's actions, leading to the final, heartwarming sequence of this week's Grandfathered. In an effort to fix what he so badly messed up, Jimmy uses his culinary skills and recreates food from Benny Loco's, the Mexican restaurant that Gerald and Sara always used to order from on Thanksgiving when it was just the two of them, sitting in their sweatpants and watching soap operas. The fact that Jimmy not only takes three hours to cook the meal but also paid enough attention to such a small detail from what Gerald and Sara had been saying earlier further illustrates his growth as a character, a fitting ending to another entertaining, family-focused episode of Grandfathered.
Other thoughts:
Again, the only slight problem I have with this episode is the way Jimmy is presented in its opening moments. His desire to pull a "classic Martino drop by" on his family before driving off with Kaley to Malibu doesn't really click with what we've seen from him over the past couple of weeks.
Also, one other issue I have with Grandfathered right now is Ravi. The show has to give that character some better material or just cut him loose entirely, because there is nothing funny about anything he does.
Sara and Bruce hooking up at Thanksgiving gives me hope that we'll be seeing a lot more of Andy Daly on Grandfathered. Additionally, I appreciated that the series indicated that Jimmy's jealousy was also over Bruce's history with Sara without ever losing focus on what the episode was truly about: his relationship with Gerald.
"Well, you'll be giving me thanks after you see this. Word play." "Barely."
"My whole thing is, in every picture, my stomach is telling a story." "Oh. My stomach just likes to tell the story of how much it likes bread."
What did everyone else think about this week's episode of Grandfathered? Comment below and let me know.
[Photo via FOX]