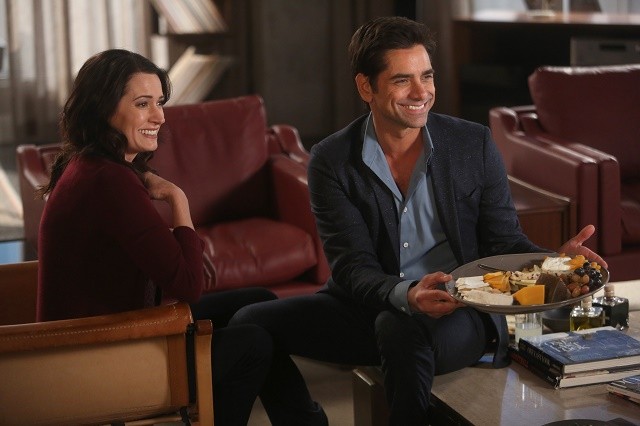 Since returning from its brief winter hiatus in January, Grandfathered has been very hit-or-miss, with episodes ranging from decent to downright terrible. However, last night's installment of the FOX comedy, titled "The Biter," was not only Grandfathered's best episode so far in 2016 but the show's best episode yet.
As I mentioned in my review of last week's episode, Grandfathered works best when it focuses on the relationship between Jimmy and Sarah, and "The Biter" did just that, as the two of them worked together to find out which kid at school was biting Edie. The entire storyline was a complete farce for the most part, with Jimmy and Sarah even going as far as interrogating the kids while they were at recess, but it was grounded in real, authentic emotion, as Jimmy began to rediscover his love for Sarah.
While the Jimmy/Sarah storyline is nothing new and something that pretty much every viewer had to expect to happen after watching Grandfathered's pilot, it still works because of the chemistry between John Stamos and Paget Brewster and because of the rich history shared between these characters. More so than supporting players like Ravi and Annalise, and even more than other major characters like Gerald and Vanessa, Jimmy and Sarah are the show's most realistic and well-defined characters. Their interactions with each other never feel fake or cartoonish, no matter how self-centered or ridiculous Jimmy might be behaving during that episode.
Furthermore, as I wrote in my review last week, the two of them bring out the best in each other, with Sarah unknowingly encouraging Jimmy's more responsible and parental side, and Jimmy helping Sarah remember how fun and free she used to be before becoming a mother. It's easy to see how well the two of them compliment each other; it's essentially Romance Writing 101. However, just because it might be predictable doesn't mean it's not undeniably charming and incredibly fun. Grandfathered is the most heartfelt, funniest, and straight-up best version of itself when it allows Jimmy and Sarah to take center stage, and that's what exactly what "The Biter" did.
And while the real meat of the episode was everything happening between Jimmy and Sarah, the B-story of "The Biter" didn't disappoint, largely due to its Drake & Josh reunion. As someone who grew up watching that show on Nickelodeon, it was an absolute blast to see Josh Peck and Drake Bell share the screen together again, and all of the meta moments (particularly Peck's "Hug me, brother!") were nice winks and nods to the show's fans without ever feeling too out of place.
Furthermore, it was nice to see Gerald and Vanessa working together on something (and actually doing a good job on it) and for Gerald to stand up to Kirk all on his own. Many times this season, it's seemed like Gerald has needed a pep talk of some sorts to have courage, but the fact that he didn't just sit and take Kirk's insults shows that he's becoming more confident in himself. It's a small bit of character that progression that didn't get lost in the fanfare of the Drake & Josh reunion, and I appreciated it.
With Jimmy still pining for Sarah after encouraging her to go on her date at the end of the episode, and Gerald stepping up, I'm optimistic that the rest of this season of Grandfathered can recapture the magic of "The Biter." This is the show that I always wanted Grandfathered to be. I just hope it sticks around for more than one week.
Other thoughts:
Since Jimmy is such a womanizer, who can pretty much snap his fingers and get himself a date, I'm really enjoying watching him pine after Sarah. It's a different, vulnerable side of Jimmy, and John Stamos plays it well.
This whole episode was really funny, but the best moment for me had to be when Jimmy and Sarah realize that Alex isn't the biter and are forced to watch as his parents take away his Disneyland vacation from him.
A very close runner-up for the night's funniest moment: Paget Brewster's delivery of the line "Freaking Millennials." That was pretty darn perfect.
The meta jokes were strong last night. Not only did we get the "Hug me, brother!" line from Gerald, but we also had Kirk telling Gerald that he reminds him of his stepbrother. Oh, and also, Jimmy's fun reference to Paget Brewster's Criminal Minds past: "I like this side of you. Like a bada** chick on Criminal Minds or something."
Jimmy can't believe Clementine lied to them, but Sarah has an explanation: "Well, anyone who destroys a castle that beautiful can't be trusted."
What did everyone else think of last night's episode of Grandfathered? Did you love it as much as I did? Comment below and let us know.
[Photo credit: Jordin Althaus/FOX]