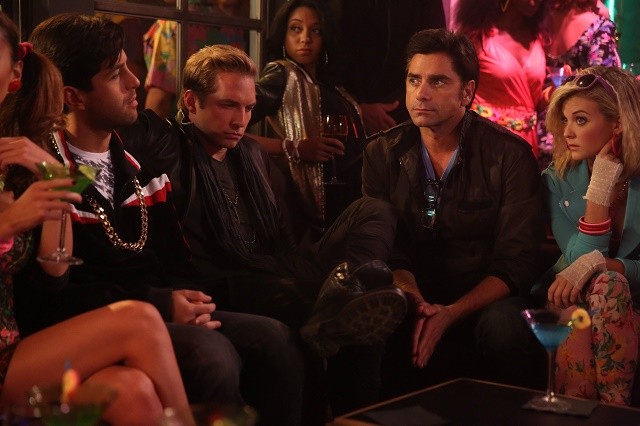 Although comedies have proven that they can be so much more than simply joke delivery machines, sometimes, all you need a sitcom to do is make you smile and laugh. That's exactly what last night's episode of Grandfathered did for me, and while it wasn't one of the show's deepest or best installments, I found myself enjoying a lot of it.
The main story in "Tableside Guacamole" is Jimmy trying to get pop star Chason Fairwick to come to his restaurant so that he can post about his experience online and help bring some much needed business to Jimmy's. Why has Jimmy's been on the decline? According to Annalise, it's all because of Jimmy getting soft and focusing too much on his family; if they want to see business improve, he has to make impressing Chason his number one priority.
As with most Grandfathered episodes, there's nothing noteworthy about the story being told here. Jimmy being worried that he's losing his edge, focus, or [insert interchangeable word here] is a plot that the FOX sitcom has already used a number of times throughout its first dozen episodes, and "Tableside Guacamole" hits all of the same beats you would expect, with Sarah helping Jimmy come the realization that he's better than Chason, and Jimmy coming to Gerald's aid right when he needs him to.
However, what makes "Tableside Guacamole" better than some of Grandfathered's weaker episodes in recent weeks is that it's actually funny, and that it gives pretty much all of its characters opportunities to shine. What helps is the (pretty contrived, but who cares?) '80s party that Jimmy throws at the restaurant, which puts Jimmy, Gerald, Sarah, Vanessa, and everyone else in the same room. Grandfathered is at its best when it brings its characters together instead of splitting them up and giving them under-cooked storylines; in "Tableside Guacamole," the series allows the natural chemistry of its stellar cast to be on display.
And really, those natural, unforced moments, like Gerald's disapproval of Edie dancing to Chason's music, or Jimmy and Sarah reflecting on their best days from the '80s, are the highlights of this week's Grandfathered, and of the show in general. Scenes like these provide a real authenticity to the show that it doesn't have when Jimmy's acting like a cartoon character, or when Ravi keeps doing ridiculous thing after ridiculous thing in whatever nonsensical story he's been given that week.
"Tableside Guacamole" doesn't offer any major insights into Grandfathered's characters (unless you count Gerald's pretentious taste in music), and it doesn't try to dig deep or pull on our heartstrings like other episodes of the show have. But it's a fun, relaxed half hour with some good laughs and a few really strong scenes between the cast. It was pleasant to watch, and given the type of episodes that Grandfathered has delivered so far in 2016, I'll take it.
Other thoughts:
My apologies for the lateness of this review. My FOX feed suddenly froze last night, so I had to wait until today to watch the episode on Hulu.
It's simple, "old guy" humor, but Jimmy thinking Gerald was speaking code, along with his mention of "trends, posts, hashtags, Groupons" ("Those are all words," Annalise tells him), really made me laugh.
Also, Paget Brewster's delivery of "Yes, I'm 38" had me cracking up.
Hearing "Modern Love" by David Bowie in this episode made me so happy and sad at the same time. Still can't believe he's gone.
What did everyone else think about this week's Grandfathered? Comment below and let me know.
[Photo credit: Jordin Althaus/FOX]
Grandfathered Season 1 Episode 13 Review:
Summary
Jimmy goes to desperate lengths to get a pop star to endorse his restaurant in an entertaining episode of Grandfathered.