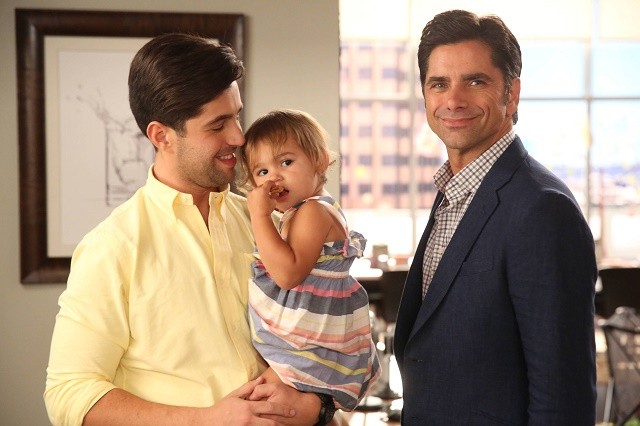 I really want to love Grandfathered. All the pieces are in place for a great sitcom: a charming premise, a solid structure, and a terrific cast; however, five episodes into Grandfathered's first season, the series is still struggling to be what all good comedies are: funny. I chuckled once during "Edie's Two Dads," and even though I was smiling through most of it, the lack of full-blown, laugh-worthy moments is certainly troubling.
Still though, what Grandfathered is good at, it remains really good at. Somehow, the show was able to take the off-putting idea of Jimmy and Gerald pretending to be Edie's two gay fathers and turn it into a pretty heartwarming story about the lengths will go to help family, and how Jimmy is beginning to not only realize the changes in his life as a "family man" but embrace them.
Now, even though Grandfathered is mostly successful in its heartfelt storytelling in "Edie's Two Dads," that doesn't mean every moment is flawless. This is a typical sitcom story, one we've seen a thousands time before, but the way the whole thing begins to come undone, with Jimmy kissing JoAnna Garcia Swisher's Sloane purely out of his own lustful desires, is pretty lazy writing. Sure, there's a spark between the two of them, and Jimmy initially lies to her about being Edie's father because he's clearly interested in sleeping with her; however, the fact that Jimmy kicks this whole ordeal into motion with his original fib (although Gerald doesn't allow his dad to tell the truth once he realizes that Edie might have a better shot at getting into the prestigious preschool), and then screws it up on his own as well, undercuts his emotional growth in this episode. It could be that Grandfathered is trying to show the growing pains of Jimmy's evolution into a father and grandfather, but it mainly comes off as an easy way to create goofy, entertaining chaos once Sloane shows up for the preschool interview starts at his apartment.
That lazy writing decision aside, there's still a lot of smart, admirable moments to be found throughout "Edie's Two Dads." Two of the best ones come through Jimmy and Gerald's photos together, a portrait of the life that Jimmy missed out on and wishes he could have had, and also through the closing moments of Jimmy with the book of preschools, the same one he looked through earlier at Sara's house. These are small but clear examples that illustrate Jimmy's progression as a character, and Grandfathered rightfully doesn't let its characters over-explain what's going on, instead only having them throw out a couple words of dialogue, thus allowing for the actions themselves and the expressions on John Stamos' face to show the significance of the scenes.
It's these reflective, emotional moments that keep me watching Grandfathered, even as the show continues to fail with its many attempts at humor (this week, it's Gerald reciting the words, routines, and practices he learned at the Russian woman's preschool that he attended when he was younger–it never got any funnier, despite Josh Peck's best efforts). This series has a lot of strong, interesting things to say about family and parenting; I just wished it said them in a funnier way.
Other thoughts:
I wonder if Sloane will be back at some point this season. I hope she is, because if not, this kind of seems like a waste of JoAnna Garcia Swisher.
Even though I didn't care too much for Gerald's constant references to his old preschool, watching Sara actually go back and visit it was quite a treat, although I wish Grandfathered would give Paget Brewster more to do with the main cast and just more to do, period
Annalise is always good for at least one laugh a week. This time it's her delivery of "I'm their Kramer."
[Photo via FOX]