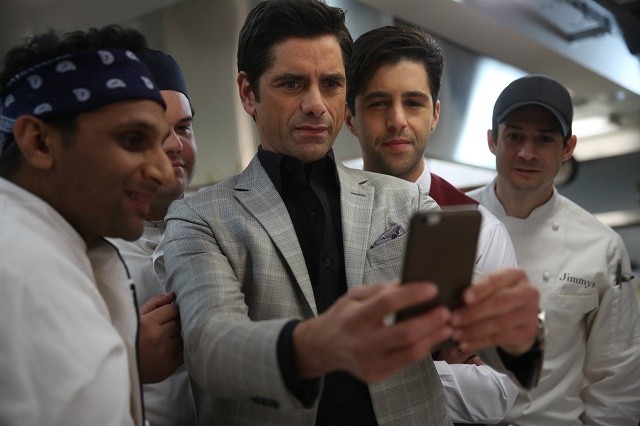 Although the characters on Grandfathered have acknowledged Jimmy's womanizing behavior in the show's brief time on the air, it's pretty much been accepted by all of them, thrown around as more of a joke than any type of actual problem. However, "Budget Spa" takes a harsher look at Jimmy's need for validation from the opposite sex and what that actually says about him, leading to one of Grandfathered's better episodes of the season, and easily its best episode so far in 2016.
Jimmy is forced to reconsider his addiction to women after Sarah calls him out on it in the opening minutes of "Budget Spa," which prompts him to have a guys' night out at a Korean spa with Gerald, Ravi, and some of the other restaurant workers, while Sarah joins Vanessa and Annalise for a girls' night at a fancy bar. While splitting up its major players like this usually causes problems for Grandfathered, "Budget Spa" actually benefits from it, as characters like Vanessa and Ravi, who have been used less successfully in the past, actually become a lot more interesting and entertaining in the particular settings that they find themselves in and through their interactions with Jimmy, Gerald, Sarah, and Annalise.
Furthermore, separating Jimmy and Sarah throughout most of the episode also makes their reunion in the final minutes of "Budget Spa" all the better. The main achievement of this episode (aside from turning Ravi into a character that was actually likable and funny for once) is that it highlights just how well Jimmy and Sarah compliment each other, and while that could and probably should lead to them rekindling their romance down the line, it's their friendship that really is the best part of Grandfathered. These are two people who know each other so well and aren't afraid to call each other out on their BS; furthermore, they also bring out the best in each other, with Sarah getting Jimmy to become a deeper, more complete person, and Jimmy helping Sarah reconnect with the fun, younger side of herself that she somewhat lost after giving birth to Gerald.
While there's nothing revolutionary about Jimmy and Sarah's relationship, the connection between them is so special because it's the most real and honest part of Grandfathered, even more so than the father/son scenes between Jimmy and Gerald. There's just such a natural chemistry between John Stamos and Paget Brewster and such a sense of history between these characters that it's impossible to not find yourself engaged with their scenes. Plus, unlike a lot of the interactions on this show, which are entertaining but remain pretty much surface level with the characters, there's a real depth to the conversations and exchanges between Jimmy and Sarah; it's not simply nostalgia–both of them are learning more about themselves in the present by reconnecting with this person from the past, and it's just really enjoyable to watch.
Anytime Grandfathered has such a strong focus on Jimmy and Sarah (even if they're not in the same room together), the show is at its best. Add in the fact that the writers gave Vanessa, Annalise, and Ravi all entertaining things to do throughout the half hour, and that ensures that "Budget Spa" is one Grandfathered's best episodes yet.
Other thought:
Grandfathered has tried to put Vanessa out of her comfort zone in past episodes to provide humor, but "Budget Spa" was the first time it actually worked for me. Her whole thing with the artichoke had me cracking up.

Noureen DeWulf returned as Priya and had me laughing with her delivery of this line: "

Sweetie, let's sing something together later. Something classic. Do you like Wiz Kahlifa?"
Sarah had a tone of great lines in "Budget Spa," but my favorite one had to be her utter disbelief at the arrangement that the married guy, who was flirting with her, had with his wife. "What's crazy is that a guy who sells a dime of pot is behind bars while this nutjob roams free."
Biggest laugh of the night, though, came from this exchange after the guys watch the video Priya recorded in the bathroom: "Who was recording that video?" "I was wondering the same thing."
As an Elliott Smith fan, it was really a pleasant surprise to hear "Either/Or" playing at the end of the episode. Nicely done, Grandfathered.
What did everyone else think about this week's episode of Grandfathered? Comment below and let me know.
[Photo credit: Jordin Althaus/FOX]
Grandfathered Season 1 Episode 14 Review:
Summary
Jimmy tries to prove to Sarah that he doesn't need validation from women in a solid episode of Grandfathered.