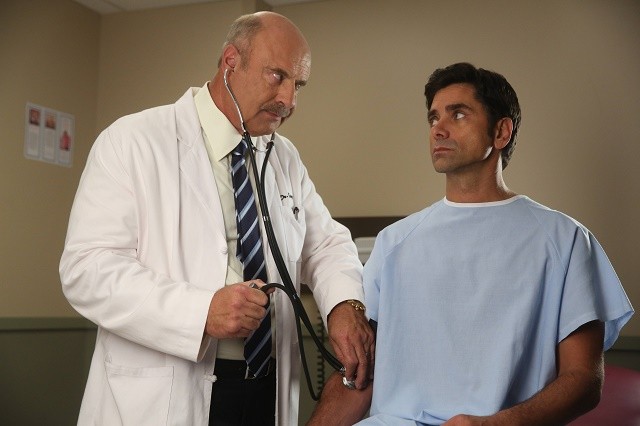 In Grandfathered's final few episodes of 2015, it appeared as if the show had upped its game and started to become the sitcom it always had the potential of being. The series knew how to best utilize its talented cast and tell touching, believable family stories in funny and smart ways. Unfortunately, that quality wasn't present in last night's episode of Grandfathered, "Perfect Physical Specimen," an underwhelming half hour that was light on humor and spent so much of its time focusing on Jimmy that it forgot about the show's other characters, leaving them in lifeless subplots or forgetting about them all together.
While I am well aware that John Stamos is the star of Grandfathered and that Jimmy is the show's main character, episodes like "Perfect Physical Specimen" place too much value in that, telling stories that revolve so much around the comedy's central figure that they hardly incorporate the other people around him. Grandfathered works best when Jimmy is interacting with Sara or Gerald, his self-centered, "cool guy" personality bouncing off of their more mature and balanced ways of living. When they come together and the three of them learn about each other, it not only leads to satisfying emotional moments but great comedic scenes as well; if you take those interactions away, you're left with Jimmy talking to himself and Edie, or even worse speaking with the incredibly bland character that is Ravi, who ends up dragging down the usually entertaining Annalise with him in a stupid C-plot involving Jimmy's secret safe.
From a story standpoint, the events of "Perfect Physical Specimen" make sense: Jimmy wouldn't want to tell his family about the mole on his arm and would retreat into worrying about it by himself. Before he knew about Gerald, that's what Jimmy would always do: figure things out on his own, merely asking his employees and assistant for their advice but never really taking it. He's still getting used to having a family, and it's understandable why telling them would frighten him.
Jimmy's worries about possibly having cancer also nicely tie into Edie's ear tube surgery, although the attempted humor from Gerald and Vanessa's efforts to keep everything fun never really comes through. The comedy there is a little too "big" for Grandfathered, which mines most of its laughs from clever one-liners or random, unexpected jokes, such as Jimmy discovering the animated "Suspicious Mole" while doing research online. Gerald and Vanessa's concern as Edie's parents is a story that could and should work; however, the only time that Edie's condition ever feels like anything real is when Jimmy talks with her about it on the rooftop.
I'm being more negative than I should be. "Perfect Physical Specimen" is still an entertaining half hour of television, and it's most definitely not Grandfathered's worst episode. There's still a lot to enjoy with this show, particularly the heartwarming family moments, or pretty much any scene between Stamos and Paget Brewster. However, after the wonderful high that Grandfathered ended 2015 on, it's disappointing to see the show regress in its first episode of 2016. Here's hoping that it's only a slight misstep and not a sign of a new, uneven direction the comedy will be heading in during the new year.
Other thoughts:
So Dr. Phil guest stars as Jimmy's doctor….and adds absolutely nothing to the episode.
Ravi is such an annoying, useless character right now, and that's because of the writing, not the performance of Ravi Patel, who I've seen be very good in other things, including, most recently, Master of None. Grandfathered really needs to find a way to make Ravi work as a character or get rid of him.
I'm still laughing at that "Suspicious Mole" joke as I write this. That was so simple and stupid, and yet it was the funniest moment of the episode.
I wonder if we will ever see "The Keeners" again, or if that was just a fun, one-off joke.
What did everyone else think about this week's episode of Grandfathered? Did you enjoy it more than I did? Comment below and let us know.
[Photo credit: Jordin Althaus/FOX]
Grandfathered Season 1 Episode 10 Review: "Perfect Physical Specimen"
Summary
Jimmy deals with a health scare in an underwhelming episode of Grandfathered.