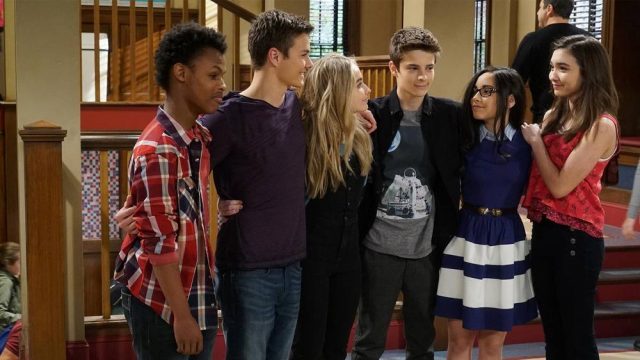 Girl Meets World has proven its worth as a show in the last three years. The Disney Channel spinoff to one of the most beloved sitcoms of the 90's has been dominating the ratings for tackling the tough adolescent and life issues, as well as making use of stars from the past. Now the show is setting the stage for the ultimate family reunion as it closes production on its third season. The question on everyone's mind is whether or not the series is going to continue into a fourth season, and just how exactly it would do so.
TVLine was the first to announce yesterday that all original members of the Matthews family, including both actresses who played daughter Morgan (Lily Nicksay and Lindsay Ridgeway), would return for the spinoff series' Season 3 finale. They will be joined by William Daniels as iconic, consistent teacher Mr. Feeny, Lee Norris as Farkle's father Minkus, Danny McNulty as reformed bully now janitor Harley Keiner, Anthony Quinn as former John Adams High School teacher Jonathan Turner, and his mentee/surrogate son Shawn Hunter, played by Rider Strong. There is no doubt Boy Meets World fanatics will be overjoyed at this news, but is this large reunion an ominous sign of an upcoming dilemma?
No decision has been made yet on the possibility of a fourth season of the Disney Channel hit, and it may depend on which direction showrunners Michael Jacobs and April Kelly choose to take. Indeed, there was a point in Boy Meets World's run where there was no other way to tackle more adult stories such as alcoholism, abuse, and sex, but head on. For all the progress that has been made for the Disney Channel, most especially the work that Girl Meets World has done, there are topics the kids will deal with in high school which cannot, and should not, be talked around.
The good news is that there are no shortage of options these days when it comes to the structure and development of television shows. It may not have been the intention of the creators and the networks to tackle some of the harder subjects children face in high school, but there are some topics which can't be avoided. The solution may be to move to another network altogether, much in the way that Supergirl will this year move from CBS to the CW. It wouldn't even necessarily have to be that drastic of a change, if Girl Meets World could move to another Disney owned network, such as Freeform.
The whole Girl Meets World cast, crew, and creators have done a fantastic job of telling real stories for a younger generation. Except kids grow up. The kids we were introduced to three years ago are growing up before our eyes, as is their audience. The topics they have tackled so far will grow tenfold in the years to come. How, indeed if, the show chooses to move forward with telling these compelling stories, will be something both Boy Meets World and Girl Meets World fans alike wait to see.
Do you want to see Girl Meets World tackle the tough subjects should it be renewed for a fourth season?
Tell us what's wrong with this post? How could we improve it? :)
Let us improve this post!