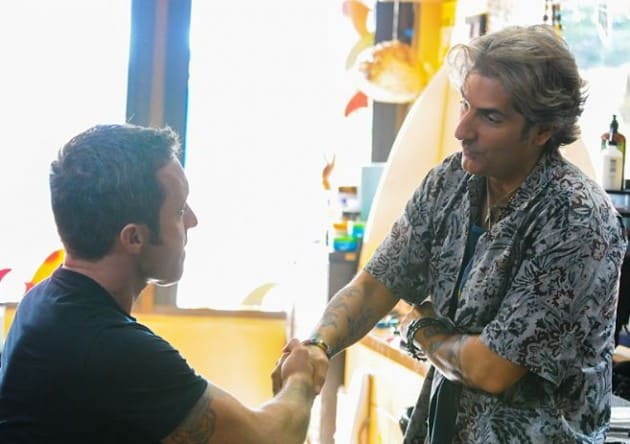 If you think after last week's high pressure situation that Hawaii Five-0 was going to slow down, you'd be wrong. Just as much stress was involved in the cases this week, with one being significantly disturbing. Even in a stressful situation though, Michael Imperioli knows how to make you smile.
After last week's stress, Danny is out of town (again, seriously?) and Steve decides to take some time to relax and get a shave and a nice conversation with Odell. A relaxing day ends abruptly when a kid comes into the barbershop with a bullet wound. He witnessed a murder and begs for help to him hide from a gang that is hunting him down. Steve's one gun against half a dozen men with machine guns doesn't exactly bode well for the situation. Significantly outnumbered in men and ammunition against an Armenian gang, Steve and Odell barricade themselves inside the barbershop until they can think of something else.
When the men take a chainsaw through the wall in order to get to the boy, Odell and Steve find a way to escape. Odell takes the kid to the hospital, while Steve goes to confront the leader of the gang. When Steve goes to arrest the head of the gang after the boy, he is shocked to hear that he is the father of the boy. Even more shocking than the fact that he tried to kill his own son is the reason for it. Turns out this kid is a psychopath who has been kidnapping kids from the neighborhood and killing them, and that's too disturbing even for a gang leader. Steve ends up killing the kid and arresting his father. The emotions of the last few weeks, coupled with the disturbing photos of the dead children Steve finds, finally pour out in a rare display of tears from Steve. It's hard to let yourself feel that kind of sorrow, especially for a guy who's seen too much.
Throughout the standoff we learn a lot of interesting information about Odell that makes me think he needs to be kept around. Can I make a side note here about the show's ability to create dynamic characters who appear on a recurring basis, and who then become excellent full-time cast members? They did this twice last year with the additions of Jerry and Grover, though I wouldn't mind if they did this with Steve's lawyer friend to get some more female blood.
The point is, Odell is pretty cool. Like the fact that he makes his own homemade after shave, and he thinks bullets should be recyclable (although that would be efficient and resourceful). Odell is also a lawyer, but the arrogance with which his father controlled his life and resented his own father's menial earnings as a barber caused Odell to turn his back on the "finer things." Oh, and he's a pacifist who learned how to make rudimentary explosives from his WWII vet grandfather (yet another handy thought).
At the same time, Jerry is falsely accused of a string of home invasions and beaten women. Everyone knows Jerry is innocent, plus he has an alibi. Jerry was with Max during the last invasion, illegally gambling. Max and Jerry come out fine, though Max makes a large donation to the HPD Widows and Orphans fund in order to keep his activities off the record. The next step is to find the person who actually has been committing these crimes. Five-0 eventually figures out that a law office mailroom clerk with access to divorce files, and recently divorced himself, the guy has been taking his anger out on innocent women. An open and shut case, though it's probably best not to let something like this happen again to someone as already paranoid as Jerry.
Now be honest, who wants to start a campaign to bring Michael Imperioli on board at least on a recurring basis?
[Photo via CBS]
Tell us what's wrong with this post? How could we improve it? :)
Let us improve this post!