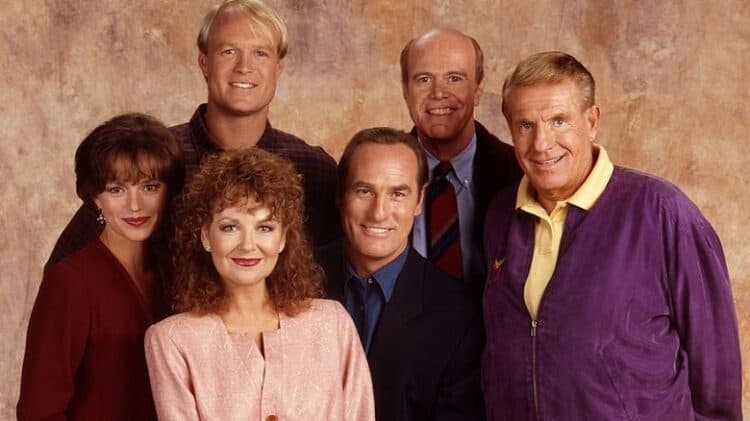 Coach aired on ABC from 1989 to 1997 and is one of the most popular TV shows of the early '90s. Airing a total of 200 episodes, Coach was created by Barry Kemp, who previously worked on Newhart and Taxi. Kemp also produced movies such as Romy and Michele's High School Reunion, Patch Adams, and Catch Me If You Can. Coach boasted an A-list team of cast members, some of whom have become big stars in Hollywood later in their careers. The show also spawned an attempted sequel, with most of the original show's stars set to reprise their characters; however, plans for the sequel did not push through. If you want to know what the original cast of Coach has been up to, read ahead. Here is an update on the cast members of the hit ABC TV series Coach.
Craig T. Nelson
Craig T. Nelson starred in Coach as Hayden Fox, the head coach of the fictional NCAA Division I-A Minnesota State University Screaming Eagles football team. The veteran actor gained fame for his role in the show, which he appeared for nine seasons. Nelson has since starred in TV shows like The District and Parenthood. Currently, he has a recurring role in the hit Big Bang Theory prequel Young Sheldon. On the big screen, Nelson has worked on films like The Proposal, The Company Men, Get Hard, and Gold. He is also well-known for voicing Mr. Incredible in The Incredibles and its sequel, Incredibles 2. In an interview with Parade, Nelson talked about plans to create a sequel to Coach, saying that, since the planned sequel wasn't so successful, he believes he is finally done playing Hayden Fox: "Well we tried, and it wasn't very good. I had actually looked forward to it. I thought we could do something a lot different and still retain some of the same elements but it just didn't work out. Looking at it now, I'm glad it didn't."
Shelley Fabares
Shelley Fabares portrayed Christine Armstrong in the series. For her role in Coach, she earned two Primetime Emmy Award nominations. After Coach, Fabares began providing the voice of Martha Kent on Superman: The Animated Series, a role she would later reprise in 2003's Justice League and 2006's Superman: Brainiac Attacks. Fabares hasn't appeared in anything after 2006, on account of her medical concerns, but she had been involved with the production of the Screen Actors Guild Awards until 2011. She was not unable to join talks for the sequel of Coach because of the medical issues she was going through.
Jerry Van Dyke
Jerry Van Dyke played Luther Van Dam in the hit ABC series Coach. A younger brother of Dick Van Dyke, Jerry Van Dyke had a lengthy career as a character actor in supporting and guest roles. After Coach he appeared in shows like Teen Angel, Yes, Dear, The District, Committed, The Middle, and The Millers, his last TV appearance. In 2018, he died from heart failure in Hot Spring County, Arkansas.
Bill Fagerbakke
Bill Fagerbakke played Michael "Dauber" Dybinski in the hit ABC series Coach. Aside from appearing on-screen, Fagerbakke is most popularly known for his voice work for various popular animated shows. He voices Patrick Star in the hit Nickelodeon show SpongeBob SquarePants. He has been voicing the popular starfish since 1999. He also appeared in How I Met Your Mother as Marvin, Marshall Eriksen's father. In an interview with Den of Geek, he was asked how the transition from being in Coach to voicing Patrick in SpongeBob SquarePants was, and whether his role of Dauber influence his portrayal of Patrick. He answered: "To be honest, the first couple of years of SpongeBob I did call Patrick "AquaDauber." [laughter] The business I've found myself in for my adult life, it requires a certain amount of stereotyping. It's just the nature of the beast. You have a limited amount of time to tell a story; in particular on camera. So you want the visual information there to provide a certain amount of background. People that look a certain way are cast in certain roles. "You look like a cop, so we'll cast you as a cop," blah blah blah that sort of thing. So I was typecast coming out of the womb by the way I look. When you're an actor and you're 6'6" and you look like a goofball, you're going to play big goofballs. So it's kind of my milieu, my specialty I guess, and so even by the time I had done Coach [in 88], I had already played a quirky goofy character or two. I had a comfort level with that, and I suppose it probably on some level is a reflection of my own natural demeanor. By the time my business led me to voice overs in the early '90s, I realized oh, I also sound like a big goofball, because that's mostly the kind of animated characters I portrayed too."
Clare Carey
Clare Carey portrayed Kelly Fox in Coach. After the hit series, Carey starred in So Little Time, Jericho, and Crash. She's also guested on shows like Major Crimes, The Mentalist, Perception, CSI: Crime Scene Investigation, and NCIS: New Orleans. On the big screen, she worked on movies like La Cucina, The Trial, True Love, and Savannah Sunrise.
Kris Kamm
Kris Kamm portrayed Stuart Rosebrock in the hit sitcom Coach. After Coach, he appeared on projects like Beyond Belief: Fact or Fiction, Winchell, Cover Me, and World on Fire, which he also co-produced.
Kenneth Kimmins
Veteran actor Kenneth Kimmins portrayed Howard Burleigh in the ABC series Coach. He joined the TV series Lois & Clark: The New Adventures of Superman. His last theater credit was from The Music Man, a Broadway production in 2000.
Georgia Engel
Georgia Engel played Shirley Burleigh in Coach. A five-time Primetime Emmy nominee, after Coach, she worked in Everybody Loves Raymond, Passions, and more recently, Hot in Cleveland. Her last TV appearance was as Sister Barbara in One Day at a Time in 2018. A year later, she passed away at the age of 70.
Katherine Helmond
Katherine Helmond played Doris Sherman in Coach. Like Engel, she also appeared in Everybody Loves Raymond after Coach. She also guested on shows like The Glades, Melissa & Joey, True Blood, Harry's Law, and Cars Toons: Mater's Tall Tales. She died in 2019 at the age of 89.