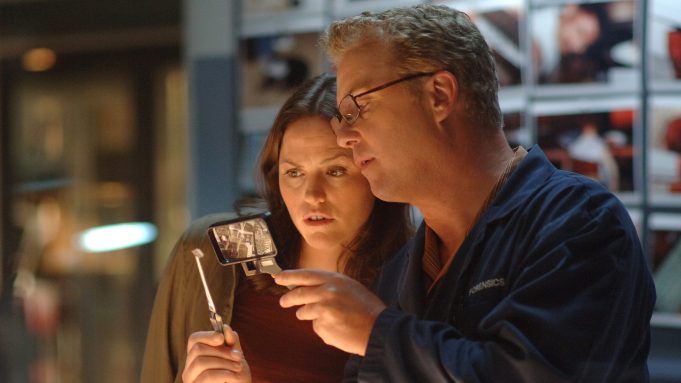 When "CSI" first debuted on October 6, 2000, no one had a clue how big this franchise would become. The setting was Las Vegas. The show was amazing, and it ran for 15 years. From this show came several more versions of CSI including "CSI: Miami," and "CSI: New York," and "CSI: Cyber". Though this one was the longest-running, it also holds a special place in the hearts of everyone who watched the show for so many years. Fans are beyond excited that the CBS network is bringing back the OG CSI show on October 6, 2021. The limited series is called "CSI: Vegas," and it will be a type of epilogue to the original show. Fans of the OG cannot wait to see more, and we have some answers for you now. What most people want to know is related to the cast: Will we get to see the original cast members come back? If you're curious…here's the cast of the new-old show.
Gil Grissom is the man behind the entire series from start to finish. Though he eventually took some time off the show and we did not see Grissom for some time, we can say that we are beyond excited to see him come back and do what he does best. He's going to be back to lead the show, to show us everything we missed, and we cannot wait to see what Peterson does with the character after all this time. Obsessed with bugs and always thoughtful, he was the best.
Jorja Fox as Sara Sidle
Fox is back in her original role as Sara Sidle, and fans could not be more excited. She's one of the original cast members from the show, and she brought so much to this character. The character of Sidle was always a little more serious than everyone else, but she always had a funny side. She went through some things in her life, and she always had a thing for Grissom – which was never quite what anyone thought it might be. She's back, and we are thrilled.
Wallace Langham as David Hodges
He always tried so hard to fit it and to make the best choices, but he was always just Hodges. He was funny, he made us laugh, and his character was such a character. He's back, and this time around he is doing his job as a CSI while continuing to always give a little more than necessary and always looking to find himself on the right side of love.
Paula Newsome as Maxine Roby
Paula Newsome was not part of the original cast of characters on this show, but she's here now. She's playing the new head of the Las Vegas crime lab. She's a face everyone should recognize after nearly 30 years in the industry. She's had parts on shows all over primetime both big and small. She's guest-starred in just about everything from "ER," to "Grey's Anatomy," to "Pretty Little Liars," and everything in between. She should make a great addition to the new show.
Matt Lauria as Josh Folsom
He's another newbie to the show. You might recognize his face from his other work. He was part of the "Friday Night Lights," cast as well as the "Parenthood," cast just to name a few. He will come into this show to play the character of Josh Folsom, who is a Level III CSI and investigator who often takes the lead.
Mel Rodriguez as Hugo Ramirez
He's another new guy, but he's not someone who is new to the business. He's the man who had roles in shows like "The Last Man on Earth," "Better Call Saul," and so much more. He's been in the business since 1999, and he's going to take on the role of Head Medical Examiner. He should bring an interesting take to the show.
Mandeep Dhillon as Allie Rajan
She is a British actress who is only 30, but that does not mean she will not bring something to the show. She was only 10 when the show first aired in 2000, but she's taking on the role of Allie Rajan. The character immigrated to Las Vegas to follow her dreams of becoming a CSI. She's now a level II CSI working with some of the best in the business, but we imagine her character has a lot to learn not being quite on the same level as her coworkers.
Paul Guilfoyle as Jim Brass
If there is one character everyone remembers, everyone loves, and who was part of the show from day one, it's Captain Jim Brass. Paul Guilfoyle is nothing short of spectacular, and everyone knows his face as Brass. Brass was always dry, always funny, and always making us laugh, but he was also good at his job and able to make sure everyone knew he was in charge. He's bringing his character back to life, and no one is more excited than the people who watched Brass kick butt for 15 years.
Tell us what's wrong with this post? How could we improve it? :)
Let us improve this post!