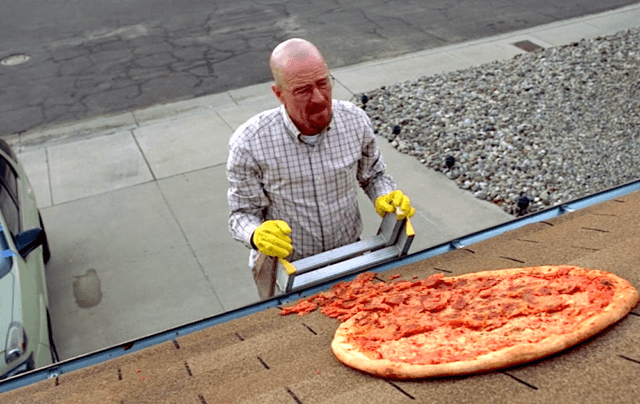 Yup. It's all over the news. Breaking Bad fans still try their luck at landing pizzas on Walter White's house. But what's really incredible news is that Bryan Cranston landed his famous pizza on his first try… a nearly impossible feat. What's also hilarious is that Jonathan Banks, the Breaking Bad hit man posted his own video with his humorous threat, "If I catch you doing it, I will hunt you down."
In an unsuccessful bid to keep fans from pelting her Albuquerque home with more pizzas, actual owner Francis Padilla has put up signs warning people to stay off her property, and given TV interviews with local station KOB saying, "If you're going to be a jerk, stay the hell away!" Show producers say that she's truthfully one of the sweetest people on earth. But frustration has led her to erect a fence around her home. It's going to be six feet high and made of iron. The Breaking Bad filming site has become a tourist attraction and fans have been visiting often. Francis laughs when she talks about the pizza daredevils who've tried and missed, and the few who have flung the pizzas which have stuck.
Fans of Breaking Bad can't seem to get enough of the New Mexico home, and when they arrive unexpectedly to honor the AMC hit show, they often orchestrate their photos, telling the real owners to move out of the photo, close the garage door, or they try to peek inside. Die-hard fans in the hundreds have turned up to see the famous White family home from the series and some even steal rocks for souvenirs.
The mischievous antics have been going on since March 2010 when the pizza throwing episode first aired. It was episode 2 in Season 3, when Walter White arrived at his home with pizza, but was pushed away at the door by his wife, after failing to negotiate his case. In complete frustration, he threw the pizza on his way out.
Who made the infamous pizza? Venezia's Pizzeria. The Montanile family owns several locations in Phoenix and the Venturinos, their cousins, own the Albuquerque location. The film crew had been buying the pizza pies for a while. The pizzerias use authentic family recipes to make their tasty pies. Venezia's would get calls to deliver pizza, filled take-out orders and sent empty boxes, too.
But the day came when the order came for 10 of their gigantic party pizzas. The family gossip chain started because the crew returned to buy 10 more pizzas. The first 10 pizzas were sliced, as usual, but the crew needed 10 whole pizzas. That's when the family knew something was going on. The rest is Breaking Bad history. Turns out that whole pizzas are easier to throw. Today, the pizza chain often gets calls from customers making certain that their pizzas will be sliced. Topping that are the people who come from all around the country to eat the pizza which Breaking Bad helped to make famous.
The series ended after six seasons. Millions from all over the globe have seen the cult hit. What can fans do to recapture the magic missed? Lonely Planet writer Megan Eaves recommends an Albuquerque do-it-yourself tour to the sites featured in the show. Recommended stops are Walter and Skyler's home on Piermont Drive, Marie and Hank's Northeast Heights foothill home, the A-1 Car Wash, the Savoy restaurant where Gretchen and Walter meet, and Paul's Monterey Inn. Tuco's hideaway, blown up in Season 1, is really Java Joe's café on Park Avenue, and La Palomita Park is the place where Mike and his granddaughter visit.
But, should you hanker for more touring help, there are several themed tours offered by tour companies in Albuquerque. Most are now encouraging fans to visit, but reminding them to refrain from throwing pizzas on the White's fictional home, because real people live there. Head on over to Venezia's, and enjoy eating some fabulous pizza instead.