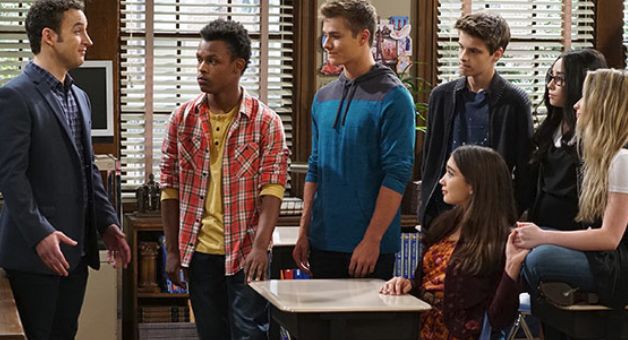 News has been swirling around that Girl Meets World is ending the show in its entirety. Actually it's pretty much inevitable but that doesn't stop fans from hoping they can muster up one more season. Still though, from the looks of it, the season and probably series finale this Friday is shaping up to be a show closer. The photo above is a first sneak peek at what Friday's episode might entail. According to TVline, who obtained the picture:
Before the Girl Meets World gang says goodbye during Friday's series finale (Disney Channel, 6/5c), Cory's surprising his students with one last "history" test. While his wife decides whether or not to move their family to London, Cory asks Riley and her friends to recall some of the biggest landmarks in their lives – and to see how they might help to predict what's still to come.
From what we hear, Friday's send off is going to be a big one chalk full of cast members from Boy Meets World and guest stars that viewers are going to love. One thing that's very certain is that the episode will be a tearjerker.
And if this photo is any evidence, Riley's friends are definitely looking concerned. And for those of you who want the show to live on? Series creator Michael Jacobs recently told TVLine that "there are talks underway" for the show to continue on another network or streaming service, but stressed that the conversations are at the "very beginning stages."
Until that time comes, enjoy Friday's episode!
Tell us what's wrong with this post? How could we improve it? :)
Let us improve this post!