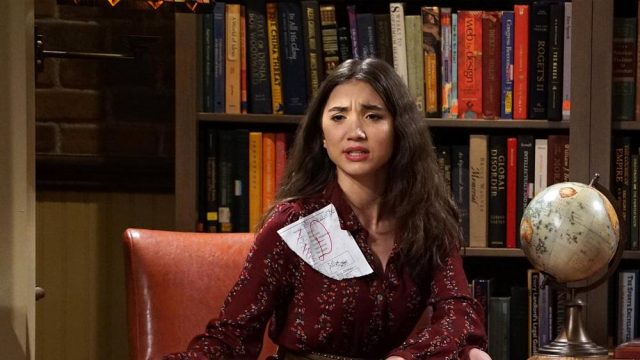 On top of the long list of hard truths that must be faced in the transition from middle school to high school is academics itself. Girl Meets World is all about life lessons, and since the main setting is a school, grades have to be a covered at some point. You can't have a show about Cory (who was a notoriously bad rising to average student) and Topanga's (who was class valedictorian) daughter without focusing a bit on Riley's journey as a student. Thus far Riley hasn't had to worry about her permanent record, but every good run must reach a bump at some point.
In a bizarre turn of events Maya gets an A in Spanish (yes, it's real because Topanga smelt its authenticity) while Riley gets her first D. Riley is disappointed in herself and panics about the grade going on her permanent record. Cory goes to the Spanish teacher for leniency, but he goes as her father, not her teacher. The Spanish teacher knows it would be a disservice to dumb down the test for her students, since the work only gets harder and harder as the years go by. She's a good teacher who cares about her students, and knows they just need a small push to grow.
Maya, Zay, and Smackle are excelling while Riley, Lucas, and Farkle are failing for the first time. It's painful to see Riley attempt those dreaded all-nighters which shouldn't even be attempted until college. Riley gets stuck on the one bad grade, neglecting the reality that a series of tests add up to the final grade. That is what goes on your permanent record. Topanga takes the opposite approach of Cory. She thanks Riley's teacher for pushing her daughter to be at her best. This approach is even working for Maya, who is actually encouraged to do better in all her classes.
The teens's best in middle school does not equate to high school. The work only gets harder, and only high school grades count for your permanent record for college. Middle school was only meant to prepare the students for what's to come. The college conversation was a smart one to have, since alot of the conversation had accurate details about what actually counts for a college application (Parents of teens see The College Board website). Cory has a Feeny moment realizing that a good teacher looks ahead. "Good isn't good enough anymore." What you learn today isn't nearly as important as what you will learn tomorrow. That's a good thing since you work harder to learn more. Riley does exactly that and picks up her grade on the next test.
What are your thoughts on this week's lesson in Academics?
Girl Meets World Season 3 Episode 4 Review: "Girl Meets Permanent Record"
Summary
Riley gets an unwelcome wake-up call regarding her grades in this week's intelligently written Girl Meets World.