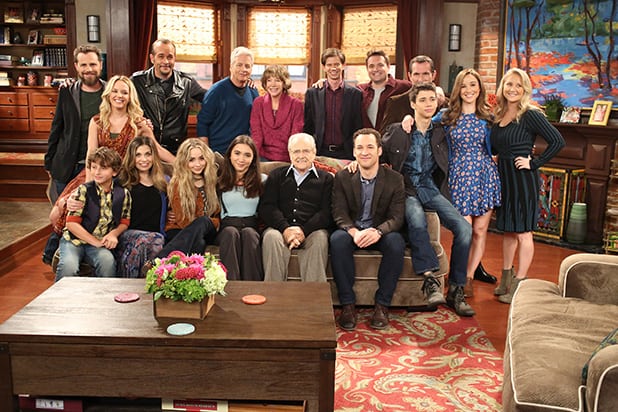 Are we crying yet? Because if you're a true Girl Meets World fan, especially if via your love of Boy Meets World, the Disney incarnation's series finale was a thing of beauty. What more could you ask of a series finale than a homecoming? Almost everyone returned to say goodbye to the Matthews family should Topanga decide that the time is right for a new adventure. With one last listen of that theme song, and a few welcome surprises, Girl Meets World signs off.
Maya and Riley continue to freak out after Topanga's big announcement that her promotion would require the Matthews family to move to London. Our relief at finally discussing the many times erased chalkboard subject of "Belgium 1831" quickly vanishes when the point is made that Belgium's independence is comparable to the Matthews's family's move. Both were and are at the crossroads between the known and the unknown, the familiar and the new opportunity. Farkle figured out long ago what Belgium 1831 meant, which is why he stopped asking. He knew it meant that his friendships as he knew it would no longer be the same. Considering Ava gets it in her head that she is going with the Matthews to London, Topanga takes it upon herself to seek advice from everyone she loves. We do mean everyone! This includes the two actresses who played Morgan, though that's never really explained, and really who cares to?
What does matter is how the past chapters influence this one, and the next. After embracing the student who became like a son to him, Mr. Turner makes it a point to mention writing our own history. You don't want to look back and regret a decision you never made, like the adoption Turner never went through with with Shawn. Shawn has that opportunity and he takes it. Maya Hart is now Maya Hunter!
Auggie gets wise counsel on his frayed nerves from not one, but two Aunt Morgans. Not that it lessens his heartache saying goodbye to the wife. Meanwhile Riley's group of friends get together in mutual sorrow. It's wonderful that Smackle has made as much emotional progress as she had, that Lucas and Riley will always share a bond, and that the universe seems to want to throw Maya and Josh together no matter how long it takes. When it comes to Riley and Maya, words fail.
Then there's Eric. Eric never fails to give surprisingly good advice despite his diminishing brain cells. Plus we all would give anything to hear the famed Feeny Call whenever we can! It all boils down to listening to your heart. Topanga listens to Eric, who I think we all know draws his knowledge subconsciously from years with Mr. Feeny. After much thought, Topanga decides to stay put. Home and the best of what's around the corner is right here, right now. So we circle back around to Belgium 1831. More to the point, we don't. It's not yet time to leave this place of comfort and hope yet.
We still have a little more time to look to the past. With flashbacks of words past spoken in the Boy Meets World series finale, Maya and Riley know they're going to be okay whatever comes next. They have each other, and that's all they need to take on the world.
Sound off in the comments on your favorite moment from the series finale.
Tell us what's wrong with this post? How could we improve it? :)
Let us improve this post!