We're two weeks away from the premiere of Girl Meets World's third season. With the time remaining until the premiere, we'll be looking back at the milestones GMW reached in its first two seasons, how the journeys are similar to that of their BMW predecessors, as well as what we're most looking forward to as Riley, Maya, Lucas, and Farkle finally head into the most metamorphic time in their lives.
In many ways it felt like the right time for a long break as we prepared ourselves for the next generation to head to high school, but we also were anxious to see what would happen once they got there. After all, its predecessor didn't really establish the stories which would carry the series until the gang was in high school. Bearing that in mind, we thought it would be a good time to look back at where our Boy Meets World characters were at that point in their lives, and how the experiences of the next generation will be different.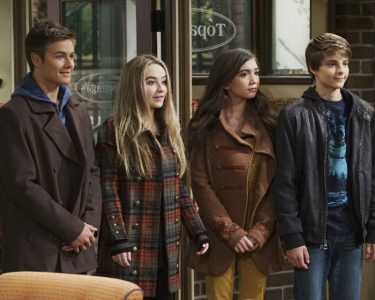 Season 2 of BMW was actually when the kids started high school, as opposed to the two years of middle school we saw in GMW. It was the first year "The Feeny Effect" was introduced, a strange occurrence in which Mr. Feeny followed the kids in every grade level all the way to college. The kids would always have Feeny, but high school introduced a very different kind of teacher with the introduction of motorcycle riding, comic book reading Mr. Turner. He would also be very important to Cory, Topanga, and particularly Shawn's evolution on the show.
It was in the 9th grade that Danielle Fishel's character Topanga became a series regular and slowly began her journey to becoming Cory's true love.
As you can see they didn't really take off until the third season.
GMW's journey to high school will continue to pay homage to its past in many ways, but it will also have a different, perhaps even more serious, energy. In fact, most of the more serious themes BMW covered in its first year of high school, the GMW gang has already faced in their last year of middle school. Riley and Farkle dealt with the cruelty of bullying, Maya confronted the father who abandoned her, and first love blossomed between Lucas, Riley, and Maya. Then there are those more serious topics high school kids are introduced to, like sex and drugs. In the past Disney has shied away from these sensitive topics. Given the trajectory of the show there's really no way of avoiding topics that are all too real, and as such need to be addressed with educational authenticity. Never fear though, Cory will be continuing the tradition of "The Feeny Effect" and follow the kids to high school to help them get through it.
https://www.youtube.com/watch?v=IQGStB5gwzg
Girl Meets High School: Part 1 premieres Friday, June 3 on the Disney Channel.
Tell us what's wrong with this post? How could we improve it? :)
Let us improve this post!