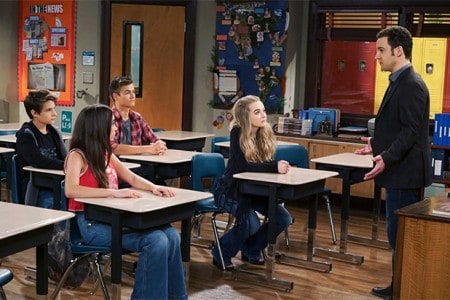 Tomorrow night Girl Meets World will air its second season finale with the kids finally graduating from middle school. Before they take on the intimidating world of high school, they're soaking in every last minute of their time in Cory's classroom.
The synopsis for the episode entitled "Girl Meets Legacy" reads: With middle school graduation around the corner, Riley, Maya, Lucas and Farkle work together to determine what kind of legacy they want to leave at John Quincy Adams.
Guest starring Lee Norris as Minkus and Danny McNulty as Harley.
Sounds good, right? Of course Minkus will be there for Farkle's graduation, but I am disappointed to not see Shawn making an appearance. Not only for his niece Riley's sake but also because he and Maya really bonded this season. In many ways, Maya is modeled after Shawn's character coming from a broken home and finding refuge with the Matthews. She truly looks up to him as a source of hope.
Expect a resolution of sorts to this budding love triangle between Riley, Maya and Lucas. Ever since the New Year's Eve episode when Farkle made things super awkward by announcing to the whole party that Riley still loves Lucas, the triangle hasn't been addressed other than Lucas making a few jokes here and there. Things between the girls were a whole lot more awkward after their trip to Texas but they've been suspiciously avoiding the subject of Lucas and acting like nothing's changed for a few months now. In fact, everything may be changing sooner than they realize.
"There is a much bigger and broader conceptual question that we are answering with what appears to be a triangle between Riley, Maya and Lucas," series creator Michael Jacobs told The Wrap when asked about this finale.
Jacobs went on to dodge any direct questions about whether or not it's considered a love triangle anymore because of Farkle coming into the equation. As a matter of fact, many shipper fans are quick to assume there's potential for Farkle and Riley to become a couple but not any time soon. I like what his overall point was though, how Boy Meets World's message was one of love demonstrated through the ups and downs of Cory and Topanga, and Girl's legacy is one of friendship above all else. At the root of the show, we know we can always trust Maya and Riley to set an example for viewers of a healthy lifelong friendship.
In this clip from the finale, Maya is visibly distraught about leaving middle school. She feels like Cory hasn't taught them enough, that they aren't ready to move on. Good thing Topanga is there to talk her down from the crazy ledge!
https://www.youtube.com/watch?v=Txi8nHlckJU
As far as teachers go for high school, it's a safe bet to assume Cory somehow manages to follow the kids through the years just like Feeny did. Ben Savage actually tweeted this picture after season 3 filming had begun.
Class is back in session pic.twitter.com/8Sc2z9pnV7

– Ben Savage (@BenSavage) February 4, 2016
Watch the promo for the finale here as the kids contemplate what legacy they are leaving behind in middle school:
https://www.youtube.com/watch?v=oaUE7KFSfbc
Girl Meets World airs Friday on Disney Channel at 8:30.
Tell us what's wrong with this post? How could we improve it? :)
Let us improve this post!