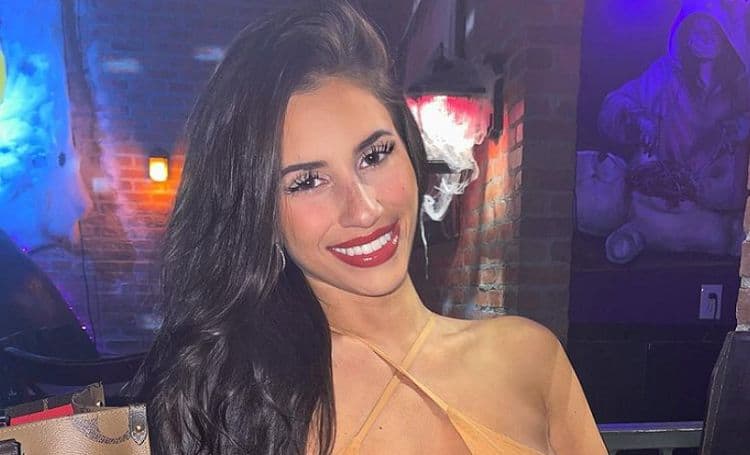 Clayton Echard is back on television. This time, he is not playing football for his career, and he is not the man who is living in a house filled with other men hoping to find love with one woman who has two dozen-plus prospects. He is the new Bachelor, and he is back and better than ever looking for love with a staggering 31 other women. He has to choose which of those women he enjoys the most, who he likes to spend his time with, and which one he will hopefully propose to and make his wife in the future. He seems to be a man who has his head on right, and he seems to know what he wants. However, being in that situation with that many women might mess with his head a bit more than he's anticipated. Right now, he's got women like Genevieve Parisi to choose from, and he's getting to know her at the same time the rest of us are getting to know her.
1. She is Young
She's not the youngest contestant looking for love on the show right now, but she is among the middle of the bunch. She's currently 26, which means there are some women who are older than her in their later 20s and even their early 30s, but there are always a few who are barely even legally old enough to drink, so that gives her the advantage in our opinion.
2. She's From New England
She's from a small town, and she considers herself a small-town girl. She hails from a place called Rehoboth, which is located in Massachusetts. She no longer lives there having moved to Los Angeles a while ago, but she still feels like a small-town girl in a big city.
3. She's a Bartender
She's a woman who does her job, and she probably does it well. Her job includes making drinks for those who want to go out and have a good time. She works as a bartender, which probably pays well in tips working in LA. We don't know what she has planned for her future, otherwise.
4. She is Looking for a Type
She has a type in her mind, and she's looking for him. She's looking for someone who is into passion and who has a passionate nature. She wants a man in her life who will forever flirt with her and make sure their passion is always ignited no matter how long they've been together.
5. She Knows What She Wants
She might be 26 and unsure of a lot of things in life, but she knows she wants a man who has a great relationship with his own mother. She knows that when a man has a good relationship with his mom, he's likely to treat her right and with a lot of respect. It's a good thing to look for, honestly.
6. She Enjoys the Outdoors
She's a small-town girl, and that means she likes to do things outdoors. She's not just into bikinis and the beach, though. She's a woman who likes to get her hands a little dirty when she's outdoors. She's very much into fishing, and it brings her some serious joy to spend her time outside in the water doing just that.
7. She's Not into Something Big
She is someone who knows what she wants and what she likes and the things that she enjoys, but did you know that she's also someone who has some things she doesn't care for? Public speaking is not her jam. She is not into getting up in front of large groups of people and speaking, but that is also a common phobia. We wonder how she is viewing being on television in front of millions of people?
8. She Loves Christmas
The best time of the year for this young woman is the holidays. Of course, she is not alone. It really is the most wonderful time of the year, and she recognizes that heavily in her own life. She spent her holidays home with her family in Boston this year, and she made the most of it.
9. She is Ambitious
She calls herself an ambitious woman, and we wonder just what it is she is ambitious about. We are curious what she wants to do with her life and how she wants to see it go in the future outside of simply finding a husband.
10. She's Confident
The other thing she'd like people to know about her is that she is not lacking in the confidence department. She's filled with confidence, and she feels good about herself.
Tell us what's wrong with this post? How could we improve it? :)
Let us improve this post!