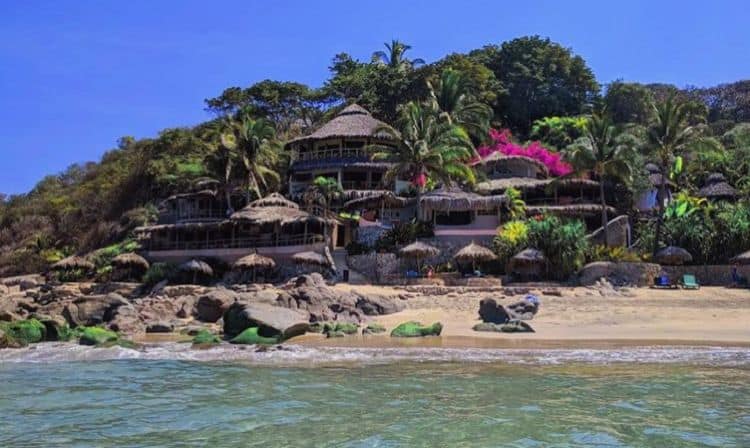 Since its debut in 2014, Bachelor in Paradise has proven to be a great addition to the Bachelor family. Featuring people who previously appeared on The Bachelor and The Bachelorette, Bachelor in Paradise is all about helping people get a second chance at finding love. Of course, it's also a competition. The fact that the show is set on a beautiful island only adds to its appeal, but where exactly is the show filmed? If you thought they place looked good on TV, just wait until you learn more about what it has to offer in real life. Not only is the location stunning, but it's a place you can actually visit. Continue reading to learn more about where Bachelor in Paradise is filmed.
Bachelor in Paradise's Filming Location
The first season of Bachelor in Paradise was filmed in Tulum, Mexico at a resort called Casa Palapas. According to an article from Bustle, "Casa Palapas marries the old-fashioned thatched roof huts tourists used to stay in with the high quality most modern tourists are accustomed to. They proudly don't have technology like TVs or even air conditioning, keeping the rustic feel, but the place is breezy and clean, with big windows and private beaches." However, the show decided to change filming locations for season two, although we aren't sure why.
Since season two, the show has been filmed at the Playa Escondida in Sayulita, Mexico. Although the two has a very small population, it is a popular destination for tourists from all over the world. From what we can tell, the show doesn't have any plans to move the filming location again. Playa Escondida appears to be the perfect place for the show. Even if contestants don't end up making a love connection, they still get the chance to experience a little slide of paradise. On top of that, filming at Playa Escondida probably helps the resort attract more guests. After all, there are countless people out there who would stay at the location simply because it's where the show takes place. All in all, it seems to be a good arrangement for everyone involved.
How Much Does It Cost To Stay In Paradise?
Lots of Bachelor in Paradise fans will be excited to know that you can actually at the resort where the show is filmed. Rooms at Playa Escondida start at about $250 per night. Those who are looking for bigger rooms with better views will obviously have to shell out a little more. The price is subject to change based on time of year, availability, and other factors. The good news is that the price includes food at the property's two restaurants as well as several activities at the resort. It's important to note, however, that certain activities, such as golf, may have an additional fee.
As you can probably tell from watching the show, the resort boasts plenty of beautiful views and lots of opportunities to get out and enjoy the beach. One thing you won't be able to do during your stay though, is actually watch Bachelor in Paradise. That's because this resort doesn't have TVs in any of the bedrooms. For some, this makes for a more relaxing stay while others might find it annoying. That being said, even people who have never seen the show will probably enjoy taking a trip to Playa Escondida. When it comes to season one's filming location, we had some trouble finding the website for Casa Palapas. However, an Air BNB page lists the price at nearly $7,000 per night. If this price is accurate, it's easy to see why producers decided to change the filming location. Why pay thousands per night when you could pay a couple hundred instead?
COVID-19 Filming Adjustments
Like almost every other show on TV, Bachelor in Paradise had to make some adjustments during the COVID-19 pandemic. The show actually ended up taking a year off because there was no way it could be filmed safely in 2020. The current season was filmed in June of 2021 over the course of just three weeks. It's unclear if any precautions were put in place during filming, but as far as we know all of the cast members and the production team were able to remain healthy. Now that Bachelor in Paradise is back in action, viewers can reasonably expect the show to stick around for years to come. It's unclear if filming has started for next season, but viewers are already looking forward to what the future has in store for the series.filmed
Tell us what's wrong with this post? How could we improve it? :)
Let us improve this post!