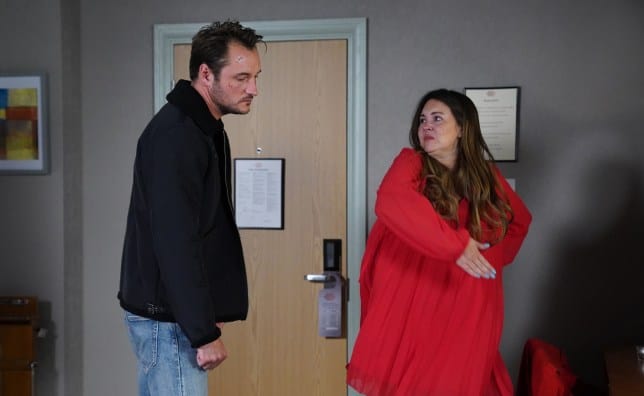 As one of the most popular soap operas in the UK, EastEnders has a huge, ever-changing cast list that seems to grow almost by the episode. There's the Beales, the Brannings, the Carters, the Fowlers, the Fox-Hubbard's, the Kazemis, the Mitchell's, the Moons, the Slaters… and that's not to mention the market traders. 2019 has seen a legion of new faces join the ranks of Walford… if you're struggling to keep up with who's who, here's a sneaky little peek at some of the soap's most famous faces.
Gillian Taylforth as Kathy Beale
As one of the series originals, Kathy Beale (played by Gillian Taylforth) has made numerous departures and returns to the square, with her latest residency starting in 2014 (after having previously been assumed dead). Off-screen, Taylforth's life has been almost as explosive as her character's- as noted by The Independent, in 1994, she became embroiled in a high-profile court case after The Sun ran a story claiming she and her partner, Geoff Knights, had been caught in a compromising position on the A1. Taylforth sued the paper for libel, claiming she'd simply been massaging Knight's stomach after he'd suffered an attack of pancreatitis. After the court ruled in The Sun's favor, Taylforth promptly collapsed and was rushed to hospital in an ambulance.
Letitia Dean as Sharon Watts
Sharon Watts made her first appearance in EastEnders during the very first episode in 1985, and despite spending a few years away from the square in between, has been al almost permanent fixture since 2012. Letitia Dean, who plays the character, began acting in 1983 in the children's TV program Grange Hill. She's also appeared in Brookside (1984), The Hello Girls (1996—98), and Lucy Sullivan is Getting Married (1999—2000).
June Brown as Dot Cotton
June Brown plays the devout, chain-smoking, gossipy (but always kind) Dot Cotton, one of the square's most beloved characters. Brown, who's become something of a national treasure herself, has spoken extensively about how much she enjoys playing the character, telling Hilary Kingsley, "I love playing her — she's a strong character. Dear old Dot, she's got strong moral views and odd religious beliefs, but her heart's in the right place. She has that awful worried expression on her face the whole time".
Jon Peyton Price as Martin Fowler
Numerous actors have played Martin Fowler over the years, with the latest being Jon Peyton Price. Martin was introduced to the square in 1985 as the son of Wendy Richards' Pauline. Since then, he's struggled through the deaths of both his mother and brother, Mark (Todd Carty), marrying (then divorcing) his childhood sweetheart and baby momma Sonia (Natalie Cassidy), supporting his daughter Bex through her suicide attempt, and being blackmailed by Ben Mitchell (Max Bowden).
Natalie Cassidy as Sonia Fowler
Natalie Cassidy has played the role of Sonia Fowler since 1983. The actress, who trained at the Anna Scherer Theater, has also appeared extensively on stage, performing in UK tours of The Vagina Monologues, Bedroom Farce, and Gertrude's Secret. She's also hosted The Health Lottery on Channel 5 and released several workout DVD's.
Matthew Silver as Ben Mitchel
Since being introduced as the sweet young kid of Phil Mitchell and Kathy Beale, Ben has turned into one of the square's most villainous figures, with several deaths, jail terms and numerous other evil deeds on his hands. Several different actors have played the character over the years, with the latest being Matthew Silver.
Steve McFadden as Phil Mitchell
Taking on the character of Phil Mitchell, one of the square's longest-serving residents, is Steve McFadden. A graduate of RADA, McFadden got his first acting job in the 1988 television film The Firm, with his big break coming two years later with his casting in EastEnders. During his occasional absences from Watford, he's made appearances in Provoked (2007) and Kevin and Perry Go Large (2000). He's also been at the center of a very public court case in which he successfully sued the News of the World and the Metropolitan Police after journalists tried to hack his voice messages.
Perry Fenwick as Billy Mitchell
The role of Phil Mitchell's cousin Billy Mitchell is played by Perry Fenwick. Bedside's EastEnders, Fenwick has also appeared in Party Party, Mona Lisa, Empire State, The Raggedy Rawney, I.D., The Tichborne Claimant, Janice Beard 45 WPM, The Winslow Boy, G:MT — Greenwich Mean Time and ID2: Shadwell Army.
Jessie Wallace as Kat Slater
The second eldest Slater sister made her first appearance on the square in 2000. Since then, she's been at the center of some of the soap's most high-profile storylines, including the revelation that her sister, Zoe, is, in fact, her daughter after she was raped by her uncle as a child. Actress Jessie Wallace has received numerous accolades for her performance as Kat, including the title of "Most Popular Newcomer" at the National Television Awards, and "TV Soap Personality" at the Television and Radio Industries Club (TRIC) Awards.
Lacey Turner as Stacey Slater
Playing the role of Stacey Slater is Lacey Turner. Turner has been a regular fixture on the soap since her first appearance in 2004, although she did take a brief absence in 2010 to concentrate on other work (most notably, Our Girl, Bedlam, Switch, and Being Human). Off-screen, Turner is married to her childhood sweetheart Matt Jay, with whom she has one child, a baby girl named Dusty Violet.
Danny Dyer as Mick Carter
Taking on the role of Mick Carter is Danny Dyer. Dyer made his first appearance as the landlord of the Queen Victoria in 2013 but was already a well-known name in the UK by that point. Often cast in "hard man" type roles, the actor is perhaps best known for his performances in Human Traffic (1999), High Heels and Low Lifes (2001), Mean Machine (2001), The Last Seven (2010), and Vendetta (2010).