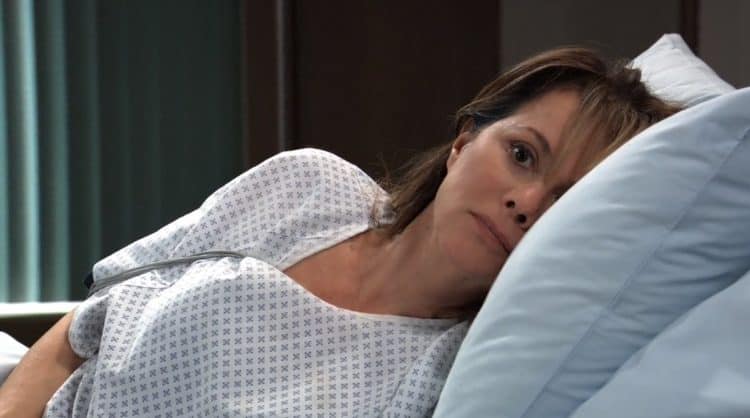 General Hospital fans got to see a lot happen on Thanksgiving. It was one of the few shows that was on the air for the day, even though most of us were at home enjoying ourselves, having turkey, dealing with our extended families and enjoying the time with our loved ones. We get to see Peter a little unnerved. He, of course, is making some poor life choices that are giving him all these feelings, so we don't feel too bad for him at all. He's not the kind of man who does things that are always right and good in the world, so we don't know how else to focus on his life and what it means for him to be better than he is. He's been giving the world a bit of a stormy start these days, and we get it. He's not in a good place. He's a mess. He's not making the right decisions.
Then we got to see that there was a drastic measure — or two or three — taken by Julian. He's the kind of man who will stop at literally nothing to get his way, to find out what is going on, and to get things done in his life. He's a man who does things that don't always make sense, that don't always make people happy, and that don't always make anyone feel good. He's a mess. We get that. He's not someone we want to see living his life without some drama, but he's causing a lot of problems for Brad and Lucas that they simply cannot afford given the current state of their situation and their lives. They've got enough going on that one of them doesn't even yet know is happening. It's too much, and we cannot figure out how to fix this.
What's Happening on General Hospital
We're headed back to Memphis for the 2nd Annual #GH Fan Celebration at @VisitGraceland! Tickets selling fast; get yours before it's too late.
CLICK TO BUY: https://t.co/9tA5vY6wuK pic.twitter.com/jGjiRAuzxW

— General Hospital (@GeneralHospital) November 26, 2019
Who wants to go to Memphis?
What's Next on General Hospital
"The clock's ticking… it's going to get unpleasant." #GH pic.twitter.com/8OCH3tK2Ke

— General Hospital (@GeneralHospital) November 18, 2019
There is not a new episode of the show today. The holiday weekend is upon us, and everyone has taken this time to spend with friends and family and other loved ones. Hopefully, you are spending this Black Friday shopping, enjoying yourself, and having a good time. There is little that you can do that will make this seem like a longer weekend; Monday will be here before you know it. So, in that nature, go ahead and enjoy yourself. We do hope your weekend was fabulous and you did have a happy Thanksgiving, and now we hope that the rest of the weekend is just as good. For now, though, there is not a new episode. The show will return to the air on Monday, and that means you'll get some good weekend spoilers and Monday updates throughout the next few days.
There will be much drama next week, as usual. There is nothing that won't work out that you might not assume will not work out — if that makes any sense. What we are trying to say is that the next week is going to be super dramatic, super intense, and super fun. Just stay tuned to see what else is going to go down and how it will all work. Until then, continue to enjoy the rest of your weekend and stay tuned for what's to come.
Stay tuned for more General Hospital and be sure to check out TVOvermind daily for the latest General Hospital spoilers, news, and updates.