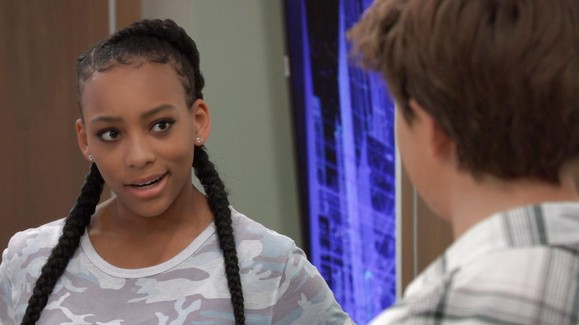 General Hospital fans are worried. We are worried for what is going to happen with and for Michael and the baby. The custody hearing is coming up, and everyone is working so hard to make sure he gets the baby. But, that's not working for him because they all think that there is some backstabbing and some big issues going on. For one, they think that they can go behind the back of Willow and Michael and make a plan that will allow her to marry him and make things easier on him, but that requires both Sasha and Chase making some big sacrifices by allowing everyone to think that they are having an affair they are not having. Nelle may be Nina's daughter, but we refuse to believe this, and Charlotte is a hot mess right now thinking her father is giving up on her.
Maxie is being conned and lied to and upset by Peter, and that is not going to change. She seems to know it, but she also seems to want to ignore all of it so that she can change the course of action and figure things out on her own. What will she do? She's got to see this happening, but she might not. Carly is working overtime to make sure that her son is not hurt anymore than he already is, but this is leaving her upset with all the people who are actually trying to help her. Brando and Molly continue to go through their issues and try to figure things out on their own without actually speaking to one another. She still wants to confess about cheating, and Sam is doing all she can to keep him out of their lives and away from Molly as a result. Will this work out?
What's Happening on General Hospital
Finally was able to introduce my book, Nothing General About It, to Buddy the Goat… https://t.co/s33HeDzj6h

I guess he wanted the cover 😳 but you can preorder your own copy now https://t.co/bvsqcEwtWm

— Maurice Benard (@MauriceBenard) October 3, 2019
Let's all read this together!
What's Next on General Hospital
"You start by getting rid of Jason Morgan." #GH pic.twitter.com/wzFsEuqLyG

— General Hospital (@GeneralHospital) April 27, 2020
Molly is going to start this week annoyed, but we don't know why. Well, we know why, but we don't know why specifically. We have no idea how to stop what she's up to and make things right, but we do know that she's going to be very annoyed. Is she annoyed that Kristina does not agree with her and her idea of telling TJ what is up and how things are going? Does she feel annoyed because Sam is making such a big deal of things for Brando? He is blaming things on Sam and not really understanding what is actually going on around here. There's a lot to deal with, but we don't know specifically how this will work out for anyone when the time comes for them to work things out.
Either way, these two have a lot to work out and they are not taking the initiative to work it out with one another. But, we hope that we can change the way this game is played by making sure that they can figure this out on their own. We know that there is so much going on that they might have to deal with, but is any of this worthwhile to any of them? They're going to continue to let this eat them both alive, but it's only happening because he is right there in her face all the time. It makes us wonder if Sam is right about needing him to get out of town and move on with his own life and his own situation. We don't know for certain, but we do know that this might work out.
Stay tuned for more General Hospital and be sure to check out TVOvermind daily for the latest General Hospital spoilers, news, and updates.
Tell us what's wrong with this post? How could we improve it? :)
Let us improve this post!