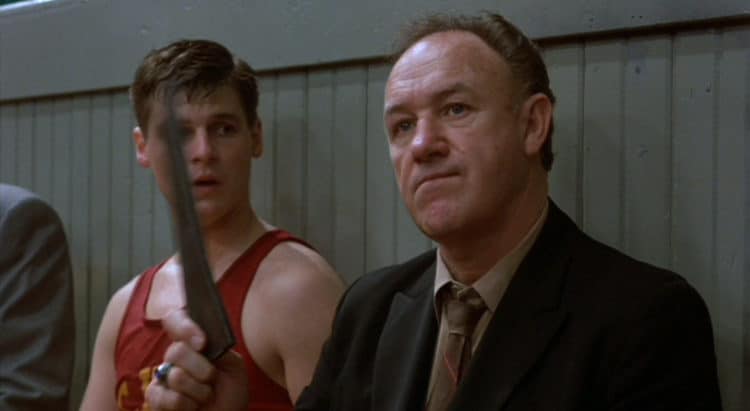 Gene Hackman is one of the most gifted and intense actors we have seen on screen, and with a lineup of movies that match the best lists of works out there, he is surely one of the most popular actors too. Fitting into a wide range of roles that require depth and impact even when the screen time for the character is less, Hackman has managed to create an impact on the audience even when working with mediocre scripts. Such is the impact of the man! With some great movies to his name, more than 80 of them, and two Academy Award wins to boot, Hackman is indeed one of the finest actors we have witnessed. Well, that doesn't really cover everything there is to about him, does it? So, here we are with a list of 10 things you probably didn't know about Eugene Allen Hackman aka Gene Hackman!
10. Gene Hackman Isn't Dead!
Well, let's get this out of the way first, shall we? For some weird reason, if celebrities do not hog the limelight or keep making movies, audiences and fans assume that these movie or television actors are dead. Now, come on, that's a really wrong assumption to make. So, no, irrespective of popular belief, Gene Hackman is NOT dead! And we do hope with all our hearts that he stays healthy and happy for many more years! All that Hackman has chosen to do is live a life away from the media and the limelight that fame brings you, and instead, live a simple life doing the simple things he loves to do, which as it turns out, is bicycling! And with the same grit and stubbornness we see on screen, he even survived a nasty accident on his bicycle to recuperate completely and get back to riding his trusted bicycle on the streets of New Mexico. So, if you're missing the actor and want to check up on him, chances are all you'll have to do is speak to some of his neighbors down the street and they'll tell you just how the 91-year-old actor can be seen riding up and down the streets happily!
9. Hackman Has Retired From Movies, Of His Own Free Will
Unlike some news bytes and fan opinions that make up controversial stories of how Hackman was embroiled in some controversy that forced him to quit the industry, the truth is that Gene Hackman, an actor par excellence, made a conscious decision to quit working in films, and just like that, called it a day. What's more, he didn't even make a big deal of it! "I'm not going to act any longer. I've been told not to say that over the last few years, in case some real wonderful part comes up, but I really don't want to do it any longer," was Hackman's simple and straightforward explanation to Reuters. And quitting movies does not mean he has quit working. Hackman is still quite busy! From writing novels to pulling off voiceovers, this man is doing it all even at the age of 91! Happily married to Betsy Arakawa and retired, the ex-actor now lives in Santa Fe, New Mexico, and seems quite happy and content with a life away from the glare of the media! Not that his fans would ever quit on him. We're sure there are days when a fan or two manage to gather the guts to approach the menacing actor on screen for an autograph off it!
8. Hackman and the United States Marine Corps
Gene Hackman is a former member of the esteemed and heroic US Marine Corps and is well-known for his continued association with anything that has to do with the Marines. And how he enlisted to the Corps is a story worth mentioning too. The truth is that as a young student, Hackman always found himself in trouble, and knew that he wished to do something else in his life than follow the beaten path of school and college. So, at the tender age of 16, he decided to lie about his age and enlisted in the United States Marine Corps. As a Marine, Hackman made the rounds of China, Japan, and Hawaii for a good five years before being discharged in 1951. During his years as a Marine, he served as a field radio operator. As we mentioned before, he continued to contribute to the Marines in any way he could and even came out of retirement to play the role of a narrator for two Marine Corps documentaries — The Unknown Flag Raiser of Two Jima and We, The Marines.
7. Hackman is a Novelist Too!
Retirement from movies does not mean retirement from creativity and entertainment! And this has been proven by Hackman on the literary front not once, not twice, but several times already! Three of his works came as a result of his collaborative efforts with renowned undersea archaeologist Daniel Lenihan, in the form of the fiction novels Wake of the Perdido Star, Justice for None, and Escape from Andersonville. Apart from these collaborations, Hackman also went at it alone and has two solo authorships to his credit — Payback at Morning Peak, a romantic thriller, and Pursuit, a cop drama. If you haven't checked out his literary works already, you should! In close pursuit of the excellence he brought to the screen as an actor, his literary works make for interesting dives too!
6. Gene Hackman Was Deemed To Be A Failure by Many
Kevin Costner, one of the iconic movie actors and directors of our time may have labeled Gene Hackman as the best actor he ever worked with but this wasn't always the case with opinions people had about Hackman. Especially in his early life, there were many who termed Hackman a good-for-nothing. At the Pasadena Playhouse in California, for example, Hackman and the equally prolific Dustin Hoffman were seen as outsiders by the rest of the class and were enthusiastically voted "The Least Likely to Succeed". Ahem, several awards and accolades later, we are sure the classmates who voted for this tag were squirming in their seats. And this wasn't the last of negative tags either. "..wouldn't amount to anything" and "Hackman, you're a sorry son of a bitch" were only some of the statements and opinions that Hackman had to endure. But Hackman being Hackman, didn't let these opinions get to him, at least not in a negative way! "It was more psychological warfare because I wasn't going to let those fuckers get me down. I insisted with myself that I would continue to do whatever it took to get a job. It was like me against them, and in some way, unfortunately, I still feel that way," said Hackman about the negativity that sometimes came his way. Now, that's a lesson we can all learn!
5. Hackman Has a String of Awards and Accolades to His Name
Gene Hackman may have chosen to live a life away from the limelight but that doesn't mean he hasn't had his share in it! Throughout his movie career, Hackman has delivered one impactful portrayal after another, and many of them were recognized by the film fraternity and awarded in the form of nominations and wins. His first nomination came in 1967 for Bonnie and Clyde, for which he was nominated for the Academy Award for Best Supporting Actor. Hackman was again nominated for an Oscar in the same category in 1970, this time for I Never Sang for My Father. Next in line was The French Connection, a movie that brought Hackman a string of accolades in the Best Actor category, including the Academy Award, the BAFTA Award, the Golden Globe Award, the National Board of Review Award, and the New York Film Critics Circle Award. In 1974, The Conversation brought him another list of nominations. Mississippi Burning repeated the story in 1988. Four years later, in 1992, Hackman would record the largest awards haul of his career for Unforgiven. As Sherriff Bill 'Little Bill' Daggett, Hackman won in the Best Supporting Actor at the Academy Awards, the BAFTA Awards, the Golden Globe Awards, the New York Film Critics Circle Awards, and more. In 2001, Hackman again reigned over awards shows for his role in The Royal Tenenbaums, bagging the Golden Globe Award for Best Actor – Motion Picture Musical or Comedy, and the Chicago Film Critics Association and National Society of Film Critics Awards for Best Actor.
4. Hackman Has An Asteroid Named After Him
Yes, you read that right! Gene Hackman has an asteroid named after him! The Asteroid Hackman 55397, with the alternate designation of 2001 SY288, was discovered by Roy Tucker, a renowned American astronomer, on 22 September 2001, at Goodricke-Pigott. Now, we do know a lot about celebrities but we can also safely say that there are only a few celebrities who have had the honor of finding their name attached to a celestial body! Hey, if that's what they call star power, Gene Hackman sure has lots of it!
3. Gene Hackman the Racecar Driver!
We bet many of you didn't know that Gene Hackman, just as he is in the movies, is a force to reckon with behind the wheel too! A racecar enthusiast who has even taken to the tracks a few times, Hackman has quite a few stints as a racecar driver to his name, including races behind the wheel of his open-wheeled Formula Ford at the Sports Car Club of America and a Dan Gurney Team Toyota at one of the most difficult endurance car races we know, the 24 Hours of Daytona Endurance Race. And when pitched against his fellow league of celebrities, Hackman came out on top, winning the Long Beach Grand Prix Celebrity Race.
2. Hackman Also Has An Impressive Theater and Television Career To His Name
While most of us know of Hackman's brilliant career in movies, few know of his excellent track record in theater and television. His early years were especially spent on stage, so the 1960s had Hackman doing quite a bit of theater in works ranging from The Premise, Children From Their Games, A Rainy Day in Newark, and Come to the Palace of Sin, to Any Wednesday, Poor Richard, The Natural Look, Fragments, and The Basement. On the telly, he made appearances on Tallahassee 7000, Route 66, The FBI, and The Invaders.
1. Hackman Wanted to Be An Actor Since He Was 10!
Despite all his diversions in early life, one thing that kept Gene Hackman going was his yearning for acting! And even as a young boy of 10, Hackman had already made up his mind to become an actor. "Acting was something I wanted to do since I was 10 and saw my first movie. I was so captured by the action guys. Jimmy Cagney was my favorite," Hackman said about his early passion for acting. Even when he was struggling to find roles, Hackman took on odd jobs to keep himself going until he found his way to a lineup of acting jobs that would help him survive on the remunerations he would receive as an actor. He even took on bit roles and played a host of parts in Off-Broadway plays. And through it all, he did not give up on his passion for making it into the mainstream. The passion and undying spirit are apparent in one of Hackman's statements about how he never let negativity win over his hunger to make it big in his acting career: "…if you're really interested in acting, there is a part of you that relishes the struggle. It's a narcotic in the way that you are trained to do this work and nobody will let you do it, so you're a little bit nuts. You lie to people, you cheat, you do whatever it takes to get an audition, get a job."
Let's Wrap This List Up!
Gene Hackman has been and continues to be, an inspiration to all of us. He is one of those true geniuses who have stayed true to what they are all along. And this, despite the negative feedback that came his way due to his no-nonsense attitude and lack of a personality that fits in with the crowds. And as much as we'd love to see more of his works on screen, I guess we'll all have to make do with the work he leaves behind, and there's no complaining there because there are certainly loads of impactful portrayals to choose from! Here's wishing the inimitable and brilliant Gene Hackman a long and happy retired life!
Tell us what's wrong with this post? How could we improve it? :)
Let us improve this post!