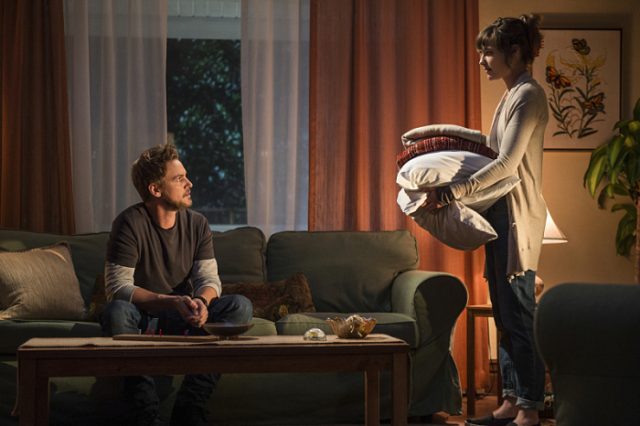 Although I very much enjoyed the series premiere of Frequency, calling it one of the best new shows of this fall, I still left the episode with an uncertain feeling about the series as a whole. While the pilot was able to translate the story of the 2000 film over to the small screen in a successful way, with some added twists and turns thrown in, the episode didn't provide a blueprint for future installments. I was left wondering what the next episode of Frequency would look like, what the format for the show would be throughout its first season, and if there would be enough material to support this fine cast of performers and likable characters.
Tonight's episode, "Signal and Noise," proved that Frequency showrunner Jeremy Carver (probably best known for his work on Supernatural) and his team of writers have a solid plan in place for Season 1 of the show. While Raimy and Frank's hunt for the Nightingale Killer will certainly be a part of the series' DNA moving forward, Frequency is tackling the storyline in a surprising and interesting way. I thought that we would have to wait till at least midseason to learn any hints about the killer's identity. However, by the end of "Signal and Noise," Raimy and Frank believe that they have their man; the only issue is that their partnership, and the changes they make to the past, begin to create new roadblocks that they have to overcome, both for Frank in 1996 and for Raimy in 2016.
These new challenges that emerge as a result of Raimy and Frank interacting with each other provide the most compelling plot-centric moments on Frequency. There's palpable tension when Frank and Satch arrive at Thomas Goff's house, as we watch him try to hide his kidnapped victim from the detectives, and while the twist that Goff no longer lives at his house in New Jersey anymore (after Raimy urges Frank to look more into the Nightingale Killer) isn't a major shocker, it's still a clever way to utilize the show's time-travel elements. It would seem so easy for either Raimy or Frank to solve this case by sharing the information that they have with each other, but each action that Frank takes in the past directly affects Raimy's investigation, causing her to have to reevaluate and reassess all the facts she has. It's the most inventive way that Frequency can tell its serial-killer story, and this unique method has me much more invested in what's happening with the Nightingale Killer than I expected to be.
What works even better for Frequency than the cop drama material, though, is its emotional moments. The scenes between Raimy and Frank, both in the past with her younger self and in 2016 with her older self, were the highlight of the show's pilot, and they're terrific again throughout "Signal and Noise." My favorite scene of the entire episode is Frank, Julie, and Raimy sitting at the dinner table, discussing how she now wants to wear a Yankees hat after they won the World Series. It's a simple scene that focuses on the family, but it's so wonderfully written and authentically acted that it makes the Sullivans feel very real, even though they're in the middle of a time-travel drama. Even though the dinner scene is a small moment in an episode filled with big mysteries and major reveals, it's an important one because of how genuine it feels; scenes like this make us care about Raimy and her family, and if we don't feel a bond with them, then how are we supposed to be interested in everything going on around them?
And this same honest emotion is also found in the sadder scenes of "Signal and Noise," such as when Julie kicks Frank out of the house, reminding him that he chose his job over his family and never gave her a good enough reason as to why he did it. Julie's words are harsh, and they hit Frank harder than any bullet. However, they're also necessary for what comes next, as Frank brings her into the garage to try and get her to talk to Raimy through the radio. Riley Smith does a stellar job at selling Frank's desperation; he just wants to fix things with his wife, no matter what, and believes this is the only way. Meanwhile, Peyton List is marvelous while portraying Raimy's painful struggle to not answer as she hears her mother's voice through the radio; even though nothing would make her happier than to speak to her mom, Raimey also understands that she and her father can't keep messing with time, because it's creating more problems than solutions (please take note, The Flash's Barry Allen).
I'm not sure if Frequency will be able to balance its different storylines this well in the weeks to come, and there's even some stories in this episode, such as Frank's face-off with the corrupt cop, Stan, that fall a little flat compared to everything else. But there's a lot of great stuff in this show, from the performances to the emotional moments to the way it heightens the basic police procedural with time travel. With Jeremy Carver at the helm and final sequences like the one we got tonight, with Raimy racing to discover the underground bunker in Goff's backyard, I have faith that Frequency can maintain the quality it's had in these first two episodes and am excited to see where the show goes next.
Other thoughts:
Aside from the Frank and Stan stuff, my other problem with this week's episode is how Raimy treats Gordo. I know she's going through an absolutely crazy situation that no one could possibly understand, but she could and should still be a little kinder to her best friend. And speaking of their friendship, can Frequency actually show us it? I want to be more invested in the Raimy/Gordo relationship, and I also feel like Lenny Jacobson is being wasted.
There's also some flashbacks to 2014 in "Signal and Noise," which show us how Raimy and Daniel first met. I'll try to be a little patient with these scenes if they continue on throughout the next couple of episodes. Daniel was pretty bland in the Frequency pilot, but maybe the writers can get me to care more about him through these flashbacks.
As much as I love Peyton List as Raimy, my two standout moments from tonight's episode both happen in 1996. The first is Frank singing "Dream a Little Dream of Me" to Raimy as she falls asleep, which is such a sweet and tender scene, and the second is Frank repeatedly telling Raimy over the radio that he "just wanted one night" of normalcy before telling her mom the truth. Riley Smith did some terrific work in both of those scenes.
They might not be the most original or surprising choices, but I really love how Frequency uses music in its 1996 scenes.
What did everyone else think about this week's episode of Frequency? Did you like it as much as the premiere? Comment below and let me know.
[Photo credit: Diyah Pera/The CW]
Frequency Season 1 Episode 2 Review: "Signal and Noise"
Summary
Raimy learns more about the Nightingale Killer, while Frank tries to repair his relationship with his family in another solid Frequency.