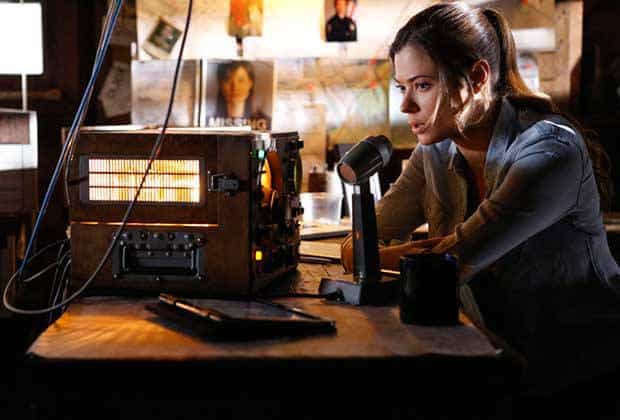 Two of the most popular trends for network TV shows over the past couple of years have been series based on existing film properties and time-travel dramas, and neither trend has led to many successful or enjoyable shows. However, The CW's Frequency, which is inspired by the 2000 movie of the same name and also deals with time travel (although it's only through the transmission of an old ham radio), somehow avoids the common missteps taken by series similar to it and allows its powerful emotional moments to carry its high concept. Sure, the time-travel stuff is a little confusing and wonky, and your brain will probably explode if you think too much about how it all works; however, what makes Frequency one of the best new shows of the fall is that it utilizes its central idea to create some truly terrific, heartfelt moments, ones that had me near tears during parts of tonight's premiere.
What works best for Frequency throughout "Pilot" is the connection between Raimy Sullivan (a great Peyton List) and her dad, Frank (Riley Smith). Raimy is a cop, just like her father was, and she still has unresolved feelings about his death, which happened 20 years ago. Not only is Raimy unsure if her dad was a crooked cop, working with the criminals while he was undercover with instead of operating with and reporting back to the police, but she's also still angry at him for how he essentially abandoned her and her mom. That's why when Raimy and Frank are able to communicate through time by using that old ham radio, after it's struck by lightning of course, she's not sure whether she should feel happy, angry, or some combination of both. She's finally able to speak with the man who left her life too soon, but what she should say and is he really worth her time?
Through interconnecting storylines that take place in both 1996 and 2016, Frequency allows viewers to learn a lot about both Raimy and Frank throughout "Pilot." They're easily the two most fleshed-out characters by the time the premiere is over, and it's why the emotional moments between them, such as when Frank learns that Raimy is a cop like him or when she calls out to the radio as he struggles to survive getting shot, pack such a punch. Furthermore, Smith brings both grit and charisma to his role as Frank, while List delivers a wonderful performance as Raimy, making every seemingly ridiculous moment throughout the premiere believable because of the authentic emotion she brings to this character.
Unfortunately, since so much emphasis is put on Frequency's main father/daughter duo, there's not a lot of time left to breathe life into its supporting players. Daniel, Raimy's boyfriend, barely registers as a character, and while Lenny Jacobson's Gordo brings some much needed humor to the show, there's not enough of the actor in the episode for him to make a real impression. The two characters that do have more to do, Frank's old partner, Satch (Mehki Phifer), and Raimy's mom, Julie (Devin Kelley), both possess promise due to their connections to the show's main leads, and even though the old-age makeup for both characters is a distraction (especially for Kelley's Julie), I'm definitely interested to see how they'll fit into Frequency's story moving forward.
Honestly, though, Frequency's lack of dynamic supporting characters is not its biggest problem. The show's main issue is also its biggest strength: its premise. Frequency's time-travel device allows for the series to forge a deeper, richer connection between Raimy and Frank; it provides viewers with a relationship they can latch onto and connect with as the series moves forward. But how can the show move forward with this structure? How will Raimy and Frank's time-traveling conversations fit into a 13- or 22-episode season, especially when they're already drastically altering the timeline?
Sure, there's the serial killer storyline that I'm sure Frequency will continue to explore, and I'm fine with that. However, that story should never become the focus of the show; otherwise, the series risks losing what makes it so special. What makes Frequency so powerful and unique could also cause it some incredibly big narrative problems as Season 1 continues, and I can't really envision what this series will look like in 5, 10, or 15 episodes. But as long as the show keeps providing us with marvelous father/daughter moments and compelling conflicts (time-travel induced or not) that both Raimy and Frank have to deal with, I will continue to make time for Frequency.
Other thoughts:
As a huge baseball fan, I loved that Raimy and Frank bond over the Mets in the premiere, and I hope there's more baseball talk in future episodes (even if my hometown team is the Phillies).
Do you think Raimy will be able to remember both timelines forever, or will one of them start to erase her memories of the other one? I'm curious to see how the show show deals with this.
I couldn't be happier that Peyton List is finally headlining her own show. I've been a fan of hers ever since she first appeared as Lucy Lane on Smallville and have enjoyed her in everything she's done since, from Mad Men to, most recently, The Flash. Hell, she even got me to watch all of Flashforward. Man, do you guys remember how bad that show was?
How good is that final scene of the premiere, with Raimy first talking to her younger self and then seeing the radio in the garage light up? It gave me chills when I first saw the Frequency pilot at Comic-Con this summer, and it had the same effect on me again tonight.
Also, in case you forgot, Riley Smith, who plays Frank, starred in one of the greatest Disney Channel original movies of all-time: Motocrossed.
What did everyone else think about the Frequency premiere? Did you enjoy it as much as I did? Will you be tuning in for Episode 2 next week? Comment below and let me know.
[Photo via The CW]
Frequency Season 1 Episode 1 Review: "Pilot"
Summary
Thanks to a great lead performance from Peyton List and strong emotional moments, Frequency stands out among the bevy of this fall's new time-travel series.