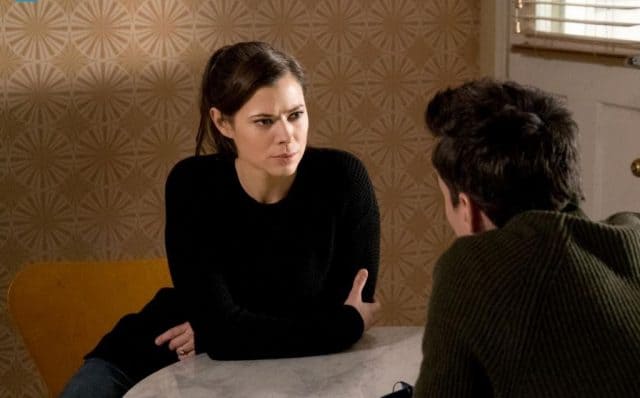 Coming off of last week's disappointing installment, I wasn't sure what to expect from tonight's Frequency finale. Now that it had been revealed that Robbie was actually the real Nightingale Killer, would Raimy's current reality remain intact, and would she and Frank be able to discover the truth and stop him? Plus, how was the show going to resolve its other storylines, such as Raimy's engagement to Daniel, Satch and Frank's friendship, and Stan's corrupt ways? The answer: with the best episode of the series.
"Signal Loss" is, without a doubt, the best hour of Frequency that we've seen. This episode is exciting, emotional, and, especially in the episode's final moments, nail-bitingly tense. All of the actors, from Peyton List to Riley Smith to Devin Kelley, do some of their most impressive work yet, and Jeremy Carver and his creative team are able to find a somewhat satisfying conclusion to the show (which more than likely will not be getting a Season 2 renewal) while also leaving the door open for more thrilling possibilities. And the fact that this is probably the end for Frequency is shame, because when this series was on its A-game, such as in the early episodes of Season 1 or in tonight's finale, it was one of the 2016's most ambitious and entertaining new shows, and I would love to see what they have planned for future installments.
But instead of focusing on the "What if?" of Frequency's future, let's dig in to what made tonight's finale so special. For starters, the emotional moments that I felt had been missing from the show over the past couple of weeks returned in full-force tonight. Raimy readjusts to her new reality in which Julie is alive (and a doctor!), Gordo is a lawyer like his father, and Daniel is once again her fiancé, and Peyton List wonderfully plays Raimy's reactions to each one of these new developments.
However, as usual, List and Riley Smith shine the most when Raimy and Frank talk to each other through the radio, and their conversations in "Signal Loss" are easily the emotional high points of the finale. Their initial talk, in which Frank encourages Raimy to go out and enjoy the life that they fought so hard to win back for her, is wonderful in its own way. It shows that, yet again, even though he's talking to a 28-year-old version of his daughter, Frank still sees her as his little girl and wants her to be able to have everything she deserves.
But the conversation that packs the most emotion is the duo's goodbye scene. Although Raimy and Frank aren't truly saying goodbye to each other, it turns out to be the final time they talk in the episode, and throughout their conversation, Frank seems unsure if they'll be able to speak again. That's what makes him telling Raimy that he doesn't know what he would do without her so special. On paper, it's such a simple line, but Riley Smith delivers it in such heartbreaking fashion that it's a gut punch. Plus, it speaks to how close the two of them have become during their time together; sure, they're father and daughter, but Frank's relationship with 28-year-old Raimy is so much different than his relationship with eight-year-old Raimy. Frank is going to miss hearing about everything that Raimy has achieved as an adult, and both of them are going to miss having each other to lean on during the difficult times of their lives. They're already family, but this shared, time-traveling experience has turned them into something even closer than that; it's indescribable.
While these emotional moments may be the best parts of "Signal Loss," they're not the only highlights from the episode. The Frequency finale also provides us with the most intense sequence the show has ever done, as Frank and Satch work together to stop Robbie from kidnapping Julie. Although everything the Nightingale Killer has done has been horrifying, this is really the first time that we get to see the terror of his actions up-close and personal, and these few minutes of screentime do more for establishing the true menace of the Nightingale than anything else from earlier this season.
Furthermore, every shot and scene, from the moment that Frank calls Stan to tell him to protect Julie to the last shot of Robbie watching over Raimy's house, is marvelously directed by Thomas Wright, who seamlessly jumps from the past to the present as Raimy listens to the confrontation between Julie and Robbie. There's never any confusion about what is happening on screen, despite all the chaos that is occurring; we know exactly where Raimy is when she's listening to all of it, where Frank is heading from when he closes in on the house (and gets shot trying to rescue Julie), and even which car rams into Robbie's, as it's quickly revealed to be Satch's. The final seven minutes are tense, scary, and absolutely riveting, and even though there's some bit of relief in the final few seconds of the episode, as Frank comforts Julie and young Raimy and the older Raimy sits down on the couch with her mother and Gordo at her engagement party, that intensity from the sequence before still hangs in the air.
So what more can I say about "Signal Loss" and Frequency as a whole? I didn't always love this show; it really frustrated me sometimes, and it had the typical first-season growing pains. However, it could also deliver outstanding moments, like what we saw tonight, and after watching "Signal Loss," I want a second season of Frequency more than ever.
But if this is the final episode of Frequency, it's one hell of a high note to end on, and even though by the end of the hour not everything is tied up in a perfect bow, this finale still serves as a satisfying conclusion to Raimy and Frank's story. They stopped a killer and saved Julie, and through it all, they developed an incredible relationship that no one else in the world could possibly understand. I'd say that's pretty damn special.
Other thoughts:
I love how the Frequency writers are able to humanize Stan in this episode with just a couple scenes, especially the one between him and Frank at the bar. Of course, it's all leading up to what appears to be his death at the hands of Miracella, but I still admire that the show tried to do more with Stan in this final hour. It might have been a little too late, but I appreciated it.
As I hinted at in my review, there's a lot of interesting stories that Frequency could explore in a potential Season 2. These are the ones I would be most excited to see: how Gordo reacts to the loss of his dad (who is shot and killed by Robbie in the episode's closing moments); how Raimy and Frank are able to somehow fix the radio and continue their conversations; whether or not Stan survives Miracella's attack and possibly changes his ways; and, of course, the continued pursuit of Robbie.
Again, one last time, I just want to take a moment to praise the work of Peyton List and Riley Smith, who both delivered terrific performances week in and week out and were the glue that held this show together when it was at its weakest. Even if Frequency doesn't return, I hope to see more of them on my television very soon.
Lastly, I just want to thank anyone and everyone who has read, commented, and/or shared these reviews. It's been an absolute pleasure to write about Frequency the past couple of months, and I hope that you enjoyed my thoughts and insights on the series. I certainly enjoyed writing them.
What did everyone else think about Frequency's finale, and what would you like to see from the series if it returns for Season 2? Comment below and let me know.
[Photo credit: Liane Hentscher/The CW]