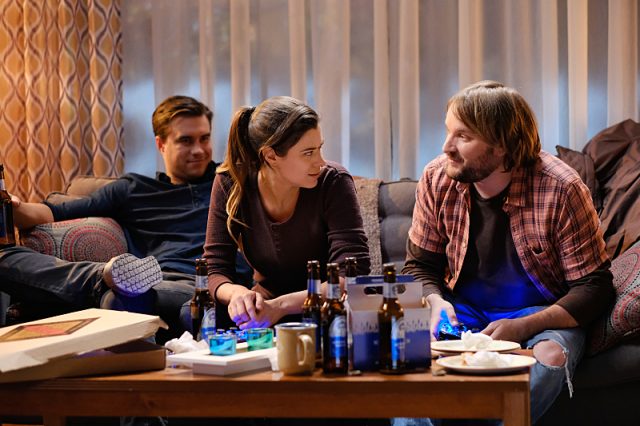 This week's Frequency was not only the show's strongest episode yet but also its most eventful. There were major developments not only in the Nightingale case but also in Raimy and Frank's personal lives, as the two of them try to balance family, friends, and work and find the best way to navigate this brand new world they're living in, where time travel exists and the future is no longer certain.
Instead of doing a full-fledged review of "Interference," I'm going to do something a little bit different and focus in on the biggest, most important moments or sequences from this episode and try to speculate and what these developments will mean for Frequency and its characters as the show heads into its final five episodes of the season (and potentially of the series).
Raimy and Kyle
Raimy and her new boyfriend seem to be closer than ever in "Interference," and even though he hasn't been around for too long, I'm a big fan of Kyle. As a fellow cop, he understands Raimy's lifestyle better than probably any other boyfriend would, and the scene in which he shows up at her desk and helps her with the Nightingale case before they order takeout together felt so effortlessly natural; it was as if Raimy and Kyle had been dating since the series premiere. Plus, any guy that is okay with his girlfriend's best friend third-wheeling their date night is a winner. Man, did I love that scene with him, Raimy, and Gordo, especially because it gave us that wonderful detail about Raimy and her Lance Bass poster.
Raimy and Daniel
Unfortunately, though, as much as I like Kyle, it appears that Frequency has other plans for Raimy's love life, as Daniel shows up on her doorstep not just once but twice during "Interference." Raimy and Daniel's trip back to his apartment was the first time so far on Frequency that I legitimately saw any real chemistry between the pair, and part of that might be due to the fact that Daniel Bonjour does a terrific job at playing drunk. And despite the fact that Raimy knows that Daniel is seeing another woman (she finds the engagement ring for her just like she found her own back in the Frequency pilot) and despite the fact that Kyle is a great match for her, she allows herself to fall into the temptation of kissing her former fiancé at the end of the episode, following Frank's advice to "swing for the fences." I don't know if Frank would support Raimy's actions here (for the record, I don't–you're better than this, Raimy), but he's got a lot of relationship drama on his own plate throughout "Interference." Plus, I can't imagine how difficult it must be trying to resist the former love of your life; maybe the universe really is just pushing them back together after time pulled them apart.
Frank and Julie's Big Talk
One of my major problems with Frequency throughout its first eight episodes is how inconsistently written the character of Julie has been. The show never seems to make her motivations totally clear, as her opinion on Frank and their family seems to change from episode to episode without much reason. Devin Kelley does fine work in the role, but she's never given too much to play except in the more dramatic scenes between her and Riley Smith, which don't always feel 100% earned. While I still had problems with how Julie was written in "Interference," she and Frank's conversation about Raimy and the need to do what's best for her may be my favorite scene so far between the two of them, even more emotionally affecting than their break-up scene. I loved the maturity and understanding the two of them showed as they acknowledged that they had both changed over the years, and I was impressed to see Frank admit that while going undercover started out being about what was best for his family, it ultimately became about what was best for himself. Just a really well-written and superbly performed scene that has me actually excited to see what happens next with Frank and Julie. Also, how heartbreaking was it when Frank discovered what was in Raimy's hope chest? "Ways to Make Mommy and Daddy Happy Again": that was a gut punch.
A New Suspect
Is Deacon Joe actually the Nightingale Killer? I doubt it. I don't think Frequency would reveal the killer's identity with five episodes still remaining. However, if Megan is to be believed (and her fear was pretty damn convincing), Deacon Joe still isn't a good guy, whether he's the actual murderer or not, and there's a good chance that both he and Megan will play major roles in this storyline as we move forward toward the finale.
'90s References
These scenes weren't really all that important to the story, but I loved the several '90s reference we got with Raimy during the 1996 scenes. She listens to Hootie & the Blowfish through her headphones ("Only Wanna Be With You," of course) and watches both Animaniacs and Pinky and the Brain. As a '90s kid, I can't get enough of all that.
What did everyone else think about this week's episode of Frequency? Comment below and let me know.
[Photo credit: Robert Falconer/The CW]
Frequency Season 1 Episode 8 Review: "Interference"
Summary
Raimy makes a big decision about Daniel, and a new Nightingale suspect is revealed in one of Frequency's strongest episodes yet.