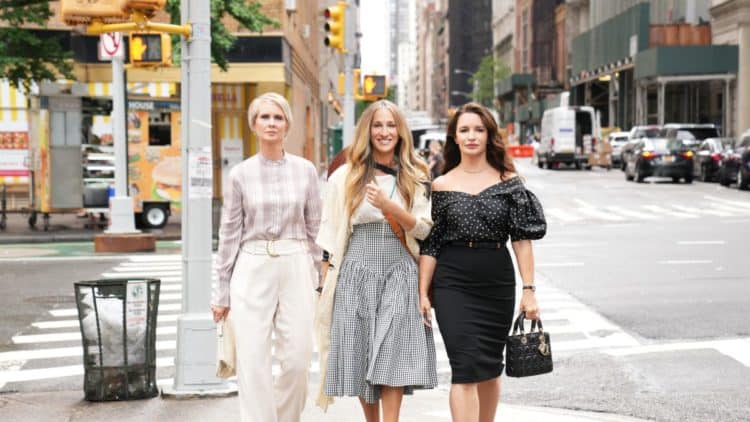 The romantic comedy drama series, Sex and the City, set the bar quite high for storylines that followed female friendships and making the most out of one's 30's. The show may have centered around the sexual exploits of its female leads, but it was also able to glamorize the power of being a strong and independent woman who was secure of herself. The series had a successful run of six seasons before a sequel called And Just Like That…was announced decades later. The sequel featured most of the original cast members who were now middle-aged women. It felt nostalgic, and at the same time different to witness Carrie, portrayed by Sarah Jessica Parker (Failure to Launch), Miranda, portrayed by Cynthia Nixon (Ratched), and Charlotte, portrayed by Kristin Davis (Holiday in the Wild), with grey hair and wrinkles. If there's one thing we learned after watching the first season of And Just Like That…, it's that growing older does not necessarily mean becoming all the wiser. Here are five instances where we were disappointed in Miranda in the franchise sequel:
5. When she was too lax about Brady's relationship
Seeing Miranda's son, Brady, portrayed by Joseph Pupo, all grown up and madly in love with his girlfriend Luisa, portrayed by Cree Cicchino, was a lot to get used to. The young couple were all over each other, and were not shy about expressing their feelings whether in public or private. Seeing Miranda act so lax about the two teenagers' surging hormones and overall rowdiness was quite unsettling to watch. There is nothing wrong about being young and in love, but it is also important for limits to be set, especially inside the home. Miranda and her husband, Steve, portrayed by David Eigenberg (Chicago Fire), just made faces about it in silence, but never really called out Brady to tame it down a notch.
4. When she tried too hard to be "woke"
We saw a different side of Miranda in the sequel, as she quit corporate law after 30 long years, and decides to go back to school to get a Master's degree in human rights. Being the oldest student in the room can be intimidating, even for something with a dazzling career like Miranda. She acted awkwardly during the first day of classes, and even offended her professor, Nya Wallace, portrayed by Karen Pittman (The Americans), with her accidental and innocent racial slurs. The confident Miranda we were so used to seeing turned into a middle-aged woman who was also consuming too much alcohol. Watching her try too hard to fit in felt like a midlife crisis gone awry.
3. When she overstepped her boundaries with Che
The events in Miranda's life started going haywire after meeting Carrie's podcast co-host and comedian, Che Diaz, portrayed by Sara Ramirez (Grey's Anatomy). Che made Miranda feel what was missing in her life, and pushed her to explore another side of her sexuality further— all while still being married to Steve. Che's had such an intoxicating effect on Miranda, who was willing to drop everything and follow Che. It seemed as if Miranda momentarily forgot that she was a wife to Steve and a mother to Brady. Che made Miranda realize what was missing in her life, but this did necessarily translate to acting impulsively. Miranda followed her heart, and did not seem to think about the consequences of her major life decisions.
2. When she was not always there for Carrie
To say that Carrie went through a lot in the sequel is an understatement. Apart from grieving from the untimely death of her husband, she also had to undergo a hip surgery. Carrie needed nothing more than her best friends to be there with her every step of the way. Miranda may have tried to be present during these trying times, but her attraction to Che made her act like a mad woman who did not think about the repercussions of her actions. One instance was when Miranda shared a hot and steamy moment with Che in Carrie's kitchen while a newly operated Carrie was crying out for help because she needed to use the bathroom. Another instance was when Miranda decided to follow Che to LA without informing Carrie in advance. We might just have been used to seeing Miranda as a constant source of support, who gave such real advice when needed. Here's to hoping she comes to her senses if ever a second season of the sequel is confirmed.
1. When she did not fight for her marriage
It was mind-boggling to think how a fling could compete with more than a decade long marriage. Che may have brought something new and exciting to Miranda's life, but was it worth giving up a stable marriage and a loving husband for? It was heartbreaking to see Steve as the only one who was willing to fight for their marriage. Miranda should have talked to Steve about spicing up their marriage a long time ago. We can't imagine how painful it was for Steve to hear Miranda just giving up on their marriage and dropping a bombshell about Che and her sexuality all at the same time. At the end of the day, marriage takes work, and it takes two to tango.