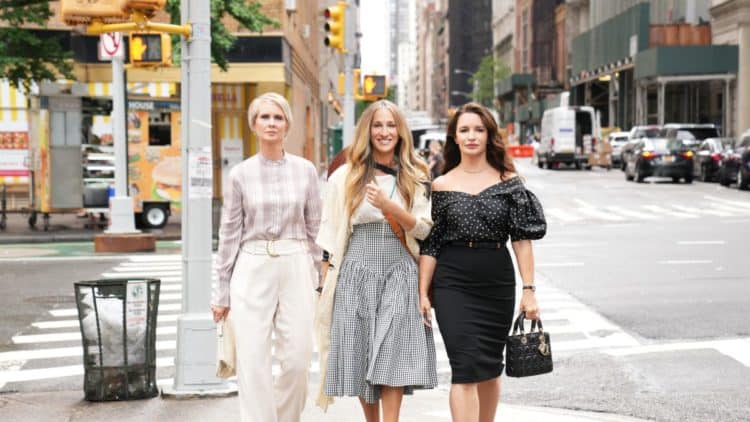 The Sex and the City phenomenon took the world by storm during the late 1990's to early 2000's. The series followed the colorful lives and relationships of Carrie Bradshaw, portrayed by Sarah Jessica Parker (Failure to Launch), and her group of girlfriends— Miranda Hobbes, portrayed by Cynthia Nixon (Ratched), Charlotte York, portrayed by Kristin Davis (Holiday in the Wild), and Samantha Jones, portrayed by Kim Cattrall (Filthy Rich). Before we knew it, we were smitten by the show's relevant storyline and captivating writing. Carrie and friends quickly became a part of our lives, and made us secretly wish that we were part of their girl group as well. We were crushed when the series met its end, and enchanted when HBO announced a sequel to the show, And Just Like That… Here are five reasons why And Just Like That…deserves a season 2:
5. We still want to know what happens to Carrie and friends
The season 1 finale left us with a whole bunch of unanswered questions. Our favorite group of girlfriends are now navigating their 50's yet are still encountering a lot of first's in their lives. Carrie is still adjusting to her new life following the loss of her husband, John James Preston aka "Mr. Big", portrayed by Chris Noth (The Equalizer), Miranda is stepping into new territory and exploring her sexuality, after deciding to divorce Steve, portrayed by David Eigenberg (Chicago Fire), while Charlotte is constantly finding ways to be the best mother to two teenage girls. There is always something interesting happening in the girls' lives, and we are willing to be in it for the long haul. Watching the different seasons of their lives unfold is a treat to watch. It feels like traversing life with the company of an old friend. A new season would give justice to the major changes in the storyline, and a new chapter to look forward to.
4. We are still hoping for Samantha's comeback
The sequel to the original series was heartwarming in many ways, but still somehow felt incomplete because of the loss of Samantha. The show's creators were inventive in still finding ways to include her in the storyline, but the gravity of the loss was still felt in many ways. The long-running feud among the show's cast members feels like a whole different world, especially after being an avid viewer of the original series. The girl's chemistry felt more real than reel, and the thought of them not getting along once the cameras go out is a huge disappointment. At the end of season 1, we witnessed Carrie successfully reach out to Samantha via a text message. Here's to hoping their next reunion will be in person already. A girl can dream!
3. We are ready for the next chapter of Carrie's love life
No matter how much of a douchebag Mr. Big was in the earlier seasons of the series, it was still painful to see him bid goodbye. His unexpected demise was one of the major plot twists of the sequel, and one that has left us rooting for Carrie's happiness, just like we did during their on-and-off relationship in the past. At the end of season 1, we saw sparks fly between Carrie and her handsome podcast show producer, Franklyn,portrayed by Ivan Hernandez (The Good Wife). After everything that Carrie has been through, she deserves her happily ever after. Mr. Big might be the love of her life, but it does not mean that there isn't room for one more special person in her life.
2. We want to see more of the interesting side characters
The sequel has done a great job with introducing a diverse set of supporting characters. Each of the female leads were forging friendships of their own, and it was most interesting to see each of their new relationships thrive in a unique way. Carrie found a true friend in her real estate broker turned confidante, Seema, portrayed by Sarita Choudhury (A Hologram for the King), Miranda found a new person to throw ideas to through her law school professor, Dr. Nya Wallace, portrayed by Karen Pittman (The Americans), and Charlotte has found a shoulder to lean on in her fellow school mom, Lisa Todd Wexley, portrayed by Nicole Ari Parker (Time After Time). It's nice to see them interact with fresh faces and come out of their comfort zones.
1. We need more shows that give importance to embracing ageing
It's only natural to have mixed emotions toward growing old. The laugh lines are deeper, the backaches become a common occurrence, and the youthful exuberance you once had is slowly depleting. The series tackles ageing in a refreshing light. The female leads acknowledge these changes, and take them with a grain of salt. We live in a society where ageing is looked upon with a kind of stigma. The sequel squashes this and gives ageing a whole new approach. Experience is life's greatest teacher, and our female leads have a track record that is hard to beat. It's both nostalgic and exciting to witness them continue to grab life by the horns and still come up with ways to have fun and live to the fullest.Ratched
Tell us what's wrong with this post? How could we improve it? :)
Let us improve this post!