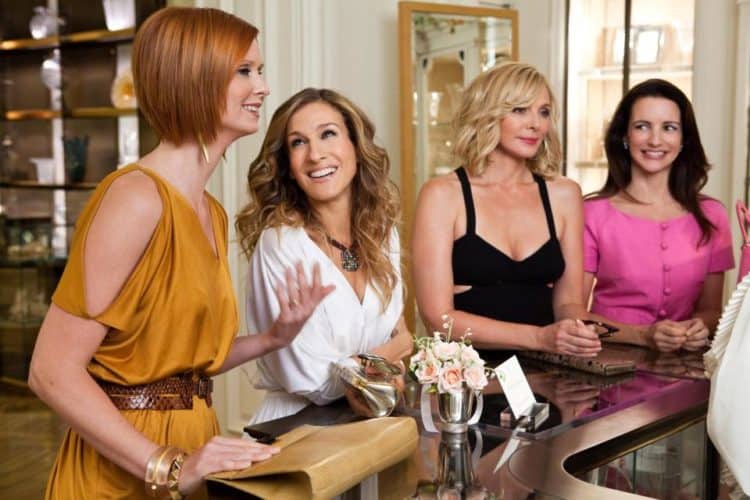 Sex and The City is easily one of the most popular TV shows of the late 90s/early 2000s. During its six-season run, the series was a huge success for HBO. The show developed a reputation for pushing the envelope when it came to topics like sex and relationships. Although this is one of the things that made the show so special, there were also times where viewers felt that the show went a little too far. In fact, there were even times where those behind the scenes also felt that the show was doing a little bit too much and some scenes had to be cut from the series. So, what were some of these scenes about? Keep reading to see five scenes from Sex and The City that went too far.
1. The Golden Retriever
If you're an OG Sex and The City fan, you may remember an episode called "The Monogomists" from season one. During the episode, Charlotte had been seeing a man who was very insistent on pushing her head down during oral sex. Eventually, she got fed up with this behavior and decided to walk out on him. However, what you may not have known is that there was originally supposed to be an additional scene, but it was cut after it was deemed to be too inappropriate to air. In the deleted scene, Charlotte walked back in on the man to find him receiving oral sex from his beloved golden retriever. During an interview with Vanity Fair, Amy Harris, a producer from the show, said, "t's sort of horrifying that we shot that. We shot him putting peanut butter on his penis, and Charlotte walks back in like, 'Oh, I'm being unreasonable,' and then she sees that. . . . I can't believe we even thought about doing it".
2. Miranda's Drunken Encounter with A Police Officer
The episode "What Goes Around Comes Around" from season three also has a scene that was edited out after producers realized it went a little too far. The scene involved a drunken sexual encounter between Miranda and a police officer. During the scene, Miranda threw up all over the officer while they were having sex. When Cynthia Nixon appeared as a guest on Late Night with Conan O'Brien, she explained that in the scene, she projectile vomited all over the officer.
3. Miranda Outing a Coworker
Even though Sex and The City was incredibly popular during its time, there are lots of things about the series that simply haven't aged well. One of those things is the way characters from the LGBTQ+ community were handled. One of the worst scenes occurred during season four in an episode called "All That Glitters" when Miranda saw Max, one of her coworkers, out at a gay club. He asked her not to tell anyone at work that she saw him out of fear that his sexuality could impact his relationships at work. She also confides in him not to tell anyone that she is pregnant. However, when Miranda starts falling asleep on the job, Max feels that it's important to let people know that she is pregnant so they don't assume she is sleeping for other reasons. In her anger, Miranda outed Max at work. While it's true that Max shouldn't have been telling people that Miranda was pregnant, outing someone is an incredibly insensitive — and possibly even dangerous — thing to do.
4. Carrie Becomes A Voyer
In an episode in season one called "The Drought", Carrie realizes that the man who lives across from her has a very active sex life. She also realizes that she can easily see into his apartment. While she could've easily closed the blinds and gone on about her business, she instead decides to look into his window and watch his encounters. Most people would agree that this is a serious invasion of privacy and it's also downright creepy.
5. Samantha Hooks Up With A College Student
Casual hooks up were a big part of Sex and the City. However, it was definitely a red flag when Samantha started hooking up with a college student during season three in an episode called "What Goes Around Comes Around". Although it technically isn't illegal for someone in their 30s/40s to have sex with someone who is the age of a traditional college student, most people would still see this as inappropriate. In fact, had the show depicted an older man hooking up with an 18/19-year-old college student, that probably would've raised more than a few eyebrows.
Tell us what's wrong with this post? How could we improve it? :)
Let us improve this post!