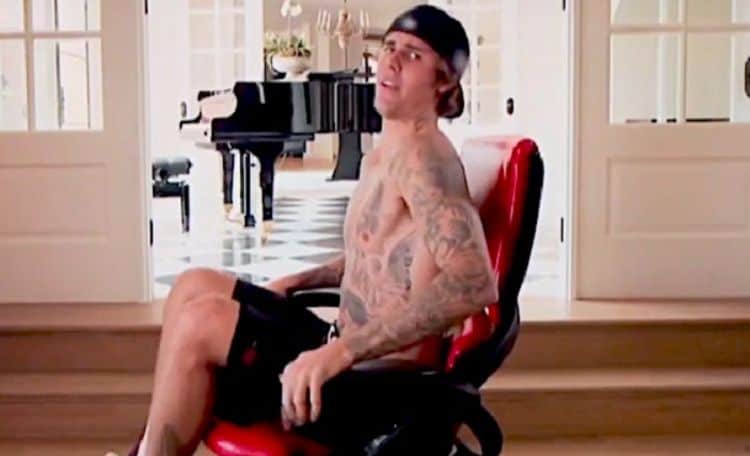 For more than a decade, Shark Tank has offered entrepreneurs a chance to obtain the American dream by pitching a business idea to a panel of wealthy investors with the hope of getting an investment. While the process seems pretty straight forward on the surface, pitching in front of the Sharks certainly isn't easy. As a result, people have to get really creative in order to present their idea in a way that will grab the Sharks' attention and give them a good chance at getting a deal. So when Bing Howenstein entered the tank to pitch his product, the ALL 33 Chair, he knew he had to do something special. While unique twists are common on Shark Tank, nobody was expecting to see Justin Bieber make his way into the pitch. Keep reading to find out what happened when Justin Bieber appeared on Shark Tank.
What Is The ALL 33 Chair?
Chairs are a dime a dozen, so what makes the ALL 33 worth an investment from the Sharks? According to Howenstein, this chair is truly one of a kind. It was designed to specifically cater to all 33 of the spine's vertebrae (hence the name). Since numerous studies have shown that sitting all day, especially looking down at a computer screen, can be terrible for your back and your posture, ALL 33 is here to help. Essentially, the chair is designed to help you sit up straight which ultimately improves the overall health of your back and subsequently the rest of your body. According to the company's website, the ALL 33 Chair has numerous benefits including:
Increased energy
Increased flexibility
Promotes higher productivity
Increased back and core strength
Of course, all of these benefits are going to cost you a pretty penny. The chair is currently available in two models: fabric and vegan leather. Both will cost you $799.
Why Was Justin Bieber On Shark Tank?
Okay, so now that you know that Justin Bieber was on Shark Tank, you're probably wondering why. After all, chairs aren't really a part of Justin's brand – or are they? Somehow the folks at All 33 were able to nab an endorsement from Bieber. A video clip of him sitting in the chair was used during the product's pitch and he happily reiterated the chair's benefits. To make his stance even more convincing, Bieber took off his short and showed himself getting an ab workout while sitting in the chair. Having a celebrity endorsement, especially one from someone as famous as Justin Bieber is usually a sure fire way to get the Shark's attention, and his appearance definitely had that effect.
What Howenstein didn't explain, however, was how the company was able to get an endorsement from the pop star. Typically, however, celebrities are paid to endorse products which somewhat devalues what they have to say. After all, most people will be willing to say just about anything in exchange for the right amount of money.
Did The Pitch Get A Deal?
While having a celebrity join in on your pitch is cool, the main goal on Shark Tank is to always get a deal. When Howenstein entered the Tank, he was asking for an investment of $500,000 in exchange for 2.5% of the company. Now if you know anything about Shark Tank, you'll know a deal like that is a pretty hard sell no matter who you have endorsing your product. While there was initially some interest in the product, all of the Sharks ultimately decided to pass on the investment.
How Is The Product Doing?
Getting a deal may be the goal, but just because something doesn't get an investment on Shark Tank doesn't mean that it's doomed to fail. There are a large number of reasons why Sharks decide not to invest in something, and it's not always because the product is bad. In the case of ALL 33, the Sharks simply didn't feel like the company was worth what it was being valued at at the time. Plus, 2.5% is such a small amount that many Sharks don't feel motivated to put any effort in with such a low stake in the company.
Despite not getting an investment, the ALL 33 chair seems to be doing well. The website shows that the product is currently sold out which means they've likely had an influx of sales since being on the show. With such a high price tag, the chair certainly isn't for everybody but there are clearly a lot of people out there who don't mind dropping $800 on an office chair.