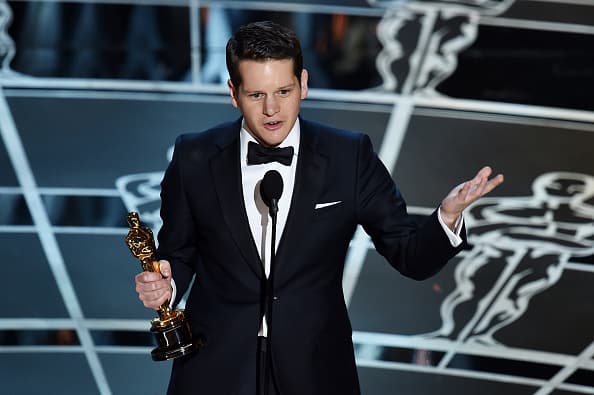 Aside from The Walking Dead and HBO's trio of comedies, Girls, Togetherness, and Looking, there was a severe lack of new episodes from some of our favorite TV shows last night, but it was all for good reason, as much of America's attention was directed to the biggest film event of the year: the Oscars, which aired on ABC. The 87th Academy Awards, which were hosted by Neil Patrick Harris (who starred alongside the Oscar-nominated Rosamund Pike in David Fincher's latest film Girl Gone), were a mixed bag, a night filled with many memorable speeches and deserving winners but also a lot of missed jokes and a running time of over thirty minutes longer than the scheduled telecast, meaning that the show didn't end on the East Coast until after midnight. Since there were so many high and low points throughout the show, let's recap the best and worst moments from last night's Oscars (and I'll try to keep my inner rage that Birdman beat Boyhood to a minimum–I'll try).
Best: So many good speeches
Last night's Oscars certainly had their issues, but the speeches weren't one of them. Patricia Arquette used her time at the mic to make a push of wage equality and equal rights for women, J.K. Simmons gave everyone some great advice by urging them to call, not text or email, their parents, after thanking his own, and Eddie Redmayne's boyish enthusiasm after he won for Best Actor was infectious. However, the best speech of the night came from The Imitation Game screenwriter Graham Moore (pictured above), who discussed his own attempt at suicide at 16, before telling those out there who may be struggling in a similar way right now to "stay weird, stay different, and then when it's your turn and you are standing on this stage, please pass the same message to the next person who comes along."
Worst: No Joan Rivers in the 'In Memoriam'
It always happens every year at every major awards show: an important figure who passed away over the last year is missing from the 'In Memoriam' segment. At this year's Oscar, it was the absolutely inexcusable mistake of not putting Joan Rivers in the moving tribute, which honored so many other infamous performers that we lost throughout 2014, such as Robin Williams and Lauren Bacall.
Best: The musical performances
From the wonderfully chaotic performance of "Everything Is Awesome" to the powerful rendition "Glory" to the pitch-perfect tribute to The Sound of Music (which not only included an absolutely amazing Lady Gaga but also a surprise appearance by Julie Andrews), it was more about the music and less about the movies at last night's Oscars. All of the musical performances throughout the night were easily the best parts of the show, eliciting laughs, tears, and cheers from all audience members.
Worst: Lack of (or too much) emotion from presenters
It was a weird night for presenters at this year's Oscars, with quite a few people, including Eddie Murphy and Sean Penn, seeming like they would literally rather be anywhere else on the planet when they got up on stage to hand out awards. However, it wasn't just a lack of emotion from people like Penn and Murphy that was strange; Empire's Terrance Howard got overly emotional when presenting clips from Whiplash, The Imitation Game, and Selma, making me and most of the people I was watching the show with wonder if he really did love those movies that much or if he was perhaps just a tad bit drunk.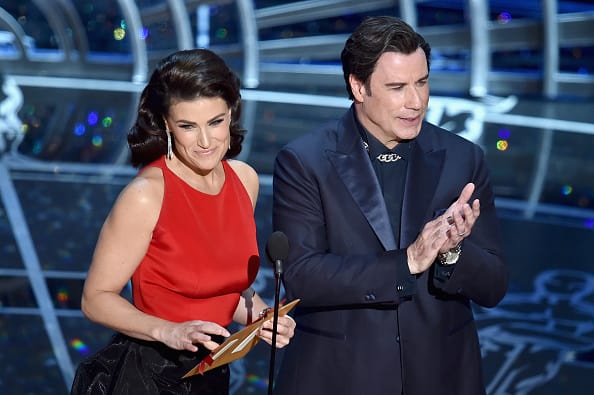 Best: "Adele Dazeem" and "Glom Gazingo"
Idina Menzel got some fun Oscar payback when she got to introduce her co-presenter "Glom Gazingo," aka John Travolta, to help her announce who won for Best Original Song. Sure, Travolta continuously touching Menzel's face was a little odd, but this clever, well-hidden bit got the biggest laugh of the night from me and showed that both Menzel and Travolta have good enough senses of humor that they can poke fun at themselves. Nicely done.
Worst: The length
Whether it's cutting down the amount of awards given out live on television, getting rid of the musical performances for Best Original Song (which I always enjoy, by the way), or something else, the Oscars have to figure out how to make the show shorter, as this year's telecast clocked in at just over three and a half hours and felt sluggish and meandering throughout most of that running time. It was a struggle to stay awake for the whole thing, not because of the time of the night, but because of how boring and lackluster the event was.
Best/Worst: Neil Patrick Harris
There's no denying the fact that NPH tried hard last night while hosting the Oscars, but compared to his previous hosting gigs at the Emmys and Tonys, his work during this award show was certainly missing that spark that he usually brings. Part of the issue was that many of Harris's jokes seemed to be a lot harsher and snarkier than his usual brand of humor (whether that was his decision or the writers, I'm not sure), and there was, of course, the running gag of his Oscar predictions, which certainly didn't have the payoff it should have for the amount of time it took up. But still, the opening number was pretty great and quite a few of Harris' jokes did land, so I really can't call his hosting a success or failure. Just like the Oscar telecast itself, it was perfectly mediocre.
Did you watch the Oscars last night? What did you think of the show? Let us know in the comments below.
Photos by Kevin Winter/Getty Images