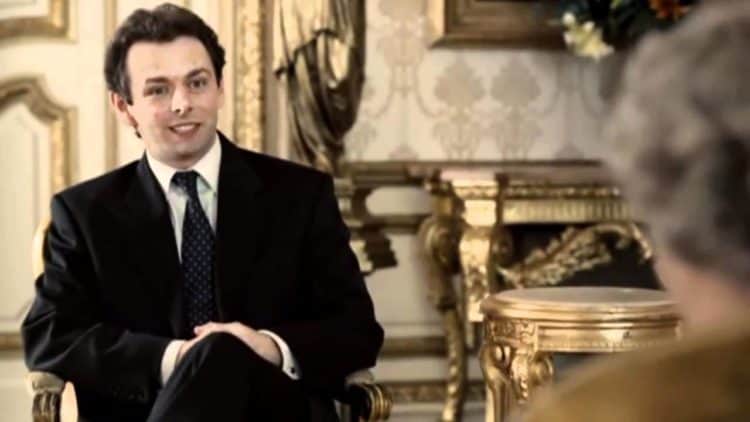 It's still going to be at least a year before we're able to binge The Crown again on Netflix, but thankfully, showrunners have been generous with updates. There's been no shortage of The Crown news online, the biggest one of which is the announcement that Imelda Staunton is taking over as Queen Elizabeth II. The Harry Potter and Downton Abbey actress has massive shoes to fill. She's succeeding Claire Foye, whose role as the young Queen Elizabeth II in the first and second seasons of The Crown essentially made her career, and Olivia Colman, whose tenure as Her Majesty earned her an Emmy and a Golden Globes. Meanwhile, Jonathan Pryce (Two Popes) will inherit the role from Tobias Menzies, while Elizabeth Debicki (Peter Rabbit) and Dominic West (Tomb Raider) are set to play Princess Diana and Prince Charles respectively. With Imelda Staunton taking the helm, she's expressed both excitement and worry over portraying a real-life figure on screen, according to TV Insider: "I'm delighted to be here, inheriting the role of Queen Elizabeth from two outstanding actresses," Staunton said. "I will do my utmost to maintain the very high standard that they set. Hopefully, I look calm, capable, and collected. My stomach, meanwhile, is doing somersaults."
Yes, The Crown is technically about the Queen and the Royal Family, but the show won't be what it is today without the prime ministers. Fans are just as excited about the prime ministers who appear in the series, as well as the actors who portray them. John Lithgow's portrayal as Winston Churchill won him an Emmy, his sixth. Gillian Anderson, who played Margaret Thatcher in Season 4 of The Crown, earned her her second Emmy, the first one being for X-Files. The actress had this to say about her role as the Iron Lady in the series, according to Vogue. "I realized as I started to work on her that I didn't have many of my own opinions—my opinions were adopted from other people," she shared on the phone from London. "Especially living in the U.K., where people have powerful feelings about her one way or another. In my experience, it's helpful to put aside opinions and preconceptions of a character before you begin diving into their beliefs and motivations, especially when you're playing a historical character."
Season 5 of The Crown will pick up from when Margaret Thatcher resigned her position, With a new season coming up, and a new period being shown, we should expect new prime ministers to come in and complicate matters for the Queen. Who are the prime ministers we should expect to see in the upcoming season of The Crown and who will be playing them?
John Major
John Major succeeded Margaret Thatcher after her resignation in 1990. Prior to becoming prime minister, he served extensively under his predecessor's government as Chancellor of the Exchequer and Foreign Secretary. He is currently the oldest and earliest-serving former prime minister of the U.K. According to Variety, John Major's tenure as prime minister coincided with the last few years of Princess Diana's life. Given this information, it is expected that he will play a critical role in the upcoming season of The Crown. John Major will be played by Jonny Lee Miller, who played Sherlock Holmes in Elementary and T2 Trainspotting. His casting was met with mixed reactions on Twitter, according to The Huffington Post, with some wondering why very attractive actors, like Miller and previously Gillian Anderson, are being cast as Tory politicians. At 78, John Major remains to be an active participant in British politics, most recently expressing his opposition to Brexit, saying that it is "the worst foreign policy decision in my lifetime. It will affect nearly every single aspect of our lives for many decades to come. It will make our country poorer and weaker. It will hurt most those who have least. Never have the stakes been higher, especially for the young. Brexit may even break up our historic United Kingdom," according to the Independent. He also commented on the passing of Prince Philip earlier this year, saying: "It think it might be a nice legacy for Prince Philip if we began to return to the Queen some of the support that she has given to the country, to the Commonwealth, to the family and to the nation, during this difficult period of time. I think it is something we owe the Queen," per The Guardian.
Tony Blair
Tony Blair is also expected to show up in The Crown, although how extensively it hasn't yet been determined. A Labor politician, Blair took over as prime minister three months before Princess Diana's death. The ex-prime minister's dealings with the Royal Family had already been portrayed on-screen prior to The Crown in the film The Queen, starring Helen Mirren. Like John Major, Tony Blair is also still pretty active in politics. He's not had a very smooth relationship with Prince Philip, with the late prince allegedly expressing fury over Blair's suggestions on Princess Diana's funeral, according to The Independent. Nevertheless, the former prime minister still expressed his condolences after Prince Philip's death, writing on his website: "Our whole nation will be united in sadness at the passing of Prince Philip. He will naturally be most recognized as a remarkable and steadfast support to the Queen over so many years. However, he should also be remembered and celebrated in his own right as a man of foresight, determination and courage. He was often way ahead of his time in protection of the environment, in reconciliation between religious faiths and of course in the creation of the Duke of Edinburgh's Award, which remains one of the most innovative and effective programs for the betterment of young people anywhere in the world. My condolences and prayers and those of my family are with Her Majesty the Queen and all the Royal Family." Tony Blair will be played by Bertie Carvel, who currently appears in a lead role in Dalgliesh and previously appeared in Les Miserables and The Tragedy of Macbeth. Carvel will be the first actor to portray two different roles in the series, previously appearing as Robin Day in Season 2 of The Crown. according to Cheat Sheet.
Tell us what's wrong with this post? How could we improve it? :)
Let us improve this post!