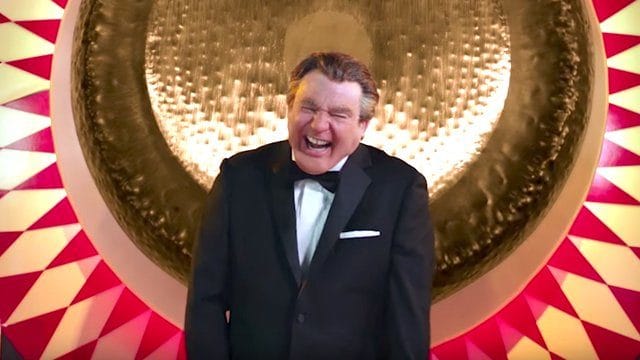 In case you didn't watch its premiere on June 22nd, The Gong Show is back! For those who were devoted fans of this wacky show, created by and starring the late, great adorable Chuck Barris. there are mixed feelings on this venture. Grandparents tried to tell the youngsters about this cool show that ran on afternoon TV on NBC. from June 14, 1976, through July 21, 1978, and in syndication from 1976 to 1980 and 1988 to 1989.
The show not only had a super cool host who ran around maniacally with a hat over his eyes but the show also featured guest judges like Jaye P. Morgan, Arte Johnson and Jamie Farr who kept viewers guessing as to what zany thing they would do next. Plus some of the acts were risque for the time. Remember the brouhaha over The Popsicle Twins? That's tame by today's TV standards.
So after all these years, ABC decided to bring it back. Will Arnett is at the helm and he could not be prouder but the jury is still out if they can recapture the magic, despite the hype. Here are 5 things you didn't know about 2017's The Gong Show:
For Better or Worse We Have Mike Myers
Yeah he's wearing a ton of prosthetic and sporting a slightly more posh British accent than he did in Austin Powers but it's him all right. He is playing host Tommy Maitland and some find it hilarious. You have to give him points for effort and for those who thought that Mike Myers had dropped out of sight are happy to see him even if he doesn't look much like himself. They do not reveal his true identity and he stayed in character completely during the first episode. ABC even published a biography for Tommy.
Executive Producer Will Arnett Has Been Wildly Promoting His Show
In May, when he guest-hosted Jimmy Kimmel Live Arnett brought out Tommy Maitland to be introduced to America. Once "Tommy" did his famous "ha ha ha" British laugh people stopped wondering who this dude was (of course it's Mike Myers) and just decided to play along. Myers is, metaphorically but not talent wise, "The Unknown Comic". Still, it was a good "mystery" to light up the Twitterverse to help hype the show.
The Acts Are Still Incredible
Don't believe me? Just check out Married With Bananas. The difference is that on the original show, we were laughing with the oddballs on stage, now in the age of TV contests galore, we tend to judge them like Simon Cowell. So far there is no "moment" on the new Gong Show, like when Gene Gene the Dancing Machine would come on and everyone at home, on camera and in the audience would leap to their feet and just go joyously wild. It's only aired once so far so the jury is still out.
They Are Not Trying to Replace Chuck Barris
Why come up with a character like Tommy Maitland? Because the Gong Show needs an outrageous MC, but in interviews, Arnett makes it clear that they are not trying to replace or imitate Chuck Barris. Good thing. This gives The Gong Show a chance to be a tribute to the old show instead of a mockery. Will they succeed? Time will tell.
The Stage Is Set
Although they have adopted the circa 1970s set and retro music and still have three judges etc. it's really a new show made to attract a millennial audience. With guest judges like Jack Black, Will Forte and Zach Galifianakis, Ken Jeong and Jennifer Aniston viewers will have a good reason to tune in each week– they hope.