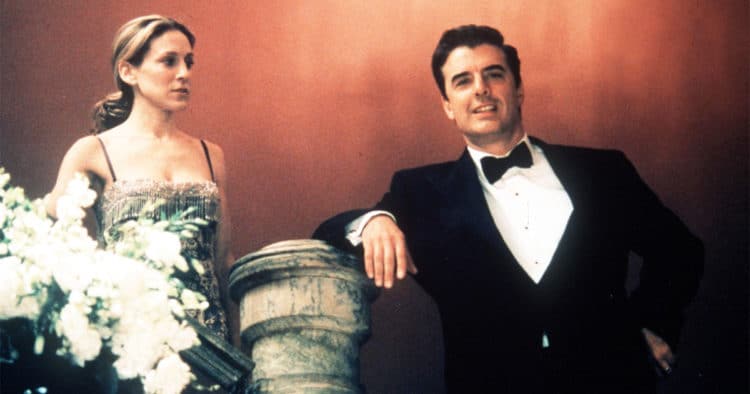 It's highly likely that we have all fallen prey to the charms of Mr. Big, portrayed by Chris Noth (The Equalizer), one way or another during the successful six-season run of Sex and the City, which was then followed by two big screen pictures, and a television sequel, And Just Like That… Mr. Big, whose real name in the series was John James Preston, was the epitome of a dashing New York City eligible bachelor. His debonaire looks and strong appeal could have easily made any woman swoon. He was also one of the bachelors in the series whom Carrie Bradshaw, portrayed by Sarah Jessica Parker (Failure to Launch), ultimately fell for. Their tumultuous relationship was one of the major storylines in the series, and one that garnered a solid fanbase. They may have shared some fairytale moments over the years, but they were far from perfect. Here are five reasons why Carrie and Mr. Big's relationship was toxic:
5. Mr. Big had commitment issues for the longest time
Letting go of the carefree bachelor lifestyle did not seem like a part of Mr. Big's plans. When the two started seeing each other, Carrie noticed that he often brought her to hidden restaurants where nobody they knew would bump into them. There was also the incident when Carrie and Mr. Big's mom crossed paths, where he did not introduce her as his girlfriend. Mr. Big also needed some time to express his true feelings for Carrie, who blurted "I love you" first. These were all signs of commitment problems on Mr. Big's end. He was scared of wearing his heart on his sleeve and did not want to seem vulnerable. This was unfair on Carrie's part, who wanted nothing but a stable and long-term relationship. A lot of their relationship issues were swept under the rug and replaced by drunken confessions and cheesy lines. Carrie had to experience a whole lot of heartbreak before she was able to get her ideal version of Mr. Big.
4. Carrie was not part of Mr. Big's long-term plans
Mr. Big was depicted as a big-shot corporate executive who knew how to work and play hard. The part in the series where his job opened an opportunity to relocate to France for at least a year caught us, and most especially Carrie, off guard. It was so selfish of Mr. Big to keep this major decision a secret from Carrie, and it was even more selfish of him to act so nonchalantly about it. This served as an eye-opener for Carrie, who despite Mr. Big's many flaws, took him back with the hopes of being able to change his ways. It turned out that it took more than a few hugs, kisses, and romantic moments to change the way he was. As the saying goes, you can't teach an old dog new tricks. Old habits do die hard.
3. Mr. Big was not totally honest about his past
One of biggest revelations that Carrie found out about the mysterious Mr. Big in the early stages of their romance was that he was married in the past to a woman named Barbara. This bombshell did not sit well with Carrie, who even went out of her way to meet Barbara. The fact that Carrie would go through such great lengths to find out about Mr. Big's past just goes to show that they have communication problems. It is so important for a couple to be able to talk about anything and everything, including each other's past relationships. It's only a matter of time before skeletons in the closet are revealed.
2. Carrie expected too much, and was not truly vocal about her feelings
It took some time for Carrie to really express what she wanted from Mr. Big and their relationship. She tried to send signals, but he was either too distracted or just did not really exert much effort to see them. They both wanted different things at different times, and this proved to be detrimental in the long run. Entering a relationship requires the right level of emotional maturity to make it last. You just can't keep the other person guessing. A lack of open communication can hinder a relationship from growing and progressing. Mr. Big fell short of Carrie's expectations, while Carrie seemed to be asking too much from Mr. Big. This disconnect created more problems, and led to a whole lot of tears to be shed and Cosmopolitans to be downed.
1. Carrie was abandoned by Mr. Big far too many times
Mr. Big's fear of commitment made him act like a douchebag one too many times. This carried on until the first big screen production of the hit franchise, when he abandoned Carrie at the altar. Blame it on cold feet or whatever, but this grown man seriously had issues he had to sort out. We have witnessed Mr. Big ditch Carrie and let go of their relationship countless of times during the run of the series. This on and off relationship dynamics got tiring at one point, and could serve as a poster child of what an unhealthy relationship looks like. Fortunately, the two found a way to be each other's happily ever after until the big twist in the franchise's sequel left Carrie abandoned for one last time.
Tell us what's wrong with this post? How could we improve it? :)
Let us improve this post!