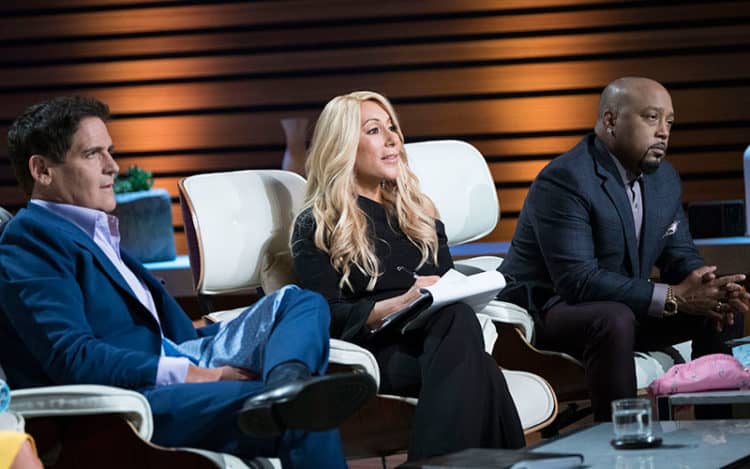 Whether you aspire to be an inventor yourself, or you simply enjoy being the first to learn about new products, Shark Tank is probably one of your favorite shows. Over the last decade, the show has introduced the world to hundreds of products and to the world and helped lots of entrepreneurs become millionaires in the process. But while being featured on Shark Tank (even without getting a deal) can provide a company with a major boost, appearing on the show isn't a golden ticket to success. Several items that have been featured on the show seemed promising at first, but unfortunately met very sad fates. Keep reading to see five Shark Tank products we really wish were given deals.
1. Breathometer
If there's one thing Shark Tank fans have learned over the years it's that if a product appears too good to be true, it probably is. So in 2013 when Charles Michael Yim appeared on the show with his product, the Breathometer, things could have gone either way. The product was advertised as a breatholizer that could plug into a smartphone's headphone jack. People could then use the device and its app to check their BAC. Thanks a great pitch, Charles was able to secure a deal with all five of the sharks. They invested a total of $1 million for a collective 30% stake in the company. With a huge investment and five sharks on his team, it seemed impossible for Charles to fail. Sadly for him, failure is exactly what happened.
A few years after being featured on the show, Breathometer was sued by the Federal Trade Commission on the grounds that the product provided very inaccurate readings. The company was forced to refund all orders and decided to shift its focus from the Breathometer to a new digital health product called Mint. At the time this article was written, it looks like Mint is no longer available.
2. ToyGaroo
Most of the products on Shark Tank appeal to adult consumers, but every once in a while there's a kid/family friendly product that looks like it has real potential. Toygaroo was on the show during season two and it was build as a service that would work like Netflix, but for toys. ToyGaroo seemed like the perfect solution for parents who wanted to avoid spending ridiculous amounts of money on toys their children would eventually get bored with.
The company managed to secure a deal from Mark Cuban and Keavin O'Leary: $200,000 for a 35% stake in the business. At the end of the segment it looked like ToyGaroo was going to have a happy ending, but it didn't take long for things to go south. Within just a year of being on the show — a time when everybody expected business to be booming — Toygaroo put a message on their website saying they were no longer taking new customers. In April 2012 ToyGaroo filed for bankruptcy.
3. Black Magic IPL Tattoo Removal
If you or anyone you know has ever gotten a regrettable tattoo, you know that people will pay just about anything to have those things removed. With that being said, Black Magic Tattoo Removal seemed like the type of product that was destined to do well. The product was designed to be an easy and relatively pain free way to perform laser tattoo removal at home. The Sharks however, had some serious doubts about whether or not the average person would be able to use the product. In the end, it didn't receive an investment. Still, founders Nick Gonzales and Kevin Mack were determined to be successful.
The success they were hoping for never materialized. Nick and Kevin weren't able to get approval from the FDA for their device. On top of that, several users started to report that the device burned them. As of now, it looks like Black Magic IPL is no longer for sale anywhere.
4. Night Runner
There are many runners who prefer running in the evening, but a night time run can quickly get dangerous if the runner can't see where they're going. Things can get even more dangerous if the isn't visible to drivers. Night Runner was a product aimed at solving that problem. The special running shoes were designed with built in lights. When entrepreneurs Renata Storer and Doug Storer entered the tank they were looking for a $250,000 investment for 10% of the company. They were excited when they left the tank with a deal from Robert, but the excitement didn't last long.
In an interview with Forbes in 2017, Doug Storer said, "We filmed in June and we didn't start negotiating with Robert's team until October. We had quit our jobs earlier that year because we were pretty sure the show would air. After it aired, we didn't need the investment anymore and we started to think, why should we give up equity if we don't need it. Also they offered fewer dollars for the same equity. We came to a mutual decision that the deal wasn't in our best interest." Even though they initially seemed to be doing just fine without the deal, but it looks like the company no longer exists.
5. Cate App
If you're the type of person who likes to keep people out of your business, the Cate App would've been the perfect solution for you. The app was designed to allow people to hide text messages and voicemails and the company's owner, Neal Desai, was looking for a $50,000 investment for 5% of the company. By the end of his segment, he had agreed to a joint deal with Kevin and Daymond of $70,000 for 35% of the company.
Downloads for the app took off after the episode aired and things seemed to be going well, but the app has since quietly disappeared. The app is no longer available for download and all social media accounts connected with Cate App have been abandoned.