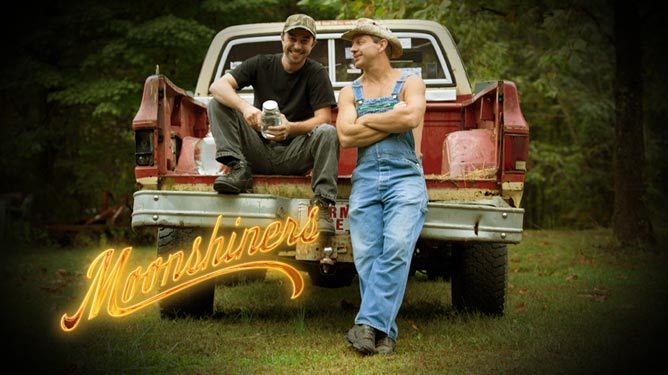 For the last decade, the Discovery Channel show Moonshiners has given the world an inside look at the world of moonshine making. Although moonshine is a word that most people have heard, many people have no idea what it actually is. The series has set out to clear that up. While some people are under the impression that moonshine is easy to make, the cast of Moonshiners has shown just how much technique and skill are required to make a top-notch batch. Even if you don't really have an interest in drinking moonshine, the show is educational and entertaining.
These guys are so good at what they do that they've managed to turn moonshining into a lucrative business opportunity. While COVID-19 has left lots of businesses struggling, it looks like things are going extremely well for the team over at Moonshiners. But why is business booming for the cast during the pandemic? Keep reading to find out.
What Is Moonshine?
If you're still not completely clear on what moonshine is don't worry, we're here with some additional info. The truth is that the definition of moonshine might vary a little depending on who you ask. At one point in time, moonshine was a term used to describe any kind of alcohol that was made illegally. These days, however, it most commonly refers to liquor that isn't aged. With that being said, many of the products you see labeled as moonshine in your local liquor stores probably aren't actually moonshine.
Is Moonshine Illegal?
When most people hear moonshine, they automatically think of the legalities. After all, almost all of us have been told at one time or another that moonshine is illegal. That isn't technically the case, though. According to Inverse, "The production of moonshine — or really any spirit — without a license is prohibited by the U.S. government and is very much illegal." To put it simply, moonshine in and of itself isn't illegal, but making liquor without a license is.
That said, there's a good chance no actual moonshine making is happening on Moonshiners. After several viewers questioned how the cast could get away with illegally making liquor, the Virginia Department of Alcoholic Beverage Control issued a statement saying: "Virginia ABC agreed to participate in an informative piece that documents the history of moonshine and moonshine investigations in Virginia. Virginia ABC did not participate nor was aware of the false depiction of moonshine manufacturing, distribution and/or transportation in the filming, and would not have participated in the 'documentary' had it known of this portrayal,"
Additionally, moonshine hasn't always had the best reputation. At one point in time, there were reports that drinking moonshine could cause blindness although that was shown to be highly unlikely.
Why The Cast Of Moonshiners Has Seen An Increase In Business During The Pandemic
COVID-19 has resulted in lower sales for businesses all over the world. In fact, there are countless businesses that have had to close their doors permanently. Somewhat surprisingly, that hasn't been the case for the moonshine business. During an interview with Fox News, Moonshiners cast members Mark Ramsey and Digger Maines revealed that things have been going really well for them during the pandemic.
Digger told Fox, "…we don't know what to attribute it to. Now, the folks that wanted liquor for hand sanitizer — yeah, we pick up on that. But when you're at home with a screaming wife and crying babies, I guess maybe you need a little nerve settler." Mark added, " Yeah, being cooped up with people all the time, that will either make you really love them or really hate them. Moonshine, it's an all-around cure-all. If you're sad, you drink it to drown your sorrows. If you're happy, you drink it to celebrate. So, it's a win-win deal for us."
As the pandemic continues to rage on all over the world, there's a very good chance that moonshine sales will continue to sky rocket. It would be interesting to see what sales were looking like before the pandemic verses now. Either way, however, the cast is enjoying the uptick in business.
The Future Of Moonshiners
The fact that Moonshiners has had 10 seasons is certainly something to applaud. Countless shows don't even make it past the first season, let alone to hit double digits. After airing the first four episodes of season 10, the show appears to have taken a bit of a hiatus. It's a little unclear when or if the show will return to finish out the rest of the season. There also hasn't been an official announcement regarding a renewal for season 11.