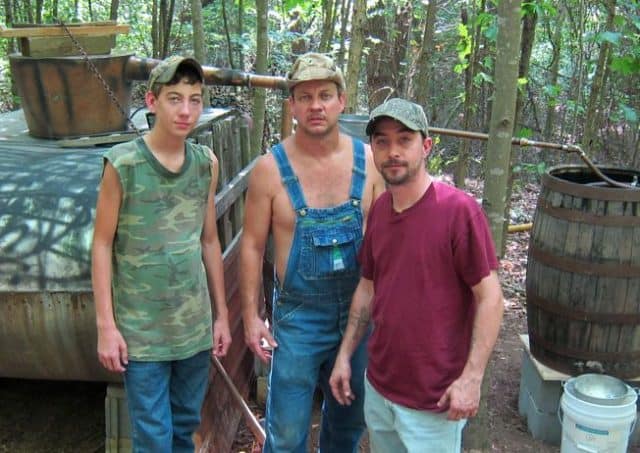 Given its name, it should come as no surprise to learn that Moonshiners is a TV show about people producing moonshine. To be exact, it is a TV show that claims to be about people breaking the law by making illegal moonshine, which is a phrase that might confuse some people out there until they learn that the liquor was legalized in the United States in 2010. Regardless, there are a lot of people out there who are skeptical that Moonshiners is what it claims to be, though there are enough arguments that can be made for both sides for interested individuals to make up their own minds on the matter.
What Are the Reasons to Believe that Moonshiners Is Real?
The first point that a lot of people bring up is the idea that if Moonshiners is real, the people behind the TV show would have been charged by now. However, it is important to note that people who see a crime happening are not obligated to stop it under U.S. law, meaning that there is some wiggle room for the people behind reality TV shows even when it comes to real crimes being committed on camera.
Second, Moonshiners doesn't actually seem to show anything that is blatantly criminal. In fact, this is the explanation that the people on the TV show use whenever they are asked about the legality of their actions on the TV screen. For example, Tim Smith has stated that more evidence is needed than what looks like someone making illegal moonshine. Likewise, Josh Owens has stated something similar, claiming that while it looks like he is making illegal moonshine on the TV screen, more evidence is needed because he might be using nothing more than water.
What Are the Reasons to Believe that Moonshiners Isn't Real?
With that said, there are plenty of reasons to be skeptical about Moonshiners. For starters, while witnesses to a crime aren't obligated to stop it, the people behind the TV show are actually paying its cast members to appear on it, meaning that they are actually incentivizing what they claim to be criminal activities. Suffice to say that puts them in a very different position when it comes to the law, so much so that if Moonshiners is indeed as real as it claims to be, one suspects that the production would've fallen through because of skyrocketing insurance costs if nothing else.
On top of this, it should be remembered that making moonshine isn't actually illegal in the United States so long as the makers have the relevant permits from both the state and the federal authorities. As a result, even if the people on the TV show are actually making moonshine as they are being screened, there is little reason to believe that they are violating the law because they very well could have the relevant authorization. This line of thought is supported by the fact that the Department of Alcoholic Beverage Control in the state of Virgina has outright stated that no illegal liquor is being made on Moonshiners, though its representatives have stated that the people behind Moonshiners have refused their request to add a disclaimer making it clear that its footage is a dramatization rather than actual depiction of actual crimes on the TV screen. Combined with the fact that the people behind Moonshiners are responsible for a number of other reality TV shows with rather tenuous claims to truthfulness, being skeptical of it is the natural conclusion.
Further Considerations
On a final note, it should be mentioned that while the truthfulness of Moonshiners is rather suspect, there has been at least one real moonshiner featured upon it. In short, the people behind the TV show purchased the rights to use the footage from a documentary about a man named Marvin Sutton, with the result that some of it was incorporated into the first season of the TV show. There is no doubt that Sutton was a real moonshiner, not least because he had the convictions to back up his claim that he was a moonshiner from a long line of moonshiners. As a result, even if someone believes that Moonshiners isn't as real as it is purported to be, a sound argument can be made that a part of it was no matter how small that part might have been in the grand scheme of things.