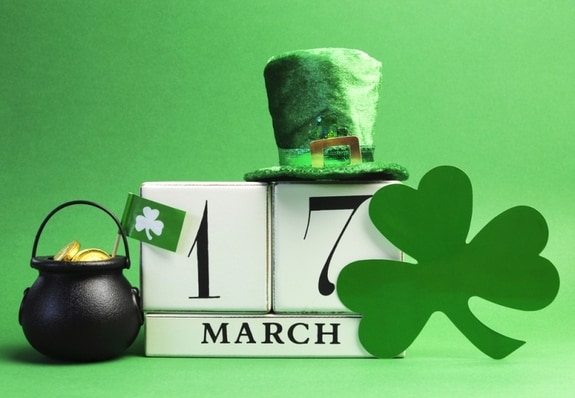 If you really want to celebrate St. Patrick's Day there are many ways to do it, but watching various TV shows that like to air or are to be found online is a good way. Crack a bottle or pour a pint and sit back to enjoy some of the most comedic moments that have occurred on TV throughout the years in relation to the holiday since despite the very solemn nature of it, St. Patrick's Day has also become a time to kick back and enjoy with good friends, good food, and very good drink, along with some good TV if you're up for it.
There are a lot to pick from, but these are some of the best.
5. 30 Rock-St. Patrick's Day
Liz isn't really good at showing her feelings but she does know how to have a good time. However it's kind of hard to have a good time when your ex shows up and you really don't know how to tell them to shove off in a nice, adult kind of way. On a day like St. Patrick's it's almost preferable to send them off with a kind toast or a wish for a better day, as hers already took a nosedive and could use some perking up.
4. How I Met Your Mother-No Tomorrow
Barney is never the guy to look to as a role model really but for one night Ted finds that everything Barney tells him to do leads to good things, just for that one night. After that it's probably best to put Barney back at arms reach once again as his advice on life and women has never been so sound that a person could take it to the bank and become a social millionaire.
3. The Office-St. Patrick's Day
Equating St. Patrick's Day to Christmas is something the likes of which Michael might be heard to say more than once but no matter how many times he says it the sentiment is not even close to being true. Sure it's a great day to get out, party, and just hang around friends, but putting too much hype on it or not enough is sure to offend a few people. Michael though excels at offending people, so it's business as usual.
2. Cheers-Bar Wars VII: The Naked Prey
Cheers has always been known in part for the pranks they pull on other bars and the pranks that get pulled on them in return. It was always a give and take kind of thing on this show and it was always fun to watch. The rivalries they had going with other bars was one of the things that gave the show that extra bit of spice and realism that made it so enjoyable.
1. It's Always Sunny In Philadelphia-Charlie Catches a Leprechaun
This episode had a very Reservoir Dogs feel to it since Charlie is obviously out of his mind and the poor guy he's got strapped to the chair is about a close to being a leprechaun as Danny DeVito is to being a dwarf. I guess that's what happens when you drink paint.
It might still be coming up, but enjoy your St. Patrick's Day.